Thursday we started the year of the Dog, the 11th animal in the Chinese zodiac, so the USPS has issued the Dog stamp, the 11th in a
commemorative series that started in 2008.
How do you know it's the year of the Dog from the stamp? In the upper left hand corner is a replica of the animal depicted on the
first series of Lunar New Year stamps issued in 1994.

Quote:
Happy Year of the Dog! For the next few weeks, millions around the world will be celebrating Lunar New Year in all sorts of festive ways, from tossing lo heito watching dragon dances to receiving highly anticipated red ang pao packets.

Quote:
"Celebrating Lunar New Year," whose imagery focuses on symbolic objects that feature in festivities. To reflect the Chinese zodiac, which moves in a 12-year cycle, the agency's art director, Ethel Kessler, worked with the Hong Kong-born, Brooklyn-based illustrator Kam Mak to design 12 stamps to roll out one year at a time.

Quote:
This year's dog-themed one is a gorgeous picture that centers on three elegant, twisting lucky bamboo. A red paper decorated with the Chinese character, 褔 (fú) indicates good fortune, while a dog, rendered as a traditional paper cutout, waves from the upper-left corner.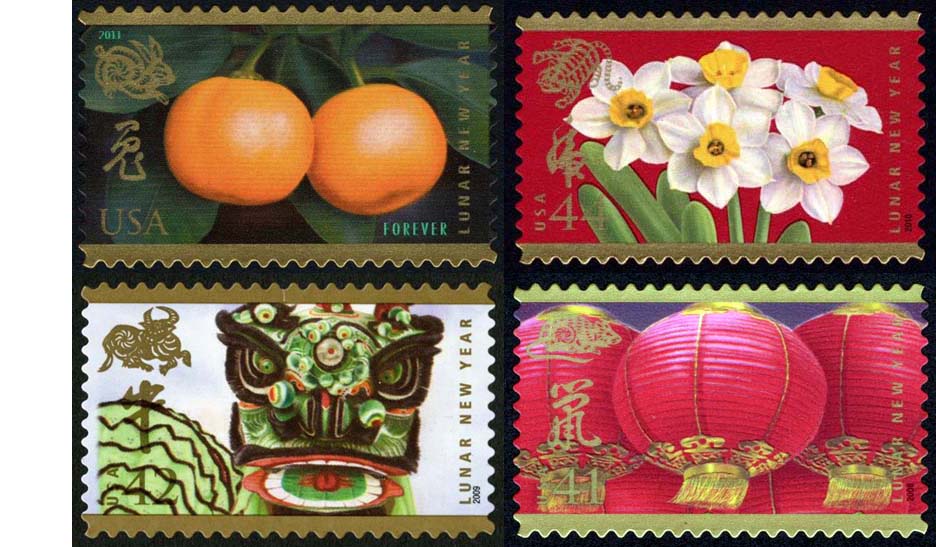 Quote:
Just like its predecessors, it is a fitting adornment to mark messages that wish friends and family good health, happiness, love, and lasting prosperity.
link