The future is unwritten
Join Date: Oct 2002
Posts: 64,276
April 7th, 2018: Tasseology
---
Tasseology? Yup, have a cupa and read you future, wealth, fame, and most important your love life.
You can seek a professional fake or with a little practice become your own tasseomancer.
Just choose which of the four styles you wish to fall for…
- Astrology Cups and Saucers
- Cartomancy Cups and Saucers
- Numerology Cups and Saucers
- Symbol Cups and Saucers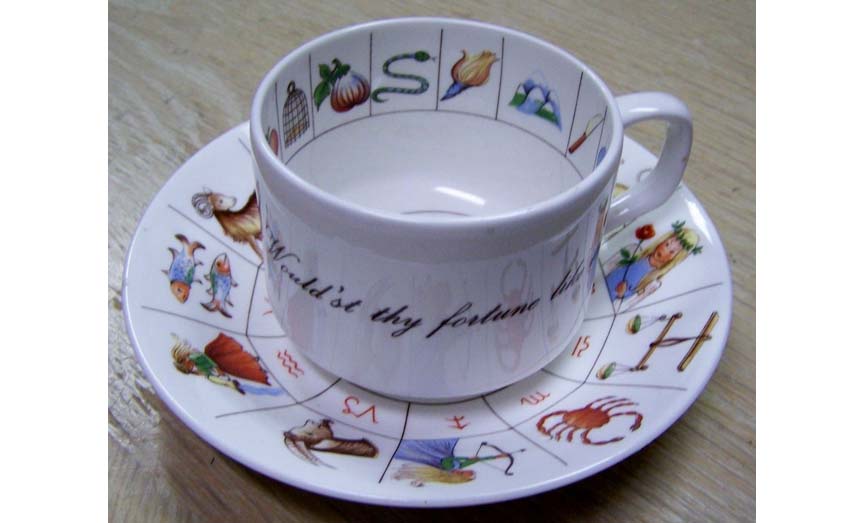 Quote:
Tea Leaf Reading is also known as Cup Reading, Tasseomancy (French "tasse" [cup] plus Greek "mancy" [divination]), Tasseography ("cup writing"), and "Tasseology" ("cup study"). As a form of divination, it is probably as old as the invention of cups. Some claim it originated in China, where tea was first commercially grown, but it seems to have been known in Scotland, Ireland, and England before trade with China developed, and probably developed there with herbal teas. In 1899, John Hanley, an American of Irish descent, described tea reading by "Figures and Signs as Interpreted by Our Grandmothers," implying that the art was already old in his era. Around the same time, Harry Roseland, a popular American genre artist, made several paintings featuring a Black female tea leaf reader divining for young While female clients.

In the early 20th century, tea leaf reading became a widespread form of divination. Women entrepreneurs opened tea rooms — small, cozy, domestic restaurants serving light lunches and non-alcoholic beverages. Getting one's cup read was a popular adjunct to dining out in such restaurants, especially between World War One and World War Two. Some tea rooms of that era featured fortune telling waitresses, who dressed as Gypsies and offered patrons "a free reading with every meal." In some tea rooms, the "Gypsy" waitresses also offered palm readings to guests.
About that time the cup makers decided to cash in on this fad by making special cups for tea reading and
by matching them with a variety of saucers sell even more sets.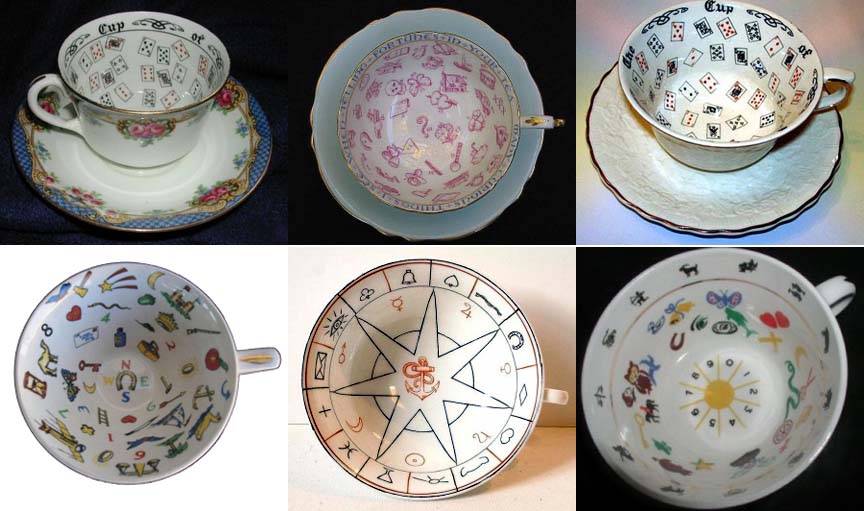 Quote:
Use a long-leaf tea, such as Pu-Erh, Oolong, or Swee-Touch-Nee, not merely a cut-open tea bag, which contains finely cut-and-sifted tea.
If you are reading for yourself, hold the cup in your dominant hand and tip it slightly toward you, as if about to take a drink, then consider what images appear.
If you are reading for a sitter, start by holding the cup the way the sitter did (right handed or left handed) and tipping it toward you as he or she did when taking the last sip from the cup. If you see nothing, rotate the cup slightly, a few degrees at a time, until an image comes into view. Remember, even "non-images" like a row of dots do have a meaning.
Do not set the cup down until you finish your reading, for if you do, the residual liquid in the cup may cause the images to slide, change, and become disfigured.

One such pamphlet, published in 1924, laid out the rules for discerning a fortune from a "Cup of Knowledge," which had a playing card design. After drinking the tea, the cup was to be turned three times, then flipped upside-down on a saucer. After most of the tea had trickled away, the leaves sticking to the cup could be read. Leaves closer to the rim indicated that predicted events would happen soon, while leaves atop each card could denote anything from "a dance" (the nine of clubs ) to "happiness and prosperity" (a Joker, oddly). But particular sets of cards together had their own meanings too. Readers were cautioned to watch out for the "evil intentions" denoted by two Jacks.

Quote:
This set of images should be enough to get you started as a tasseomancer. In my opinion, the best way to learn is to read this list over once or twice, then make a printed copy. When you read a cup of tea leaves, consult the list, but also read a few more symbols that begin with the same letter of the alphabet. Don't rush yourself. Learning these symbols and their meanings is the equivalent of learning a song with 36 quatrain verses -- that neither rhyme nor scan.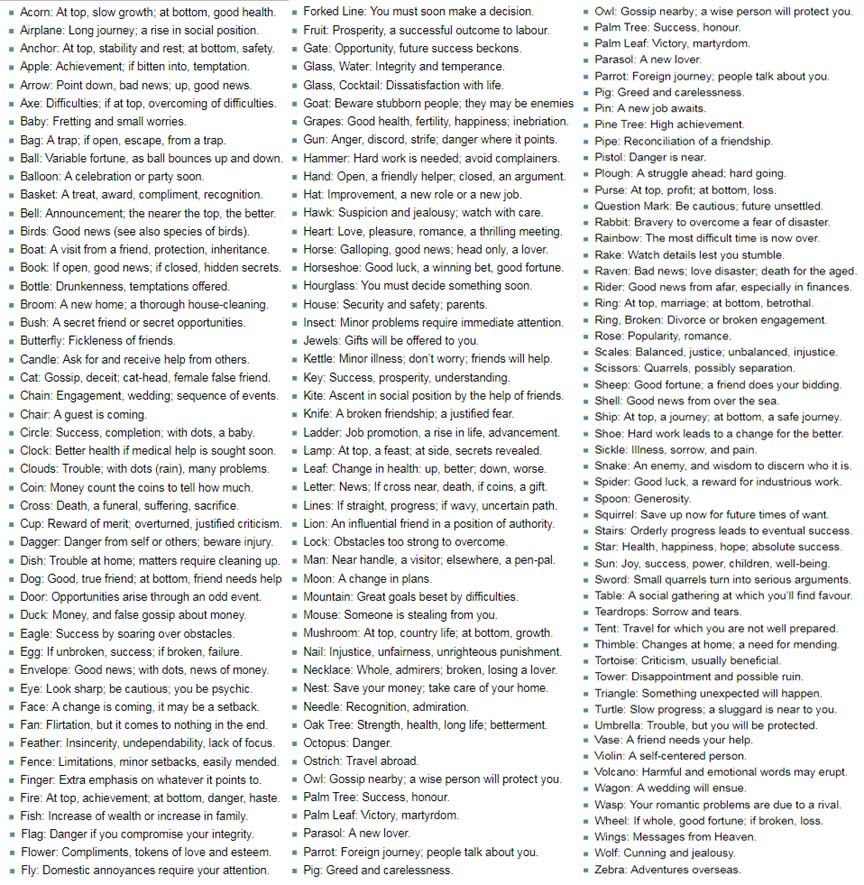 link
__________________
Everything is interesting... look closer.