The future is unwritten
Join Date: Oct 2002
Posts: 64,276
March 18th, 2018: Shrimp Horse
---
♫ Shrimp horse is a-comin'
♪ His ears are in sight
♫ Shrimp horse is a-comin'
♪ We're eatin' tonight
Horse? Shrimp? What? Yup, catching shrimp with a horse… and an itty bitty lasso.
Just kidding, actually pulling a shrimp net with a horse.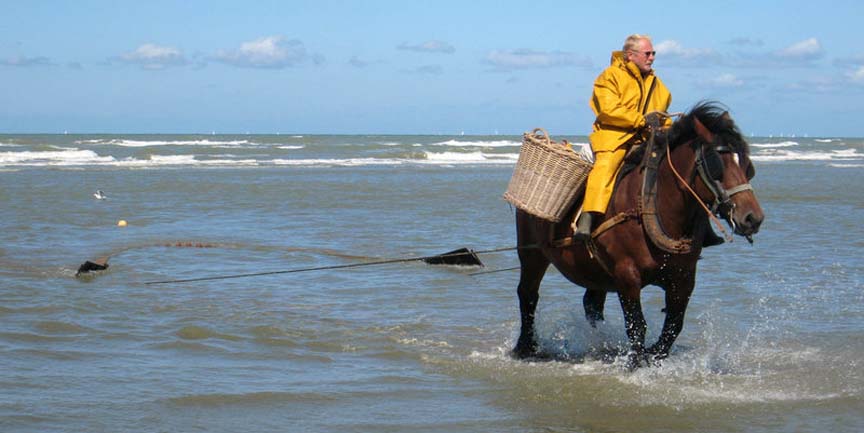 Quote:
DOMINIQUE VANDENDRIESSCHE HAS SHRIMP FISHING in his blood. Now in his twenties, Vandendriessche lives and works on the Belgian coast, in the small town of Oostduinkerke, where he is one of the last fishermen alive who catches shrimp from the back of a horse.
The fishermen, known in Flemish as paardenvissers, ride Brabant horses, a regional breed that is large and sturdy (generally around 5'7", or 16 hands, at the withers), with dense feathering on their lower legs, flaring out over their hooves like the bell of a trumpet.

Behind them, a 30-foot funnel-shaped net stretches back into the waves. As the horse walks, a chain dragged over the sand creates vibrations—causing the shrimp to jump into the net as gaily as if they'd been called for supper. Slowly, they go to and fro, walking the length of the flat coastline, as the net fills with shrimp. Once every half hour, they return to the beach: The horse has a few moments to rest as the fisherman empties the net, using wooden sieves to sift through the catch.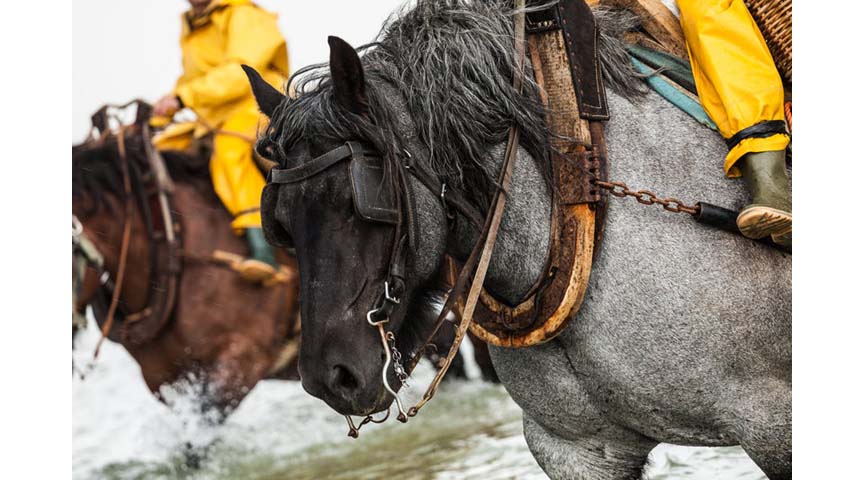 Quote:
Jellyfish, small fish, and other unwanted sea life are jettisoned back into the ocean, while the shrimp are placed into vast baskets dangling by the horse's sides. Once they have enough, perhaps 20 or 30 pounds of shrimp, they will return home, where the shrimp are washed, and washed, and washed again before being boiled in a pot over an open flame. (Exactly what each fisherman adds to their pot is a closely-kept secret.) When their sand-colored shells turn a deep puce, the shrimp are ready to be sold on the beachfront or to local cafés. It is labor-intensive and unprofitable: In 2007, fisherman Eddy d'Hulster told the New York Times that the tourist board makes up the shortfall by providing free pastures and stables and financial stipends that help cover equipment costs.

Barely a century ago, shrimp fishing on horseback was a common sight along the Belgian coast and throughout Europe, preserved in the paintings of 20th-century Belgian artist Edgard Farasijn.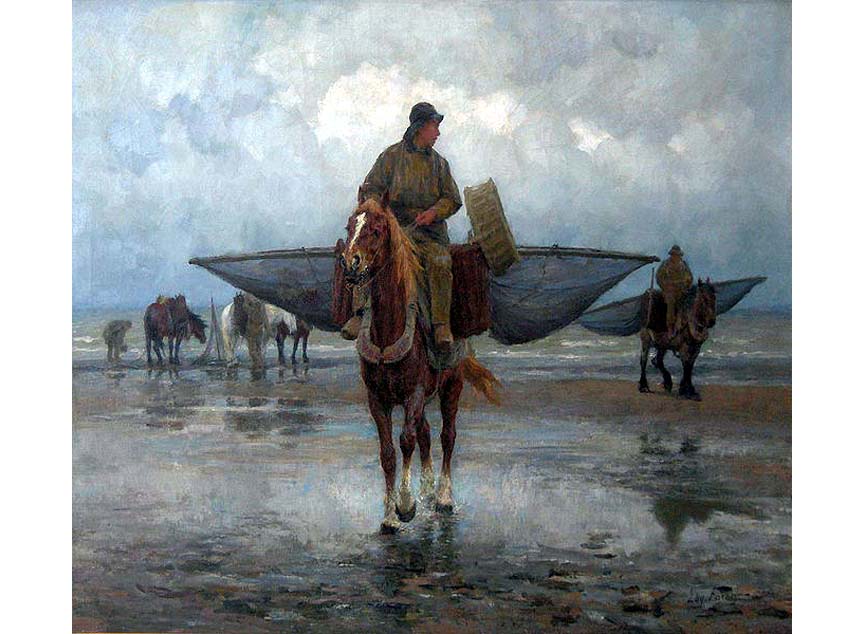 Quote:
But it's fallen victim to urbanization, commercial fishing boats, each of which can pull in 75 tons a year, and dwindling interest from town residents. That's part of the reason why Oostduinkerke wants to protect the practice and ensure it isn't forgotten. In the summertime, children and tourists congregate around the fishermen on the beach while, in nearby Koksijde, the National Fisheries Museum chronicles the history and culture of horseback shrimp fishing. This attention, along with a handful of media appearances and a coveted spot on the UNESCO intangible heritage list, helps fund the tourism board that, in turn, keeps the trade alive—albeit as a museum piece.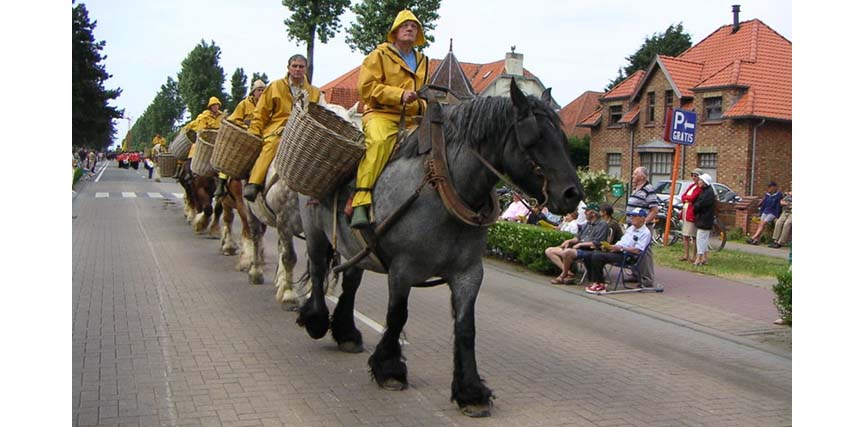 link
__________________
Everything is interesting... look closer.