Scientists had discovered awhile back from intense study and newly developed high speed photography just how Dogs lap up liquid.
It was assumed cats did the same. But scientists being the curious type(without the 9 lives) are never satisfied with assumptions.
With the advent of much more sophisticated photography technology and the shortage of grant money for seriously needed research,
they decided to verify cats drank like dogs.
Guess what… they don't.
Quote:
The dog is thrusting its tongue into the water, forming a crude cup with it and hauling the liquid back into the muzzle.
Cats, both big and little, are so much classier, according to new research. The tongue is then pulled upward at high speed, drawing a column of water behind it.
Just at the moment that gravity finally overcomes the rush of the water and starts to pull the column down — snap! The cat's jaws have closed over the jet of water and swallowed it.
The cat laps four times a second — too fast for the human eye to see anything but a blur — and its tongue moves at a speed of one meter per second.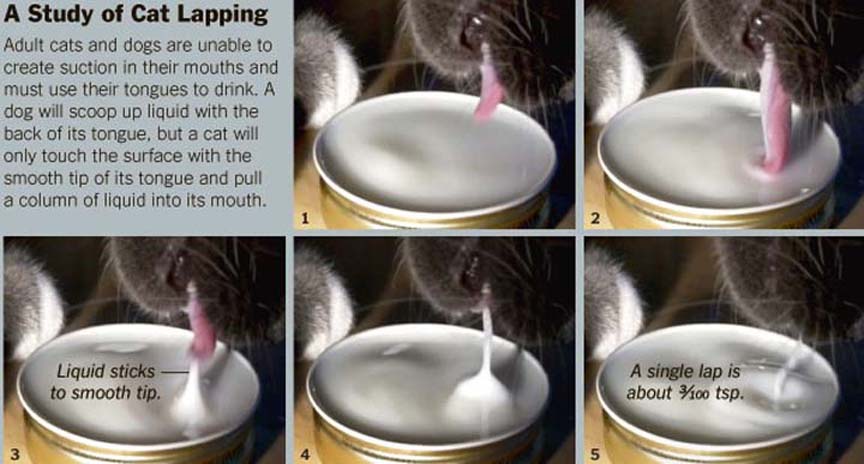 Quote:
Being engineers, the cat-lapping team next tested its findings with a machine that mimicked a cat's tongue, using a glass disk at the end of a piston to serve as the tip. After calculating things like the Froude number and the aspect ratio, they were able to figure out how fast a cat should lap to get the greatest amount of water into its mouth. The cats, it turns out, were way ahead of them — they lap at just that speed.
What? Just let it go man, scientists are just finding out cats know what they're doing. Duh.
Dr. Stocker at M.I.T. watched his cat, Cutta Cutta, lap up breakfast, and wondered(as egg heads are wont to do), how do it do dat,
and the rest, as they say, is history.
At least it only cost the team's pay because the mechanical cat tongue was borrowed from a space station project.
Probably something about keeping females happy on the ISS for months at a time.

link