In the 1800s the doctor might be most of a days ride away on old Dobin, so every household should be equipped to handle minor problem.
Yeah, but people are still people and preparations are less pressing than the problems immediately at hand.
Unfortunately not everyone could afford a drug chest like this one from 1860, measuring 15 3/4" wide x 12 1/4" deep x 8 1/4" high.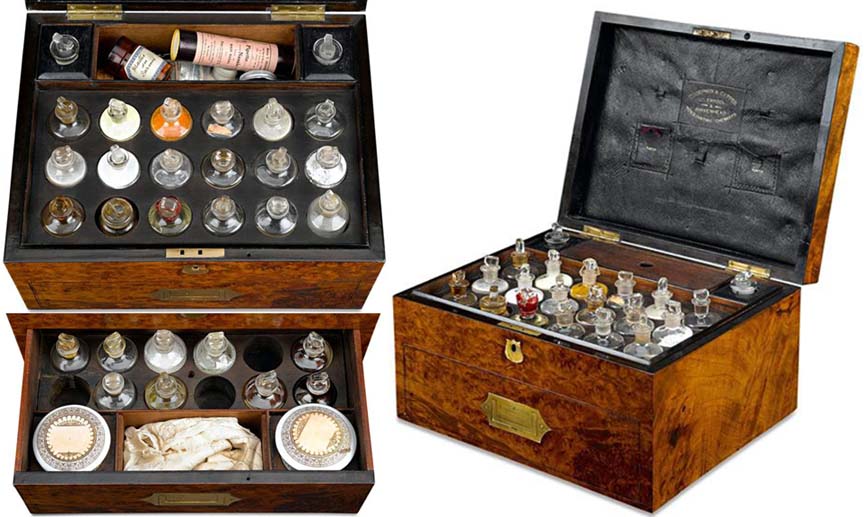 Quote:
Made by the firm of Thomas Thompson and S. J. Capper, homeopathic chemists of Liverpool and Birkenhead, this chest would have been the first, and in some instances the only, way to immediately administer medical care to the sick or injured. The case would have been crafted by a skilled cabinetmaker, with this elegant specimen, in particular, being enveloped in handsome burl walnut with flush brass hardware. Thompson & Capper would have purchased the chest and fitted it out fully to a specific customer's specifications, which is why the interiors of these fascinating medical antiques are rarely ever identical.

Quote:
The interior contains a multitude of medications, glass bottles with original contents, jars and various instruments used to administer medicines and give first aid treatment. Medications include various antiseptics, mastic (used for cuts, stomach problems, and oral care), quinine (for the treatment of malaria), bismuth and calcined magnesia (both for digestive disorders), aspirin and hydrogen peroxide, or eau oxygénée. An array of instruments, including a nasal pipe, dropper tube, vial, tongue depressor and even a bandage with illustrations on proper usage are held within this remarkable medical compendium.

I've heard Lucrezia Borgia had one, but with different ingredients.
link