When the Robot Overlords take over I hope you weren't planning to hide on an island because the Roboships will find you.
Yara in Norway is one of the chemical biggies supplying agricultural products, especially nitrogen fertilizer around the world, has
teamed with shipping giant Kongsberg Maritime to build two fully autonomous Roboships to operate along Norway's coast.
Fully as in load, sail, dock, and unload all by their lonesome.
Quote:
The vessel YARA Birkeland will be the world's first fully electric and autonomous container ship, with zero emissions. KONGSBERG is responsible for development and delivery of all key enabling technologies including the sensors and integration required for remote and autonomous ship operations, in addition to the electric drive, battery and propulsion control systems.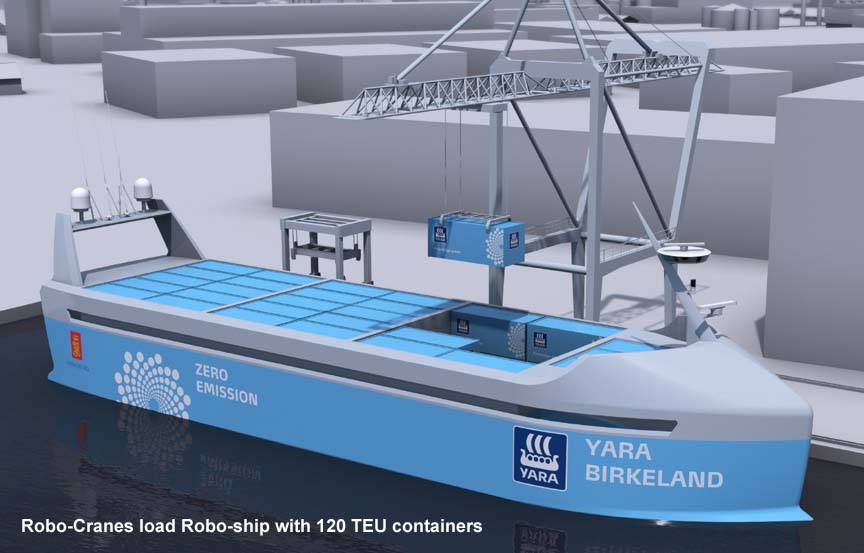 Quote:
A 120 TEU (Twenty-foot Equivalent Units) open top container ship. It will be a fully battery powered solution, prepared for autonomous and unmanned operation. The vessel will reduce NOx and CO2 emissions by reducing diesel-powered truck transport by around 40,000 journeys per year. This eco-initiative will help to meet the UN sustainability goals, and improve road safety and congestion. For the first phase of the project a detachable bridge with equipment for manoeuvring and navigation will be implemented. When the ship is ready for autonomous operation this module will be lifted off.
The following describes the concept design. The final design will be decided by the end of Q3 2017, and the delivering ship yard within the first half of 2018.

MAIN PARTICULARS
Length o.a.: 79,5 m; Length p.p.: 72,4 m; Width mld.: 14,8 m; Depth shelter deck: 10,8 m;
Draught (full): 6 m; Draught (ballast): 3 m; Service speed: 6 knots; Max speed: 13 knots
CAPACITY
Cargo capacity: 120 TEU; Deadweight: 3 200 mt
PROPULSION
Propulsion system: Electric; Propellers: 2 Azimuth pods; Thrusters: 2 Tunnel thruster; Battery pack: 7 – 9 MWh
PROXIMITY SENSORS
Radar; Lidar; AIS; Camera; IR camera
CONNECTIVITY & COMMUNICATION
Maritime Broadband Radio; Satellite Communications; GSM
LOADING / DISCHARGING / MOORING
Loading and discharging will be done automatically using electric cranes and equipment. The ship will not have ballast tanks, but will use the battery pack as permanent ballast.
The ship will also be equipped with an automatic mooring system - berthing and unberthing will be done without human intervention, and will not require special implementations dock-side.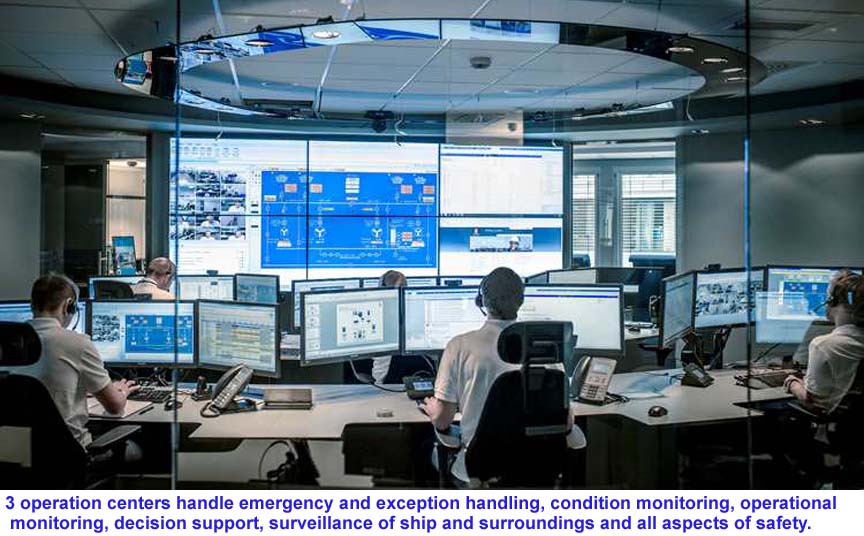 Of course the best laid plans of Yara and Kongsberg...
Quote:
2017
Design finalised. Design done by Marin Teknikk, design MT 2007.
Model towing tank testing. Testing at SINTEF Ocean in Trondheim Norway.
2018
Delivering ship yard is decided to be Vard Brevik in Norway. The hull will be delivered by Vard Braila in Romania.
2019
Testing of autonomous capability will be carried out.
2020
The vessel will be delivered from Vard Brevik, and will gradually move from manned operation to fully autonomous operation by 2022.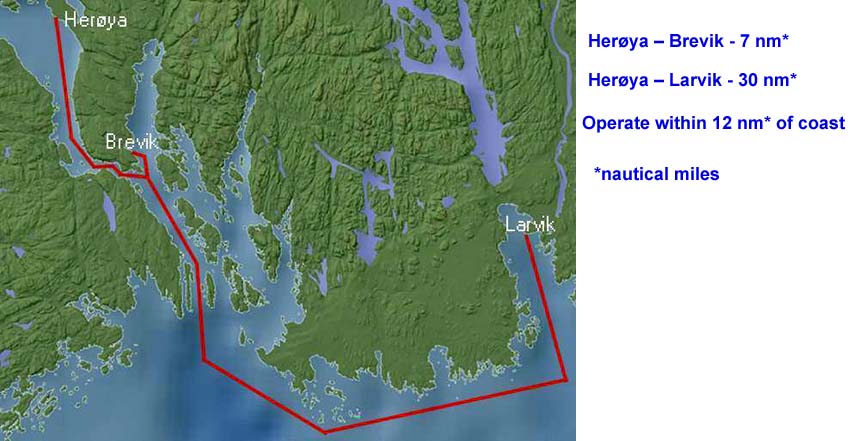 So they are a little behind the original predictions but being cautious because of future plans for larger ships to carry product
from Holland to Brazil when regulations for international shipping are set. To set regulations requires the cooperation of nations,
a lofty goal indeed.
Good luck and remember we don't need anymore nitrogen fertilizer in the water.
link
link