You can always rely on a Labrador.

Quote:
Dog acts as mum to nine ducklings

Lovable Labrador dog Fred is acting as an unlikely "mum" to nine orphaned ducklings at a heritage attraction in Essex.
Quote:
Staff at Mountfitchet Castle in Stansted were very worried when the mother duck disappeared last week, and the youngsters were found waddling around the castle grounds alone.

However, 10-year-old Fred immediately took to them and has been acting as a stand-in parent ever since.

The ducklings adore him, and they are now getting very mischievous, even hitching a ride on his back and following him in to the water for a swim in the castle moat.

Castle manager Jeremy Goldsmith said, "He has always been very gentle. The ducklings are all in our house at the moment and he is very good with them.

"We have a lot of rescued animals, including deer, goats, chickens and peacocks. We have all the domestic fowl that would have been here in Norman times."

The castle and Norman Village of 1066 are open daily from 10am to 5pm.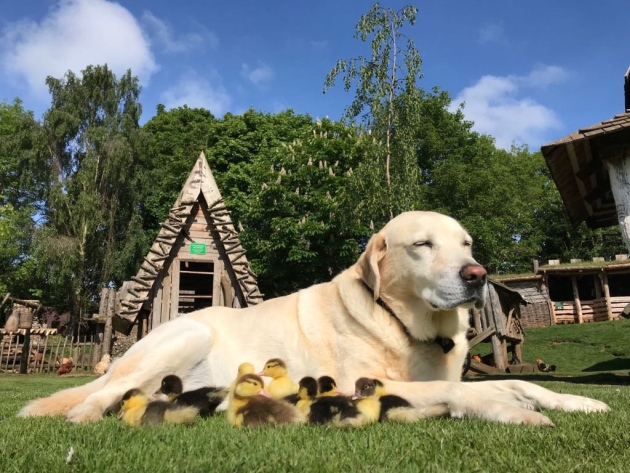 For more on this story, head over to the website of the East Anglian Daily Times, eastern England's premier journal of record.
LINK