Quote:
Lionel Strongfort, born Max Unger (11-23-1878 ~ 11-27-1967) was a German bodybuilder, wrestler and author of the correspondence physical exercise course, known as the Strongfort System of Physical Culture, or Strongfortism.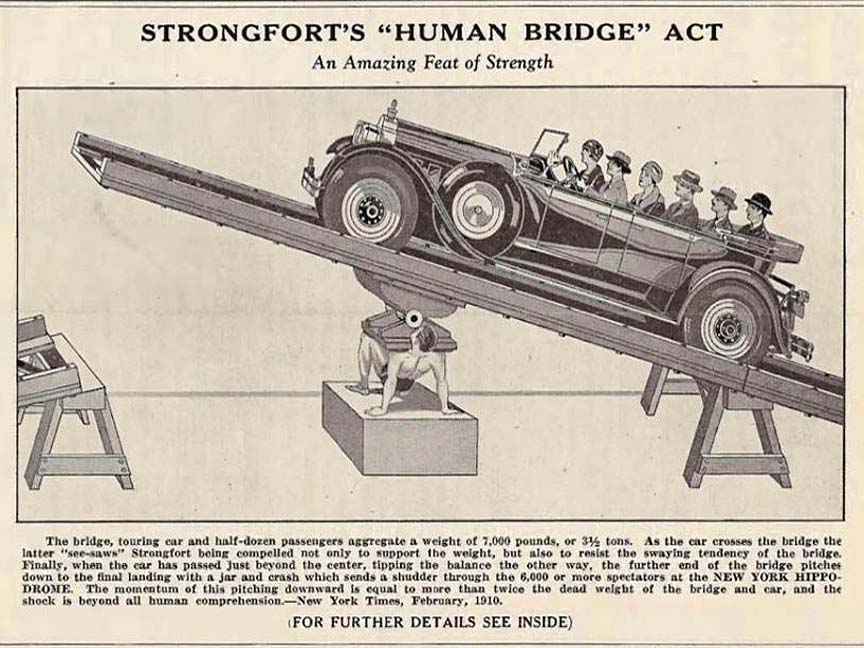 I could do that... yes I could, I can drive stick, I could drive that car.
Quote:
A turning point in the life of the young, sixteen-year-old was a meeting with German strongman Louis Attila. He immediately noticed the potential of the young man and encouraged him to attend his trainings. After a year Strongfort achieved a phenomenal form (at the age of seventeen, with one hand he lifted over his head a weight of 130 pounds). In addition to lifting weights, he also practiced boxing, wrestling and other sports. He defeated Turkish wrestlers - Yusuf İsmail and Adali Halil, who at that time were doing a world tour. He also adopted the stage nickname Lionel Strongfort and began his own series of shows on vaudeville and circus scenes around the world. He also posed for sculptors and photographers.
I put his
picture over here
.
His gimmick for selling his system was casting doubt on ones manliness, fitness for being a husband, ability to satisfy a woman, a wife.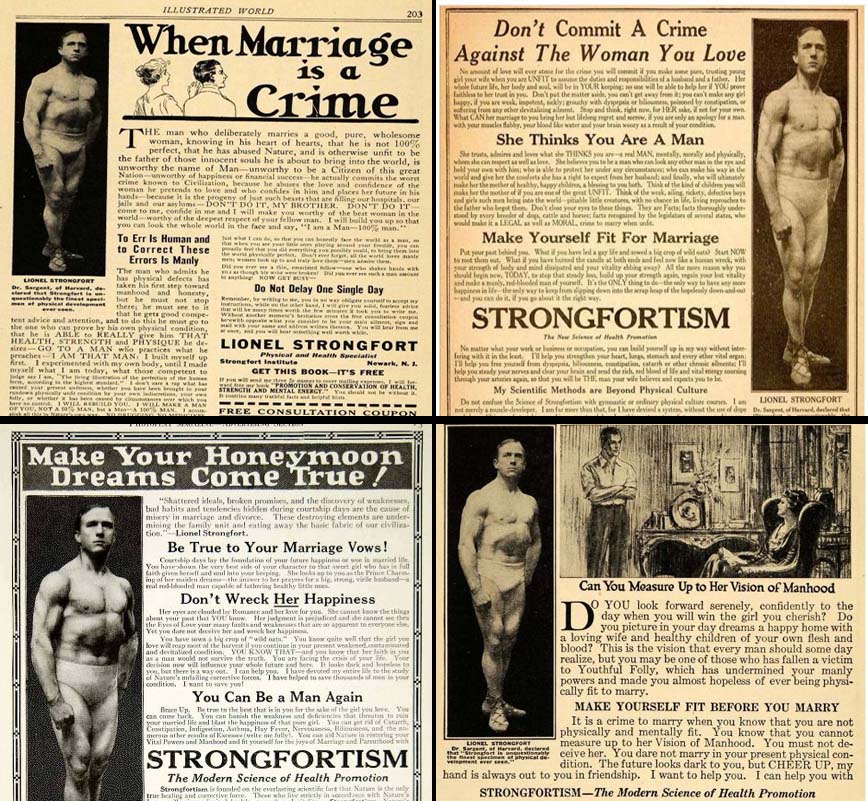 Quote:
He was a lacto-ovo vegetarian. He recommended a diet that consisted of fruit, vegetables, grains, milk and eggs. In 1909, Strongfort issued a challenge in the Physical Culture magazine to bodybuilder Arthur Saxon. Saxon believed that meat was essential to gain strength. He was particularly fond of beef and ate it three times a day. As a vegetarian, Strongfort disputed this and challenged Saxon to a weight-lifting contest to prove the superiority of a meat-free diet. The challenged was not answered.

He established the Max Unger Health and Strength Institute in New York City around 1915, and later the Strongfort Institute in New Jersey. He launched a mail-order health training system that continued into the 1930s.
His shtick expanded to your poor chances of success and likeability as a girly man.

Quote:
Similar to Eugene Sandow and other strongmen of the period, Strongfort equated the muscular male body with heterosexuality. In his book Do It With Muscle!, he commented that "it is a wise law of nature that woman shall ever be drawn to the strong and vital man."
He'll make you a man. Hmm, but then so will...
Frank-N-Furter
♫ A weakling weighing ninety-eight pounds
Will get sand in his face when kicked to the ground.
And soon in the gym with a determined chin,
The sweat from his pores as he works for his cause...
Will make him glisten... and gleam
And with massage, and just a little bit of steam
He'll be pink and quite clean
He'll be a strong man. Oh honey...
♪ But the wrong man.
He'll eat nutritious high protein and swallow raw eggs.
Try to build up his shoulders, his chest, arms, and legs.
Such an effort if he only knew of my plan.
In just seven days, I can make you a man.
He'll do press-ups, and chin-ups, do the snatch, clean and jerk.
He thinks dynamic tension must be hard work.
Such strenuous living I just don't understand
♫ When in just seven days, oh baby, I can make you a man.
link