If you visit Berlin, Germany, taking a tour would be a good way to get a handle on the layout and decide which attractions
you want to spend your limited time at. There are all sorts of guided, self-guided, group, and solo tours.
For fun, weather permitting, taking a Hot Rod Tour in these mini '34 Ford based hot rods should be a way.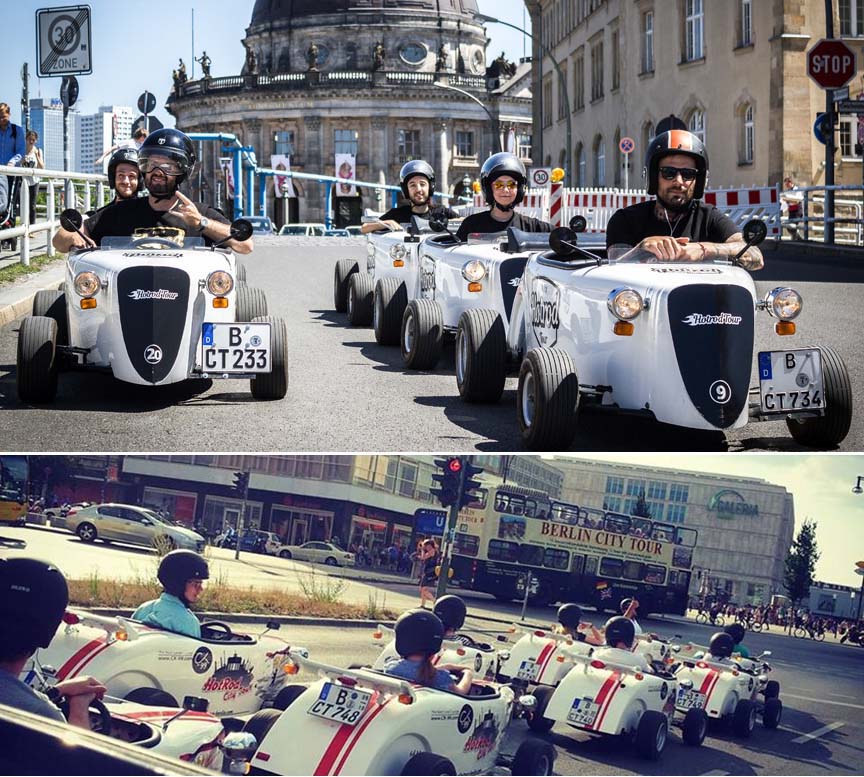 I was surprised so many signs are in English. The tour bus and hot rods would be trying to attract westerners, but the stop signs
and speed limit signs? I wonder if this is a Berlin thing and different than the former West Germany.
It seems these mini hot rods are popular for promotions and some delivery service, so I guess this tour thing is a natural outgrowth.

Quote:
80-MIN TOUR - DISCOVER BERLIN - 77 €
Short and sweet? Jet with the Hotrod past the hotspots of the capital: East Side Gallery, Alexanderplatz, Gendarmenmarkt & Co. This time you are the attraction of the city and experienced together with our tour guides the streets of Berlin. Office hours: Monday to Friday 10am - 4pm

120 MIN TOUR - DISCOVER BERLIN – 99 €
Let's start over the Warsaw Bridge with a spectacular view of the Berlin skyline. Next we drive along the East Side Gallery, where art history can be celebrated in the open air. Afterwards, the constantly changing Alexanderplatz and, as the crowning glory, the landmark of the Prussian metropolis, the Brandenburg Gate, are controlled. The two-hour round trip brings you on tours and offers everything your heart beat faster. Seeing and being seen is guaranteed. Office hours: Monday to Friday 10am - 4pm
There's a tour guide with each group but between the traffic noise and the helmets I don't think that would help much.

Then there's the fine print
There's a 150 € security deposit per car
Max height 2 M (6'6") Max weight 140kg (309 lbs)
Valid drivers license, no drugs or alcohol
Suitable shoes, helmet supplied
The liability for damage caused by the driver amounts to 1000. (Euros? don't say)
Before driving you have the opportunity to reduce the liability limit with a surcharge of 10 to 150. (Euros? don't say)
The other little matter is you're driving in a whole new situation, probably gawking around, in a very hard to see vehicle that
does 55 mph and has (I hope hydraulic)drum brakes on roads with real traffic.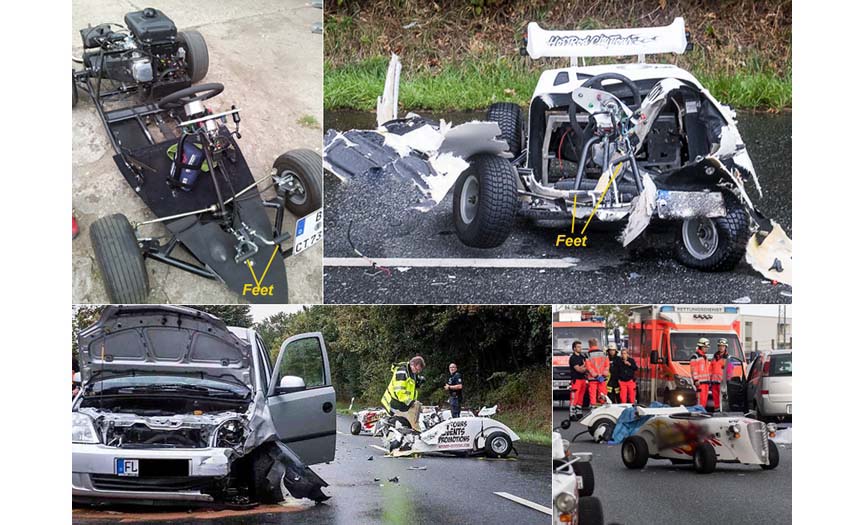 link
link