By the shore of cold Nares Strait,
By the shining Big-Sea-Water,
At the melting Iceland ice sheet,
In the pleasant Summer morning,
Hiawatha Glacier was shrinking away.
Leaving a 12K year old, 19 mile wide, butt print under Hiawatha.
Quote:
"Until 2015, no one had paid much attention to this part of the planet," says study coauthor Joseph MacGregor, a glaciologist with the NASA Goddard Space Flight Center in Maryland. But that year, scientists began flying over the area with highly sensitive scanning instruments, such as lasers and radar, through NASA's Operation IceBridge.

Like all IceBridge data, the scans were made public, and a group of Danish glaciologists noticed something interesting when they reviewed the material: A large, bowl-shaped depression was clearly visible in the bedrock under the ice.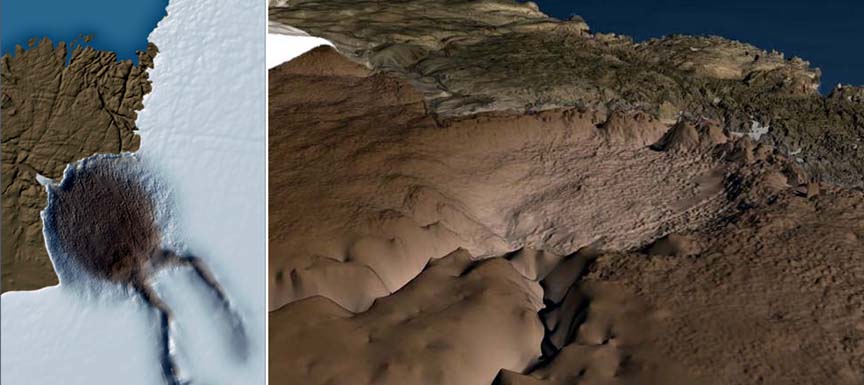 Quote:
To get more high-resolution scans of the Hiawatha Glacier, the team also enlisted the Alfred Wegener Institute in Germany, which provided them with additional surveying flights in May 2016 carrying newer, more sensitive instruments. They also sent a ground team in July 2016 to map surrounding structures on the surface and collect samples of sediments that had drained out from under the glacier.

The walls of the circular rim are roughly 1,050 feet above the floor of the crater, they found. The team also identified an uplifted area 164 to 230 feet high in the center of the crater, which Kjær says is an expected feature and is the result of the force of the strike.
In the sediment samples, the researchers found grains of what's known as shocked quartz—a rare form of the ubiquitous mineral that has been deformed in a characteristic way by very high-energy events, such as in a large impact. Some of the grains also showed a brown color known as toasting, again a sign of intense energy release. Other minerals showed signs of shock metamorphism, to the point of turning into glass.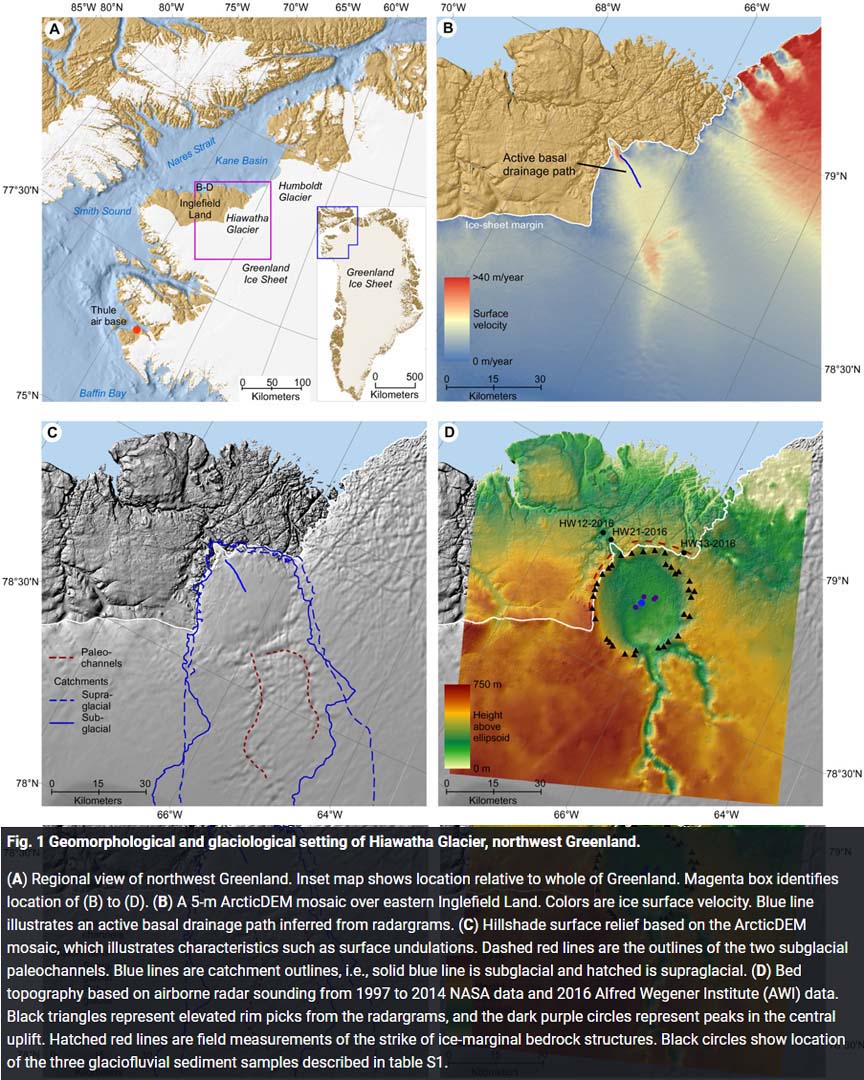 Quote:
Based on the size of the crater, the team estimates that the asteroid would have been around 0.75 miles across and would have weighed 11 to 12 billion tons as it entered the atmosphere. And based on their mineral analysis, they believe it was an iron-rich space rock—the same type of rock as the meteorite fragment in the museum, although more tests would need to be done to establish a firm link, Kjær notes.
But it's speculation at this point, Hiawatha is still 0.6 miles thick.
Run out and pollute so it'll melt faster, the suspense is killing me.
link