Now for something completely different. I saw one of the pictures with bold writing on it that are strange facts, or
shower thoughts, etc. During the process of going down the rabbit hole for an explanation I lost the picture.
But rather than throw those hours away I created a facsimile... deal with it.
It started with one of those strange facts things, pictures with large writing over it. They're kind of like click bait except
they don't lead anywhere. This one says something like, The US Congress funds TV broadcasts that are not allowed to
be shown in America. In the background picture I see the word Alhurra.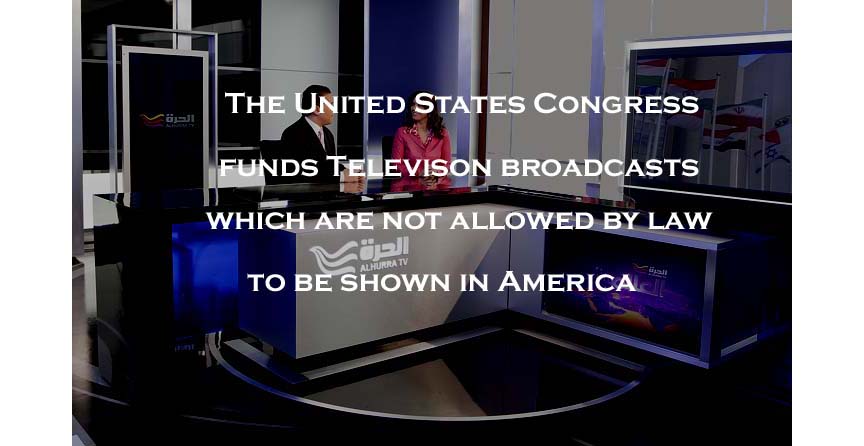 I Googled Alhurra and find SourceWatch.org
Quote:
Alhurra (or Al Hurra), is an Arabic-language American satellite TV channel based in Springfield, Virginia, financed by the U.S. government, and "aimed at viewers in the Middle East." As with other forms of U.S. public diplomacy, it is not allowed to broadcast inside the U.S. because of the 1948 Smith-Mundt Act. The channel is owned by the Middle East Television Network Inc., a holding company, and overseen by the U.S.-funded Broadcasting Board of Governors.
Ok, like the old Radio Free Europe, probably run by the CIA or the Pentagon. What's the Broadcasting Board of Governors?
Quote:
The Broadcasting Board of Governors is the body that oversees several U.S. funded international broadcast channels, including Voice of America, Radio Sawa and Al Hurra. The board is comprised of four Democrat appointees, four Republicans appointees and the Secretary of State.
Uh oh, that sounds like a clusterfuck.

But Their 2019 budget is $661 million, and you couldn't buy more than two or three congress critters with that.
Appointees? Maybe people who know their ass from their elbow?
As of September 2008:
Jeffrey Trimble, Executive Director
Janice H. Brambilla, Director of Management Planning
Janet Stormes, Chief Financial Officer
Timi Kenealy, (Acting), Legal/General Counsel
Board members
Joaquin F. Blaya________ Broadcasting
Blanquita Walsh Cullum__ Broadcasting
D. Jeffrey Hirschberg____ High speed rail
Edward E. Kaufman_____ Joe Biden's staff for 22 years
Steven J. Simmons_____ Patriot Media Cable
Condoleezza Rice______ You know Condie
Former members
James K. Glassman_____ Director of the George W. Bush Institute
Norman J. Pattiz_______ Westwood One, radio network
Marc B. Nathanson_____ Mapleton Investments, Capital Management and Communications(radio)
Kenneth Y. Tomlinson___ Editor at Reader's Digest
Hmm, not necessarily, I can see some assholes and elbows getting confused.
Wiki has paragraphs on, and numerous links to, stories about...
1- Allegations of pro-American bias
2- Allegations of anti-American bias
3- Criticism of administration and oversight
Stories like FOX News, "U.S. Government's Arabic-Language Channel Airs Anti-Israel Comments from Hamas, Hezbollah",
the Washington Post's, "Russia's Signal to Stations Is Clear: Cut U.S. Radio", and the L.A. Times, "Static Rises on Capitol
Hill Over Broadcast Board Member, tells me the board does attract attention.
It also says they have a habit of pissing off one group or another then backtracking, which to me says they are walking
a very narrow path, almost a tightrope. If that's true then they can't do the job they were chartered and publicly touted to do.
Neither could they accomplish a secret agenda without credibility that free press is bespoke... until they prove otherwise.
So now you know just enough to know not.
But know enough to walk away because it's one of those things that frustrates everyone but nobody can fix it.
Especially these days when bipartizen means your party says what color hand grenades you're issued.

link
link
link