I see this chart he said came from CNN ...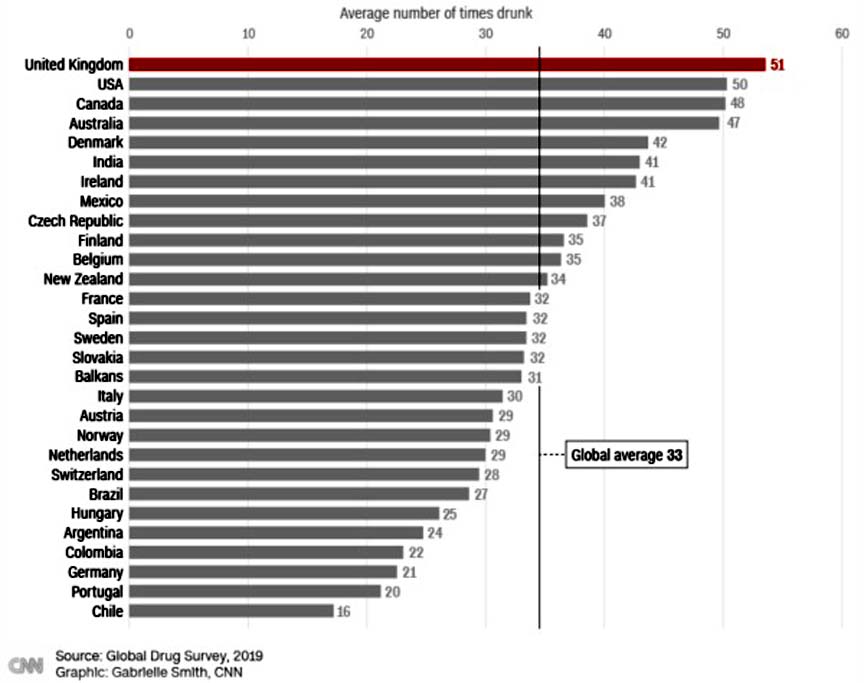 Doesn't look right to me, I only know one person who gets drunk most Saturday nights, the rest having 1 or 2 glasses of wine or a beers 99% of the time.
Maybe I'm out of touch as I never ask anyone if they're drunk when I shoo them off the lawn.

I go to CNN and find they grabbed it from the 2019
Global Drug Survey
, so I go there and grab the pdf of the Exec Summary.
GDS2019 ran from October 29 – December 30, 2018.
Data from 123,814 people from > 30 countries who were self reporting
• 59% were male
• The mean age was 29 years
• 57% of the sample aged 25 years or under and 19% aged 35 years and older
• 87% of the sample was white
• 60% reported going clubbing 4 or more times a year.
I think that sample does not represent the population of any country, making the presentation by CNN misused and misunderstood.
That report covered a lot more, drugs, their cost/quality/value, how often an EMT was called, etc, but again a small demographic.
Of the 20 drugs used most commonly in the last 12 months:
• 4 were tobacco/nicotine-based products
• 6 were psychedelic/dissociative drugs
• 4 were stimulant drugs
• 3 were prescription CNS depressants
The top 10 drugs used in the last 12 months(excluding alcohol and tobacco/nicotine)
• Cannabis
• MDMA
• Cocaine
• Amphetamines
• LSD
• Magic Mushrooms
• Benzodiazepines
• Prescription Opioids
• Ketamine
• Nitrous Oxide