During the Big One, WWII, rationing reminded everyone to conserve and make do because materiel and manufacturing
ability was all dedicated to the war effort. Some companies went under, some converted entirely to materials, some produced
materials for the military along side the minimum required stuff for civilians.
One company was Maidenform, best known for supporting breasts, to support pigeons. But they weren't called bras, they were
called vests, I suppose to avoid embarrassment among the boy pigeons.
Paratroopers jumped with a carrier pigeon as it was the most secure and reliable system of sending messages back to the boss.
Quote:
The pigeon vest was designed and manufactured by the brassiere company, Maidenform. On December 22, 1944, Maidenform agreed to make 28,500 pigeon vests for the U.S. government, switching, as many companies did, from peacetime production to producing necessary supplies for the war. In addition to the pigeon vest, Maidenform also made parachutes.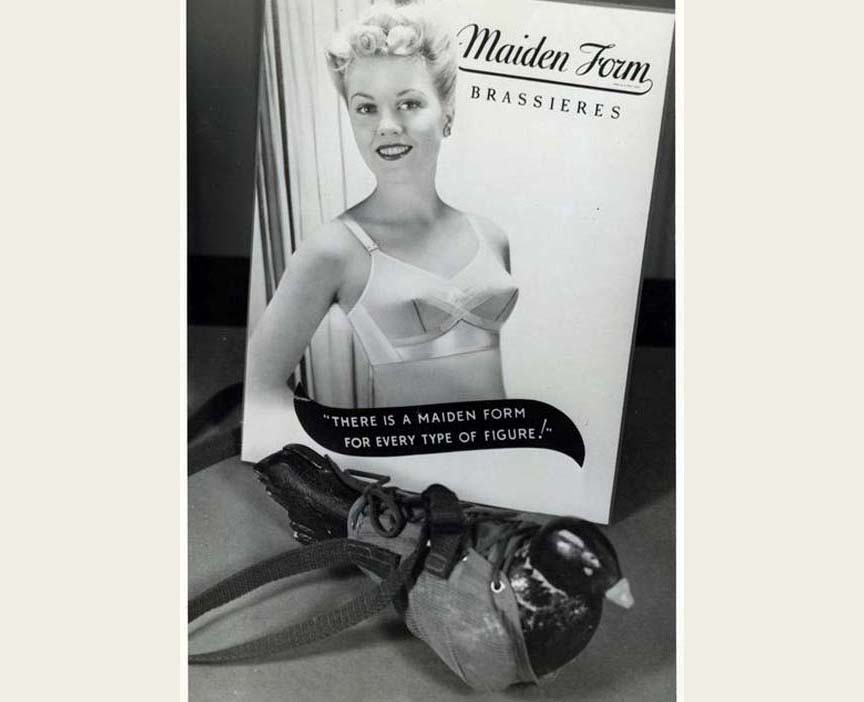 Pigeon vest blueprint states: "Important: Do not retain pigeon in vest in excess of six hours."
I know you ladies know the pleasure of shedding that bra.
Quote:
The pigeon carried messages in a tiny capsule attached to their leg. The capsules could contain messages, blood samples, or even tiny cameras. Oftentimes, these carrier pigeons, also called homing pigeons, were the only form of communication during World War II. They were also the most secure and reliable. Homing pigeons were the least likely form of communication to be intercepted. More than 95% of the messages they carried were successfully delivered. Due to their obvious necessity for wartime communication, approximately 56,000 carrier pigeons were trained for war missions in World War II. This was the height of carrier pigeon use.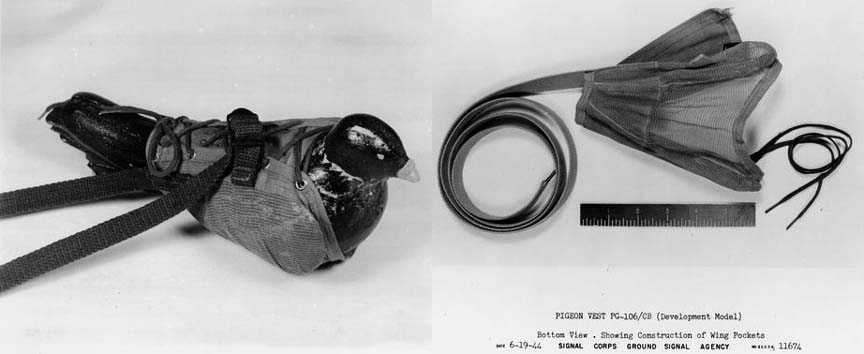 Quote:
The pigeons' average speed was 50 miles per hour and their average flight distance was 25 miles, although they could travel up to 2,000 miles. They helped with tactical gains but also saved many lives. Thirty-two pigeons received medals for their service in World War II. One of those pigeons was named G.I. Joe. He carried a message to cancel a bombing mission and, in doing so, saved the lives of about 1,000 Allied troops.
Now the grunts can send a picture of the situation on their smartphone.

Link.