Jatayu was a bird who tried to stop the bad guy from kidnapping the wife of the good guy and got his left wing chopped off for his trouble,
but before he died he ratted the bad guy out so the good guy could go snatch his snatch back.
Got it? Got it. Good.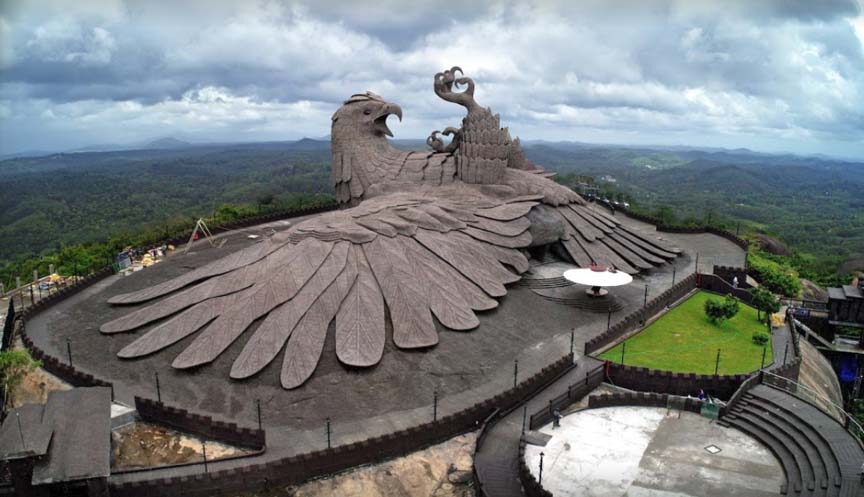 Quote:
As per Ramayana, Ravana abducted Sita to Lanka. Jatayu had tried to rescue Sita from Ravana when Ravana was on his way to Lanka. Jatayu fought valiantly with Ravana, but as Jatayu was very old Ravana soon got the better of him. Rama and Lakshmana while on the search for Sita chanced upon the stricken and dying Jatayu, who informs them of the fight between him and Ravana and tells them that Ravana had headed South. It is believed that Jatayu fell on the rocks in Chadayamangalam after his wings were clipped by Ravana.
See, I told ya so.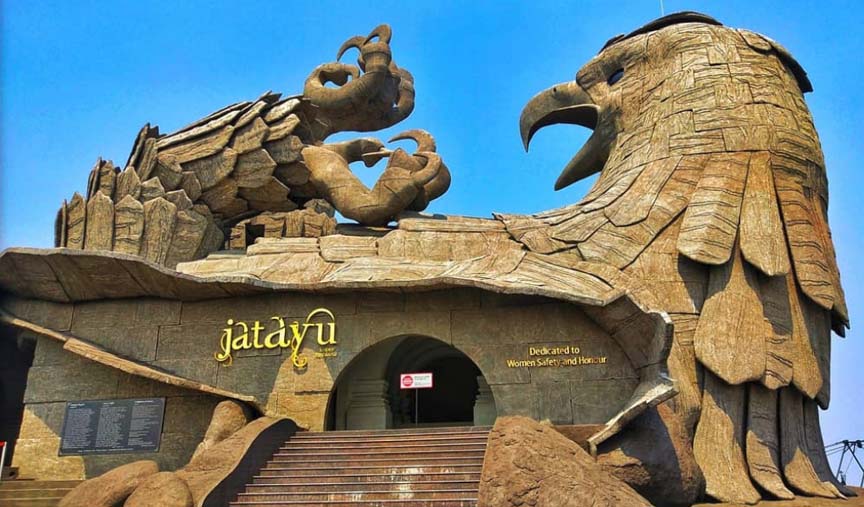 Where his left wing was chopped off it left a hole where adults and children pass through like flies and maggots in a corpse.
Quote:
Jatayu Earth's Center or Jatayu Nature Park is a park and tourism centre at Chadayamangalam in Kollam district of Kerala.It stands at an altitude of 350m(1200ft) above MSL. Designed by Rajiv Anchal, this rock-theme nature park is about 38 km (24 mi) away from Kollam and 46 km (29 mi) away from the state capital, Thiruvananthapuram. It is the first PPP tourism initiative in the state of Kerala under the BOT model. When open, Jatayu Nature Park will hold the distinction of having the world's largest bird sculpture (200 feet (61 m) long, 150 feet (46 m) broad, 70 feet (21 m) in height and having 15,000 square feet (1,400 m2) of floor area) of the great bird Jatayu. The park became partially operational by the opening of Adventure Rock Hill on 5 December 2017. ₹400 (US$5.60) would be per adult for cable car ride & Jatayu sculpture visit and free for kids below certain age.

"Dedicated to Women Safety and Honour". Women not Woman. Women does not have an apostrophe s ('s) attached.
So is it dedicated to all three, Women, Safety, and Honour?
Or is it dedicated to Women Safety, and Honor?
Or is it really dedicated to Women Safety and Honour.
This makes my head hurt so lets go hit the...
12D theatre,
Cable car,
Helipads and local flying service
Digital Museum,
Adventure zone (with 20 games),
Paintball,
Facility for Bird's eye view,
Ayurvedic and Siddha cave resort.
link
link