The future is unwritten
Join Date: Oct 2002
Posts: 66,539
Jan 30th, 2019: Lycopersicum
---
The thousands of different varieties of fruits and veggies have been pared down, paired up, cross bred, mutated, castrated,
and GMOed down to the handful you see in the supermarket. They've been Frankensteined to be easy to grow, transport,
and live on display the longest. Minimize loss and maximize profit at the expense of texture and flavor.
Quote:
Those were just drops of honey, they were so incredibly sweet," says German artist Uli Westphal. "Those were really magnificent. And they were tiny, like the red currant berry."
The tiny fruit in question isn't a ripe raspberry or cranberry. It's a tomato. The red currant tomato, to be precise, a wild counterpart of the larger, more commonly cultivated Roma and beefsteak varieties sold in supermarkets. The dainty red currant is one of the many unique cultivars featured in the Lycopersicum series, Westphal's sequence of collages of tomatoes arranged from bright-green to red-black, from multi-lobed to currant-tiny, all photographed against a stark white background.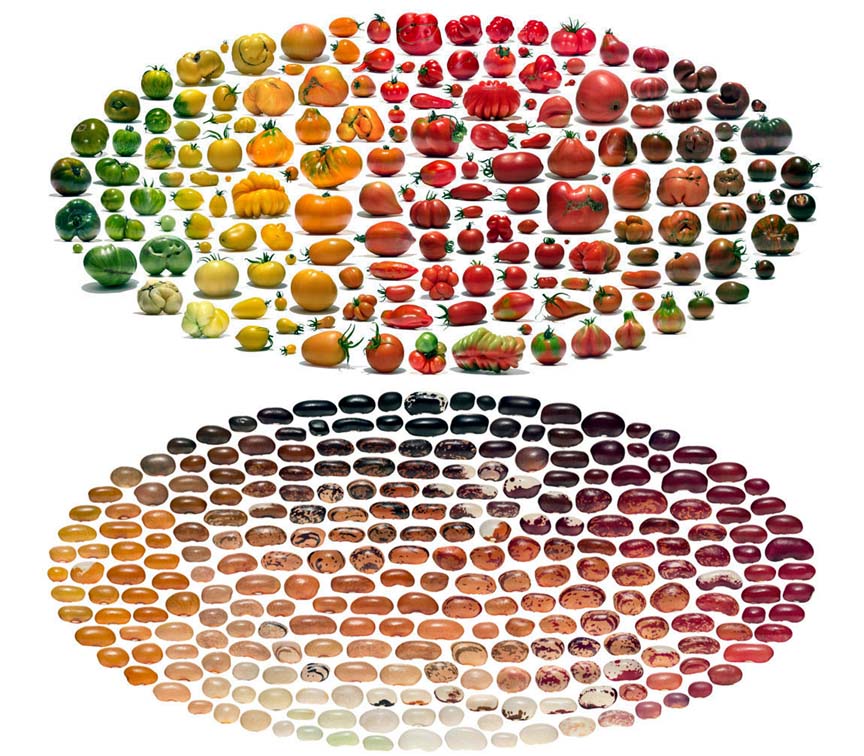 Quote:
Tiny tomatoes aren't the only unique produce Westphal has photographed over the years. A Berlin-based artist dedicated to using his camera to document agricultural biodiversity, Westphal has been discovering, photographing, and tasting unique produce since 2006. In 2010, he began The Cultivar Series, a constantly-expanding collection of collages featuring stunning rainbows of produce, from pears to corn, arranged painstakingly according to species.

Almost taxonomic in their precision, Westphal's images aren't just beautiful. They're also documentation of the vast diversity of cultivated crops that critics of industrial agriculture feel monoculture, or the standardized cultivation of one variety of a plant, has left behind. Some scientists worry that the growing standardization of the global food supply, evident in the increasing cultivation of a limited number of crops, could have a negative effect on food security and human health.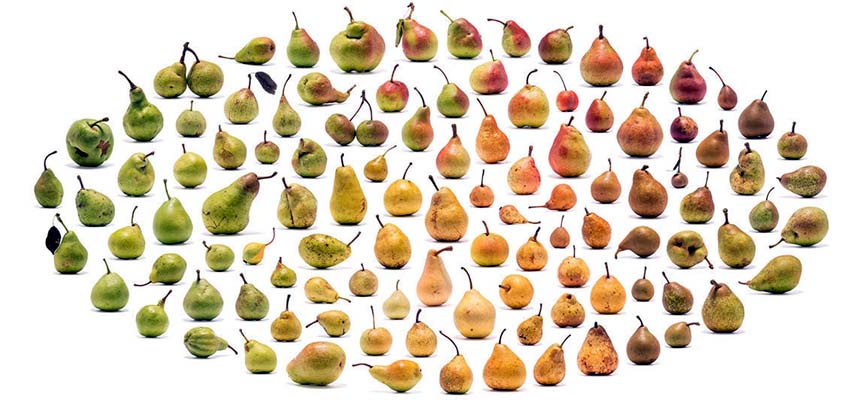 Quote:
Concern about food security is a central motivation of Westphal's work. He also worries that declining biodiversity limits people's visual and taste experiences of food, and threatens valuable cultural knowledge. Developed over millennia of careful breeding, cultivars are a living record of human beings' relationship with the environment.
"Especially in agriculture, there has been some sort of coevolution between humans, plants, and animals that has happened over thousands of years," says Westphal. "Everything we eat, it's still a biological organism, but it's also something that we have cared for and that we have shaped."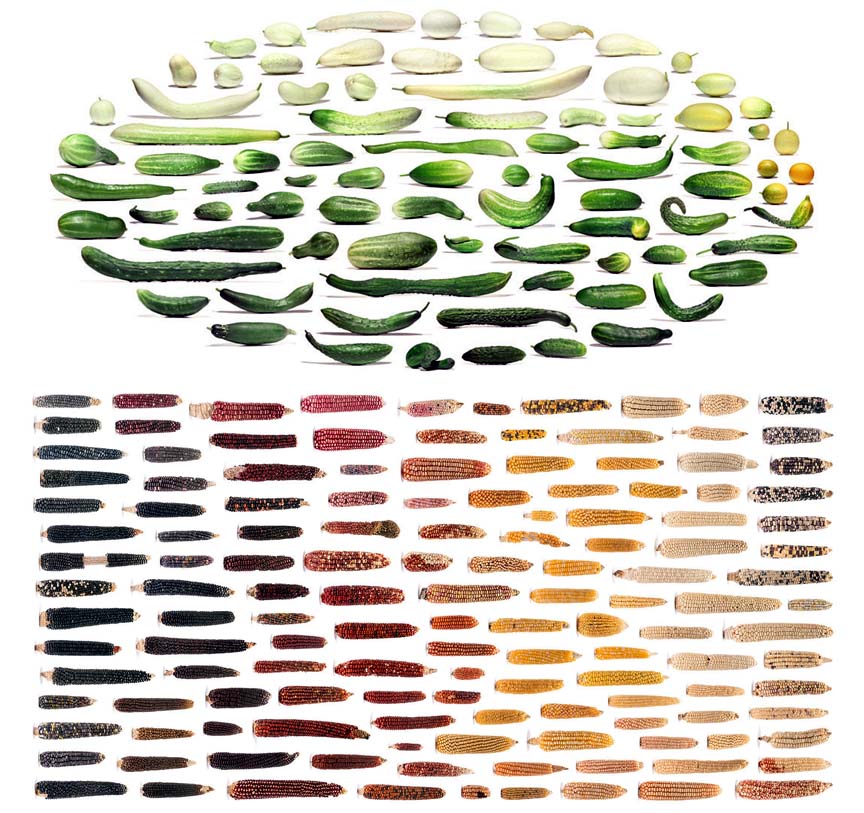 Quote:
This aura of perseverance animates Westphal's work. His two-headed tomatoes and gnarled ears of corn reveal that even those plants that differ from our preconceived notions of beauty are works of art. When talking about the most wondrous fruits he's ever seen, Westphal mentions the Buddha's hand citron, a yellow-green citrus fruit whose tentacle-like strands curve creepily from the branch. But he also mentions the lowly citrus bud mite, a parasite that causes lemons to grow in lumpy, twisted shapes. While farmers may call the mite a pest, Westphal calls it an artist.
"The parasite is really working as a sculptor," Westphal says. In other words, it makes beauty out of the quirks of agriculture, just like Westphal himself.
Maybe it's for the best we lose the flavor and visual appeal, better to prepare us for a Soylent diet.

link
__________________
Everything is interesting... look closer.