♫ Down the Rock Island Line she's a mighty good road
♪ Rock Island Line it's the road to ride
♫ Rock Island Line it's a mighty good road
♪ Well if you ride it you got to ride it like you find it
♫ Get your ticket at the station for the Rock Island Line
But the Rock Island Line in Missouri went belly up in the 1980s became part on the Missouri Central railroad which also tanked.
The Missouri Central was sold to the Central Midland Railroad, and Ameren electric power producer bought the Rock Island part
as a hedge against coal transportation costs.
But now coal is dead so Ameren offered Missouri Parks a 100 ft(30.5m) wide right of way for a non-motorized trail in a PR move…
...and probably a big tax write off.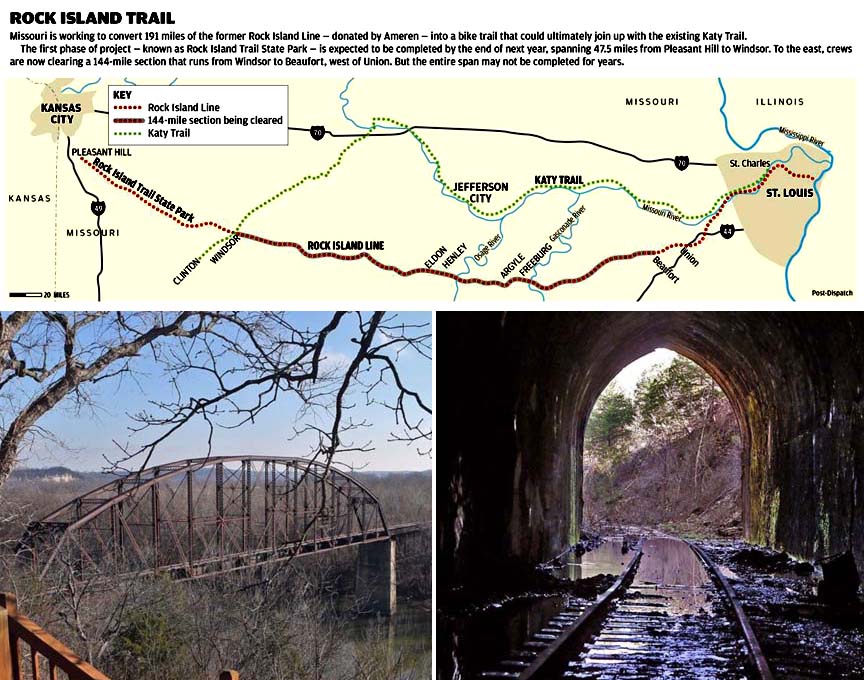 Many of the people along the line are upset. They say the original line was an easement and should be returned to the landowners.
Some of them have various arguments…
The tax money to build the trail.
Loss of privacy, isolation and open hunting grounds.
Having to move barns and buildings away from the trail because of biosecurity issues.
Jeopardizing bats living in the tunnels.
Contact by public with spray toxins on row crops, and complaints about manure smell.
Quote:
Producers Exchange #84 elevator owner Dean Shear worries he will have to spend thousands of dollars to move his grain equipment and anhydrous tanks farther from the nearby corridor in Lincoln to prevent trespassers from easily accessing and potentially stealing his property and using the trail as a getaway route. Anhydrous can be used in production of methamphetamine.
link
link