Not today, but, yesterday.
The Barnes & Noble Turd HD Plus, I mean, the Barnes & Noble Nook Turd Plus, I mean, the Barnes & Noble Nook HD Turd, I mean the Barnes & Turd Nook HD Plus, I mean, oh you get it...
When the thing was brand new it was a turd. A turd w/a great screen. And the
really
great thing about this turd, was that when you updated the thing, about a third of them turned into bricks. So, I refused to update the thing, not really believing it could be made to be worse, but unwilling to risk bricking m'Nook.
I don't know how long I've had the thing, it was a gift from a friend, four-five years. Anyway, yesterday I picked up the Turd/Nook, wtfe, and the thing began updating itself. I know it was updating because the word "Updating" displayed itself across the great screen. I said "Oh shit!! M'Nook is about to brick itself!" and shut the thing off as fast as I could, which is 5 seconds, which is apparently enough time to download an update. When I turned it back on later, it still said "Updating", but that went away almost immediately, and was replaced by the word "Nook", which is what you see while the Turd is booting up. That's all it ever said. It's a brick. The Barnes & Noble Nook HD Plus is now no,longer a turd. It is a dried up, chalky, white,
dog turd
.
So I broke the motherfucking piece of shit Barnes & Noble Turd HD Plus over my thigh. Then threw it outside into the rain. Then I remembered the little, teensy microSD card, and went out into the rain and retrieved it. And then I stomped that motherfucking piece of shit Barnes & Noble TURD HD Plus into the fucking mud, where it has belonged since it was still wrapped in plastic.
NOTE: If you happen to be cursed with a Barnes & Noble Turd HD Plus, and they push an update onto it, and it bricks itself, and you break it over your thigh, for the love of God,
CLOSE YOUR FUCKING EYES!!!!!!!!!
A cloud of microscopically thin glass approximately the size of a Volkswagen Beetle WILL assail you. I have found glass
every
where. It's like glitter.
So, you won't accidentally run across ol' Grav bitching about his Turd, Nook, wtfe, anymore. It is no longer.
It's not pining for the fjords.
It isn't sleeping.
It has no lovely plumage.
I say you he dead.
(Pic to follow.

)
ETA: I told you a pic was coming: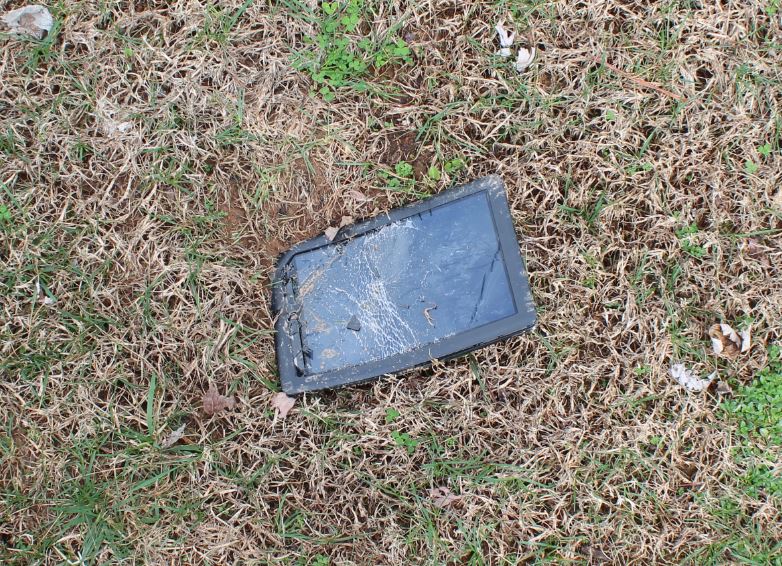 The stomping kinda took out some of the warp (the case was surprisingly flexible) that the breaking over the thigh put into it, but, it's still in the mud
like a turd should be.
So long you piece of shit.