Utah Valley University took 12 years to build a stained glass installation called "Roots of Knowledge".
It's 10 ft high, 200 ft long, made up of 80 panels, and over 60,000 pieces.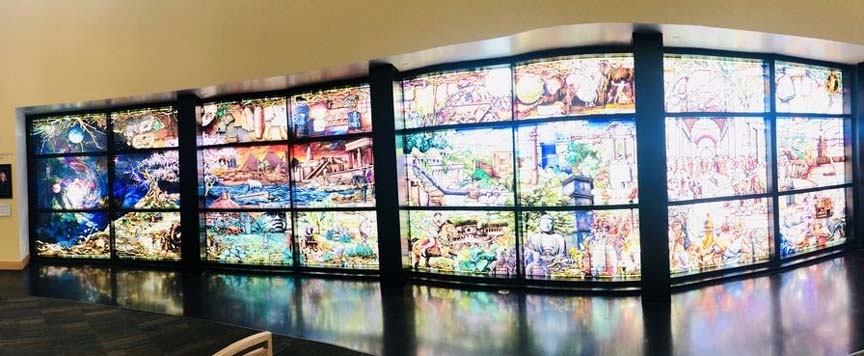 Quote:
Roots of Knowledge represents the heart of an engaged learning approach nurtured at UVU and is a catalyst for understanding the model.
Using this philosophy, hundreds of students and multiple faculty are participating in the creative process from sourcing historical and cultural content to developing curriculum that will enable Roots of Knowledge visitors to experience and more fully understand every visual element of the wall. Throughout the process, university scholars shaped insights and students provided research that helped inspire Holdman Studios' teams. Under this model, the art comes to life and transforms into a dynamic learning experience. Engaged learning immerses students in real-world contexts within the curriculum and activities outside the classroom to increase professional competence and confidence.
Content plans for each window pane were supported by a university scholar committee, consisting of a team of professors dedicated to supplying the artists with historically accurate and well-rounded points of view for inspiration.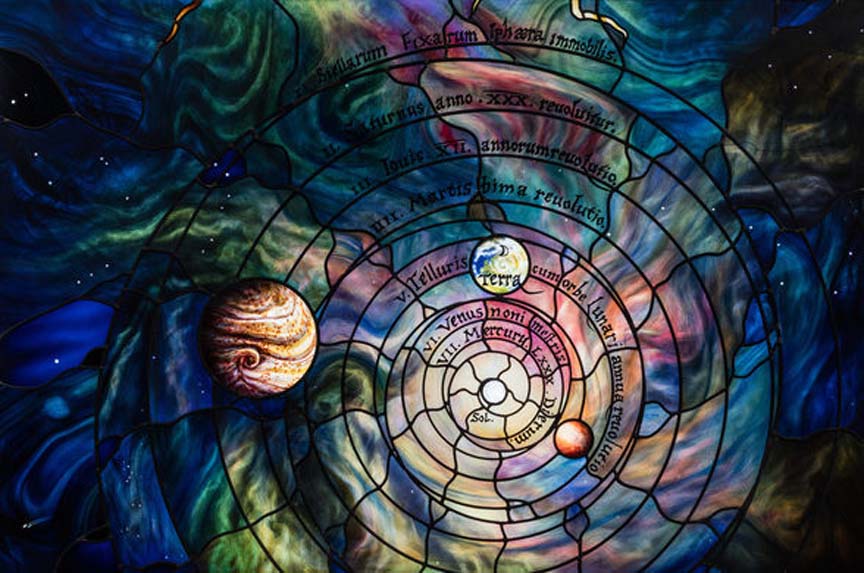 Quote:
The Roots of Knowledge installation tells the story of the origin and growth of human knowledge across 80 delicately designed and painted panels. The colorful creation, completed using 60,000 pieces of glass, begins with an image of Methuselah the Bristlecone Pine, one of the world's oldest living organisms, and goes on to depict world events in vivid detail.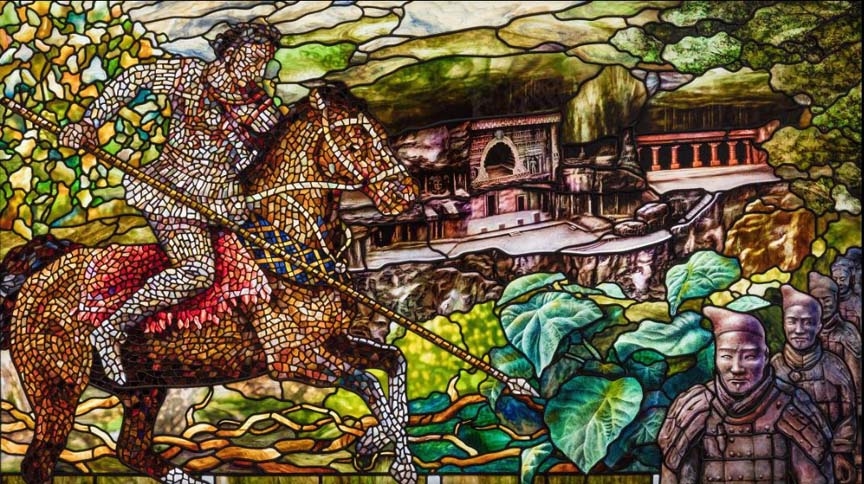 Quote:
One of the most intricate panes shows Alexander the Great and his horse Bucephalus, Chinese terra cotta soldiers, and the Cliff Palace in Mesa Verde, Colorado. It alone contains more than 2,500 pieces of glass. There are other influential leaders and thinkers throughout the work: Nelson Mandela, Charles Darwin, Sir Isaac Newton, Mahatma Gandhi, Kublai Khan, Dante Alighieri, and hundreds of others jostle for space on this painstakingly researched glass canvas.
The reason Alexander and his horse are done with so many pieces is they copied a Roman floor mosaic from 100 BC.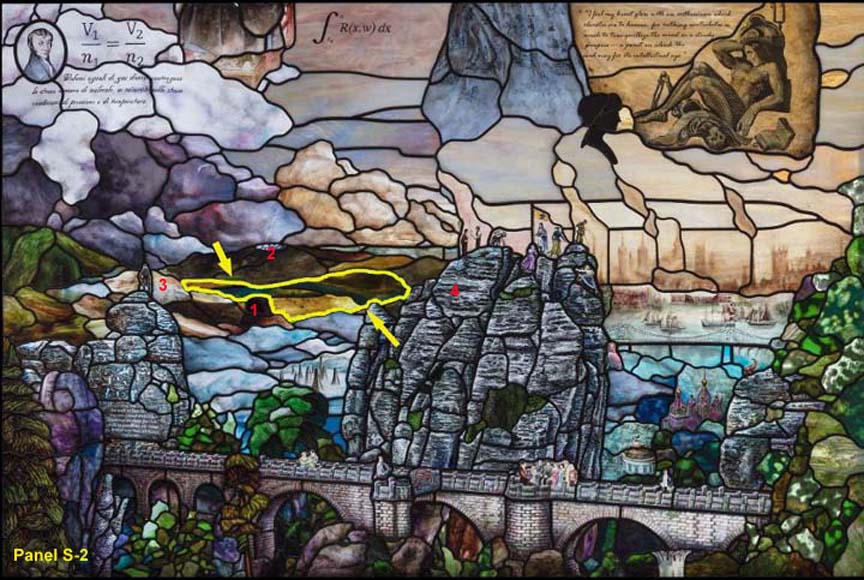 On this panel the section outlined in yellow is called, "View from Mt Holyoke after a Thunderstorm".
WTF, that's my old stomping grounds, why would they have that, and why is it sandwiched between the (1)Devils Tower in WY,
(2) Mt Tambora in Indonesia, (3) White Mountains of NH, and (4) Bastei Rocks in Germany?
I guess the White Mountains is sort of legit as you can see them from Mt Holyoke.
Then it dawned on me, Mt Holyoke is probably a reference to Mt Holyoke collage, first of the seven sisters which include Barnard,
Bryn Mawr, Smith, Vassar, Wellesley, and Radcliffe (Harvard), the Ivy League of women's schools.
Duh

If Utah is too far you can take the
virtual tour here.
link