Actually she always drove faster than most people.

Quote:
Vicki stands 5'3" inches tall and weighs in at 136 pounds. Her start in racing followed a trip to the local track in Detroit. Vicki recalls that during the powder puff race she commented to her husband, Skeeter, "If I couldn't drive any better than that, I'd quit." The next trip to the track, Skeeter took her into the pit area, pointed to a car, and said, "That's your car." She finished ninth.
Skeeter(Clarence), a local race driver had the pull to set her up for the race, and 9th out of 20 on a first time surprise drive ain't bad.
Then he wrote to Chrysler's PR boss telling him how Vicki had been tearing up the short tracks racing against the men for a couple years.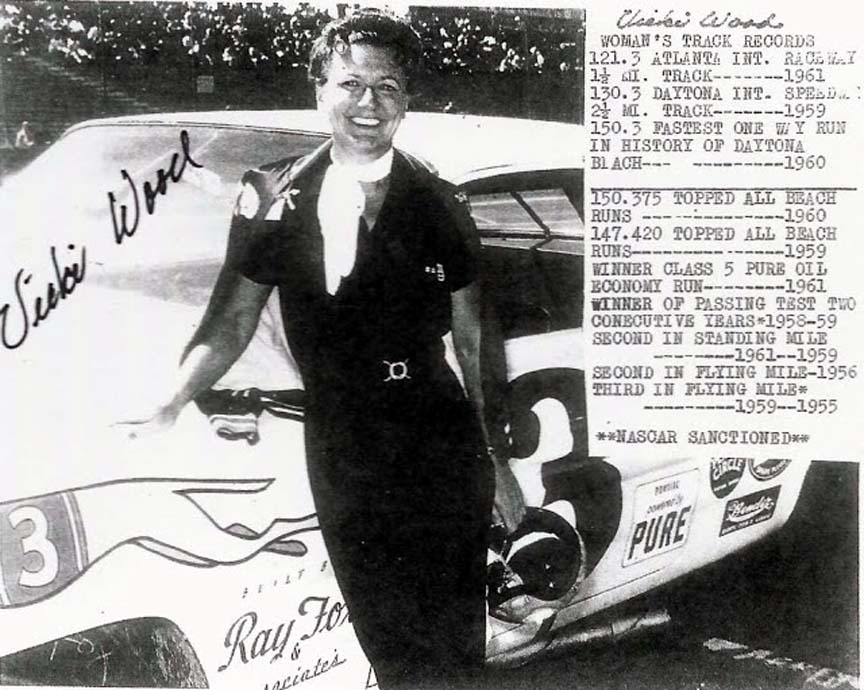 Quote:
At the beach in 1958 Vicki drove the same car as a well known male driver. He drove the car to an average speed of 139 miles per hour with a one-way run of 142 mph. Then came Vicki's turn. Her average speed was only 136 miles per hour, but her top one-way run was 143.

Between 1955 and 1960 Vicki set records on the beach-road course. In three of those years she recorded times faster than any of the men. In 1960 she drove a one-way record speed of 150.375 miles per hour.

Quote:
Vicki's name is still in the NASCAR record books. She was third in the two-way flying mile in 1955 with an average speed of 125.838. In 1956 she was second with a speed of 136.081. That same year she had the fastest one-way run in measured mile history -- 143.827. In 1958 and 1959 she won the Pure Oil Performance Trials in the passing test against male competition, and in 1959 set a new (all drivers) measured mile record of 147.420. She holds the woman's record for the measured mile (150.375), the woman's record at Daytona International Speedway (130.379) and the woman's record at Atlanta International Raceway (121.30).
When back in MI doing mother and grandmother stuff she was racing the short tracks for fun on weekends. Then some guy she
beat told her if she didn't quit the men drivers would boycott the tracks. I doubt he spoke for all the drivers, I mean maybe the guy
that came in 2nd or 3rd all the time, but I doubt the guys regularly coming in 9th and 10th would care. They might even like it because
when the guy coming in 2nd starts to diss the guy in 10th, the come back is you still got beat by a girl.
But she was disgusted and quit racing.

Quote:
There's one thing Vicki Wood will never be able to fully accept. Last year, the state of Florida deemed her unfit for the road.

"Somebody wrote a letter to the police department that they didn't think I'd make a good driver out on the public highway," said Wood, who was living in Port St. Lucie. "They took my license away. That was the worst thing they could have done to me. I had a nice car, and I had no trouble driving whatsoever. In 80 years of driving, I had one ticket and one slight accident."
I don't understand why the state won't let her take the drivers test, unless her Doctor did it, those are harder to fight.
When my Aunt was referred to a doctor a couple towns away the traffic was horrendous and it took twice as long as she expected.
He asked if she had trouble getting there and she said yes, so he wrote the Registry of Motor Vehicles(MA) and the yanked her license.
It took my brother two weeks and sitting on the Doctors desk to get it reversed.
Besides, the South Florida drivers are so bad it wouldn't hurt anyway.
Drive anyway Vicki, what will they do, take away your birthday?
link
link
link
link