The future is unwritten
Join Date: Oct 2002
Posts: 71,105
March 26th, 2019: Creepy Crawlies
---
It's hard to find creepier crawlies than National Geographic, they'd always had the market for the pictures and the prestige to
obtain them from scientists and photographers on the cutting edge. I mean how many have an electron microscope in the garage.
Quote:
This is familiar territory for photographer Jannicke Wiik-Nielsen. Her portraits of insects, parasites, bacteria, and other exceptionally small life, part of a collection dubbed Hidden World, showcase these creatures in ways that make them look less like "creepy crawlies," as she calls them, and more like characters. She achieves the effect through scanning electron microscopy, a technique that yields high-resolution images through the use of electrons instead of photons.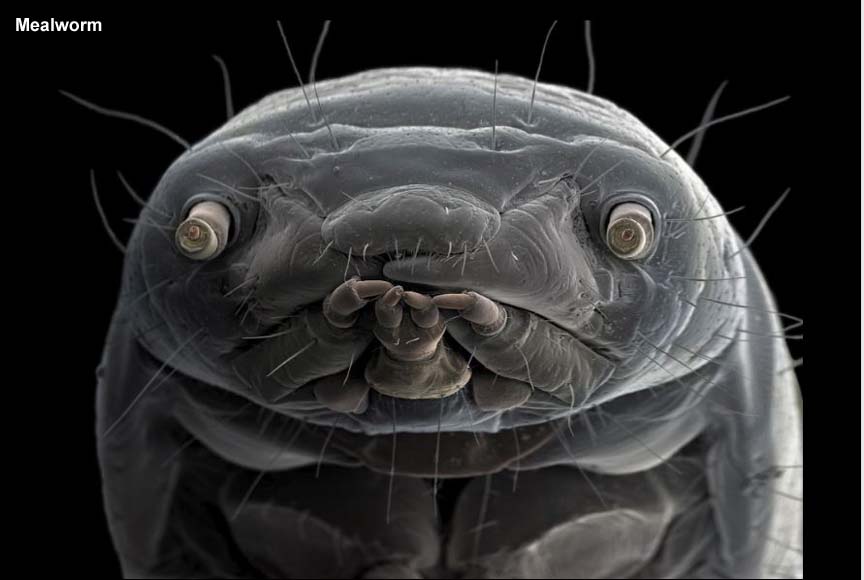 Quote:
A mealworm's magnified face reveals expressive "eyes" and mouthparts. Mealworms are the larval form of the mealworm beetle and are commonly used as high-protein feed for animals.
Quote:
In scanning electron microscopy, a focused electron beam captures a high-resolution, grayscale image of a specimen by scanning its surface. Because the beam is sensitive to dust and water, this scanning is done inside a high-vacuum chamber. After Wiik-Nielsen collects a specimen, she places it in a solution that helps maintain its structure. Then she dries the sample thoroughly and gives it a thin coat of metal. This helps the specimen stay intact throughout the imaging process, which takes just a few minutes. Once an image is made, Wiik-Nielsen uses Photoshop to colorize it.
You can't get anymore metal than that.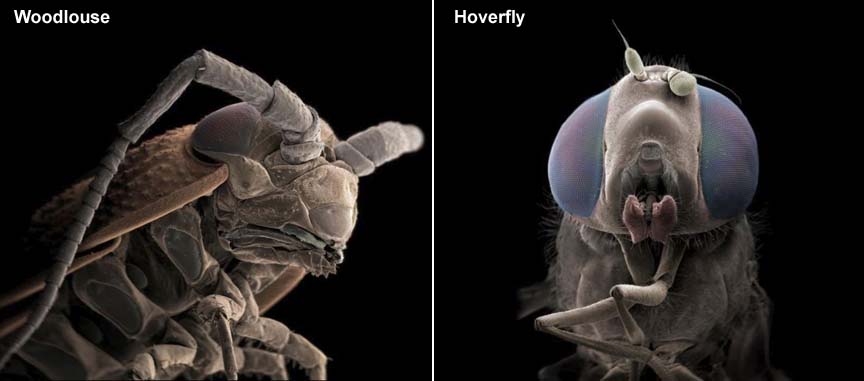 Quote:
Up close, a woodlouse—which Wiik-Nielsen collected from her garden—resembles a character in a science fiction movie. "Woodlice breathe with gills, so they are restricted to areas with high humidity, under rocks or logs, in leaf litter or in crevices," Wiik-Nielsen says. "[They] feed on decaying plant and animal matter, performing a vital role in the decay cycle."
Antennae akimbo and mouth agape, a hoverfly (also called a flower fly or syrphid fly) seems full of personality when viewed up close. Hoverflies, which are common throughout the world, feed on pollen and nectar, Wiik-Nielsen says. "Despite their appearance, which mimics wasps and bees, they are harmless to humans."

Quote:
Wiik-Nielsen found this bee in her garden. The structures at the base of its head are called mandibles, which bees use for cutting, eating pollen, and working wax, Wiik-Nielsen says.
Bumblebees "are important agricultural pollinators," Wiik-Nielsen says. The one shown here is magnified approximately 40 times.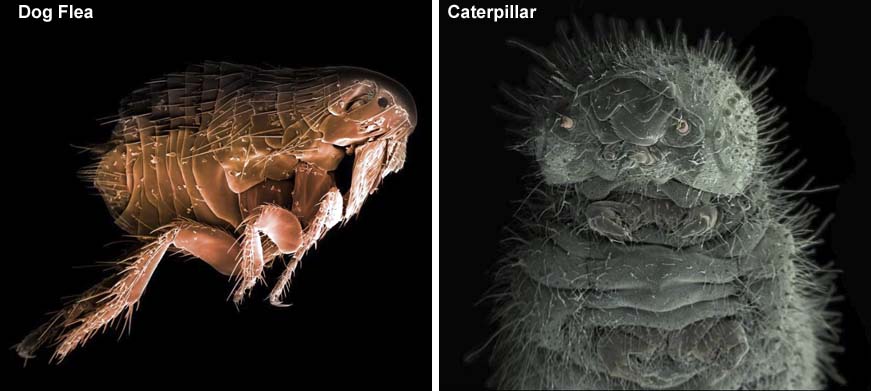 Quote:
A dog flea has a mouth designed to pierce skin and suck blood and elongated hind legs to facilitate jumping. Its body is flat and covered with spines and bristles. This shape, Wiik-Nielsen says, "helps with forward movement through dense fur, prevents dislodgement, and steadies the flea during feeding."
Wiik-Nielsen found this caterpillar, magnified roughly a hundred times, eating broccoli in her garden.
It's a good thing the crawlies are tiny or they'd be giving the kids nightmares.
link
__________________
The descent of man ~ Nixon, Friedman, Reagan, Trump.