When we think of members of the animal kingdom who gave great service in time of war, horses and dogs are probably the first to spring to mind.
However, the humble pigeon served with great distinction in substantial numbers during two World Wars.
They carried intelligence reports from agents behind enemy lines and vital information from aircrew who had been shot down over occupied Europe.
Thirty-two
Dickin Medals
and at least one unofficial Purple Heart were awarded to pigeons.
Cher Ami who served with the 77th Division, US Army in WW1, was the recipient of the latter decoration.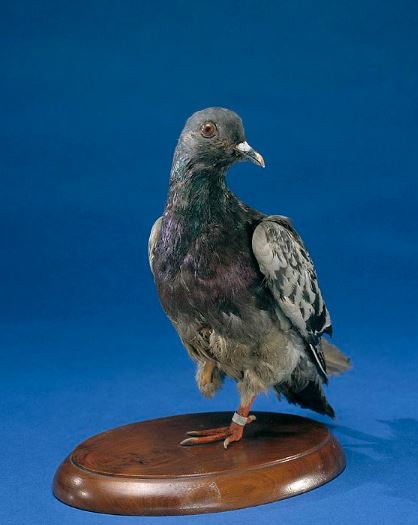 Gordon Corera, the BBC security correspondent has written 'Secret Pigeon Service: Operation Columba, Resistance and the Struggle to Liberate Europe'.
A review of his book in the Sunday Times sheds a little light on the story of Cher Ami.
Quote:
The Americans were so touched by the return of some of their battered and bruised pigeons that they awarded them unofficial Purple Hearts. And Corera tugs at our hearts with a story from the First World War about a British pigeon, donated to the Americans on the Western Front and christened Cher Ami, who flew back through atrocious enemy fire, was shot down, but got up again and flew on, though hit in the breast, blinded in one eye, and with one leg almost hanging off. Her return saved the lives of an entire battalion surrounded by German troops. She subsequently had a new wooden leg especially made for her by grateful soldiers, and now stands proud and stuffed in the Smithsonian Institution.
Smithsonian
Cher Ami - Wikipedia
Sunday Times