The future is unwritten
Join Date: Oct 2002
Posts: 68,045
Nov 11th, 2019 : Wounded Warrior
---
Quote:
That night in the House chamber, you could have heard a pin drop. Obama recounted Cory's months in a coma, dozens of surgeries and years of grueling rehab in his quest to walk again. The camera closed in slowly on the young soldier's face, giving a hint of his wounds, seen and unseen — pockmarks from reconstructive surgery, an eyelid that drooped slightly over his blind right eye, the large scar down the side of his head.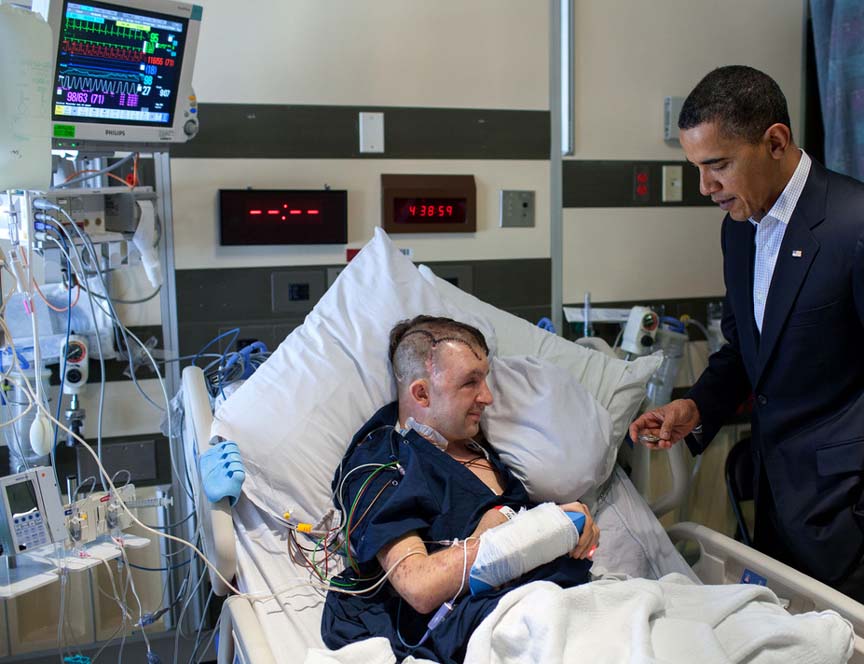 Quote:
"Cory is here tonight," Obama said, his voice rising, "And like the Army he loves, like the America he serves, Sergeant First Class Cory Remsburg never gives up, and he does not quit."
The chamber erupted in a standing ovation of applause, cheers, and whistles. With a gentle lift from his father, Cory hoisted himself up. His left arm hung motionless, wrapped in a brace. With his good right arm, he gave a wide, somewhat floppy wave, prompting more applause. The First Lady placed a hand on his shoulder, and Cory flashed a thumbs-up, unleashing another torrent of cheers. Down at the rostrum, Obama gave him a sharp salute. From my spot on the floor, I could see members of Congress with tears in their eyes, and I struggled to hold back my own.

With more than 30 million Americans watching, the ovation went on for nearly two minutes. In this young Army Ranger, our country had found, it seemed, a perfect metaphor for how we so often wish to see ourselves — resilient, ever hopeful, triumphant no matter how overwhelming the odds.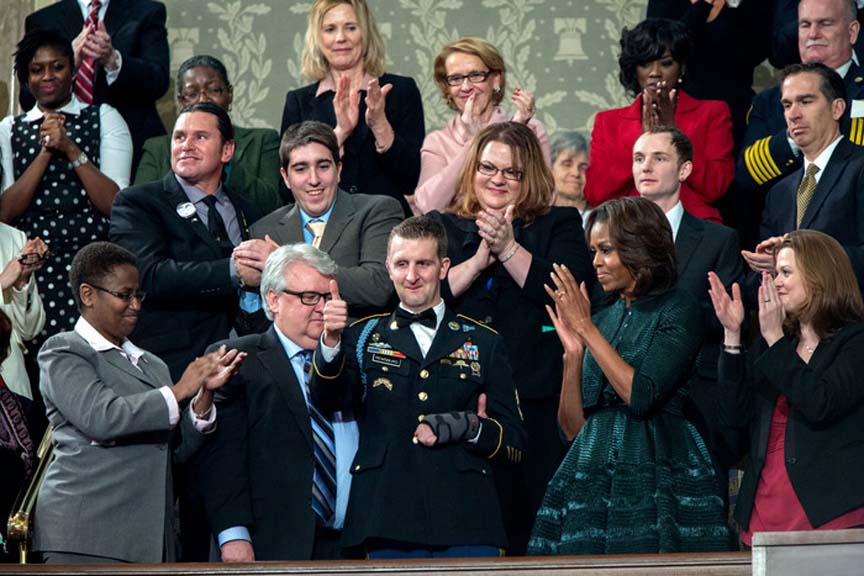 Quote:
Down on the floor, I breathed a sigh of relief that Cory hadn't stumbled or fallen. But I was still unsettled from our meeting hours before and by the stark contrast between how he appeared from afar and the reality of his life up close. And I wondered — when some 80 percent of the Members of Congress who were applauding Cory never served in the military; when less than one percent of Americans wear the uniform — how much do any of us really know about the lives of veterans like Cory?

How much do we really want to know?
Should he have been sent in harm's way?
Did he being in harm's way do any good?
Was he cannon fodder for politicians egos?
Was he defending baseball, apple pie, and Corporate profits?

link
__________________
Until the lion has his own historian, the hunter will always be a hero.