Yeah, I know 9-11, been there done that, and the aftermath that continues in the middle east. Fuck that.

I've driven across the great wide open of the US and Canada at least 20 times and the weather entertains.
Either the sky above and forever is blue. ho hum.
Or in either direction a front with lightning and storms dotting the line. Watching thunderstorms with the top down, how cool is that.
Then it could be reversed with you under the gray wooly mass looking out at the blue sky and sunshine through a curtain of storms.
Hmmm, Curtain of Storms.
I should copyright that for a novel, a mini-series, a fucking feature motion picture with a bigger release than the classics like Deep Throat.
♫ Hooray for hollywood ♫
Pro photographer Jason Weingart does a lot of nature/weather photos, and sometimes chases storms.
He put this together from a progression of eight pictures of this tornado developing.
He also entered a contest clearly stating it was a composite... and won.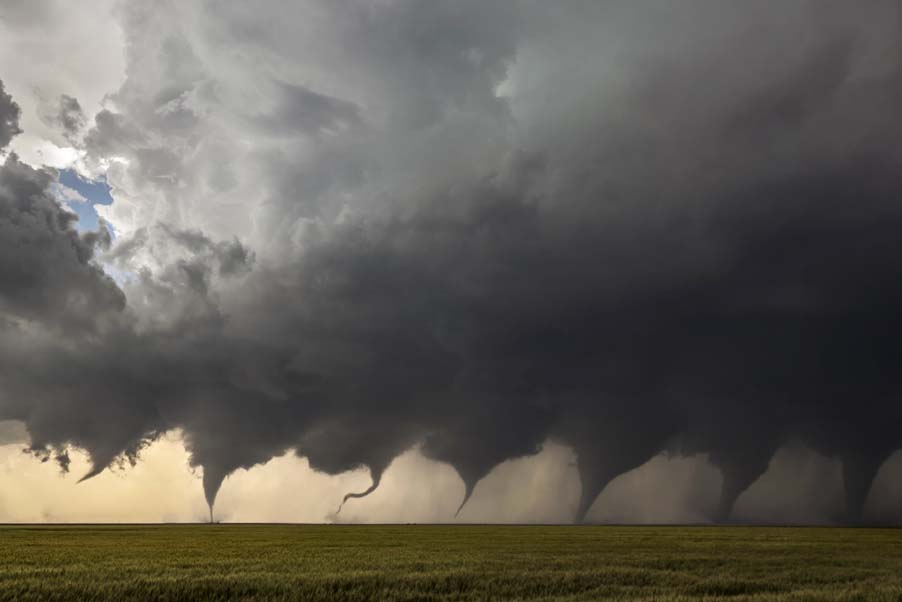 Quote:
Despite clearly describing the image and how it was created, the picture later went viral online as people described it as a single photo showing multiple tornadoes side-by-side.
"I was very upfront about my techniques and what the image is and how it was manipulated, of course," Weingart says. "I thought I was making a cool picture and donating it to the public domain by entering the contest. That was all I wanted to accomplish with it. That was really the last I thought about the image until this weekend when it went viral on Facebook on a few accounts being described as an 'intense supercell with a mass of tornados'.
"It's odd how weather images tend to go viral when they're mislabeled."
What? No! OMG! I can't believe it. People disregard all evidence and see what they want to see?
Nah, you're kidding me, that can't happen, that's like saying it's fake news and people believe it.
You don't expect me to buy that do you, got to be a joke.

link