monster Wednesday Aug 27 10:25 PM

August 27th, 2014: Catching some ZZZZZZZs

Where's that PillowLover chap when you need him?



A woman found this enormous wasps nest in her unused spare room. They had eaten through the pillow and mattress. The blanket was saved, though.....

http://www.bbc.com/news/uk-england-hampshire-28949601

---

SPUCK Wednesday Aug 27 11:09 PM

Geez. I walk around in my house in the dark.

"Honey, would you please grab the comforter off the bed in the spare bedroom."

---

Sheldonrs Thursday Aug 28 08:48 AM

How do they know they are WASPS? Some could be Jewish. :-)

---

monster Thursday Aug 28 08:54 AM

that was torah-ble

---

Sheldonrs Thursday Aug 28 09:10 AM

---

monster Thursday Aug 28 01:10 PM

I love the way you tallit like it is

---

Sundae Thursday Aug 28 01:11 PM

---

BigV Thursday Aug 28 01:17 PM

---

Sheldonrs Thursday Aug 28 03:26 PM

---

Diaphone Jim Friday Aug 29 12:28 PM

Not to pick on Spuck, but I find the flashing emoticon, what ever it is supposed to mean, annoying in the extreme, mainly because it has an auditory effect somewhere deep in my computer.
I am surprised to find wordplay on WASP in regard to English wasps. Isn't that an American term?
Does anyone have an idea as to what kind of wasps those are?

---

Gravdigr Friday Aug 29 04:16 PM

---

DanaC Friday Aug 29 04:48 PM

Jim's computer has synaesthesia!

---

Gravdigr Friday Aug 29 04:57 PM

I bet it smells like the number 8.

---

monster Friday Aug 29 08:26 PM

---

Clodfobble Saturday Aug 30 07:59 AM

Really? Down here everyone knows the difference between a bee and a wasp. Bees make kids squeal and parents launch into the "leave it alone and it will leave you alone" speech.

Wasps make everyone leap up, gather their most treasured possessions, say a hail Mary, and toss a Molotov cocktail over their shoulder as they run screaming for the hills.


That picture makes me nauseous. Wasps are evil incarnate.

---

Undertoad Saturday Aug 30 08:22 AM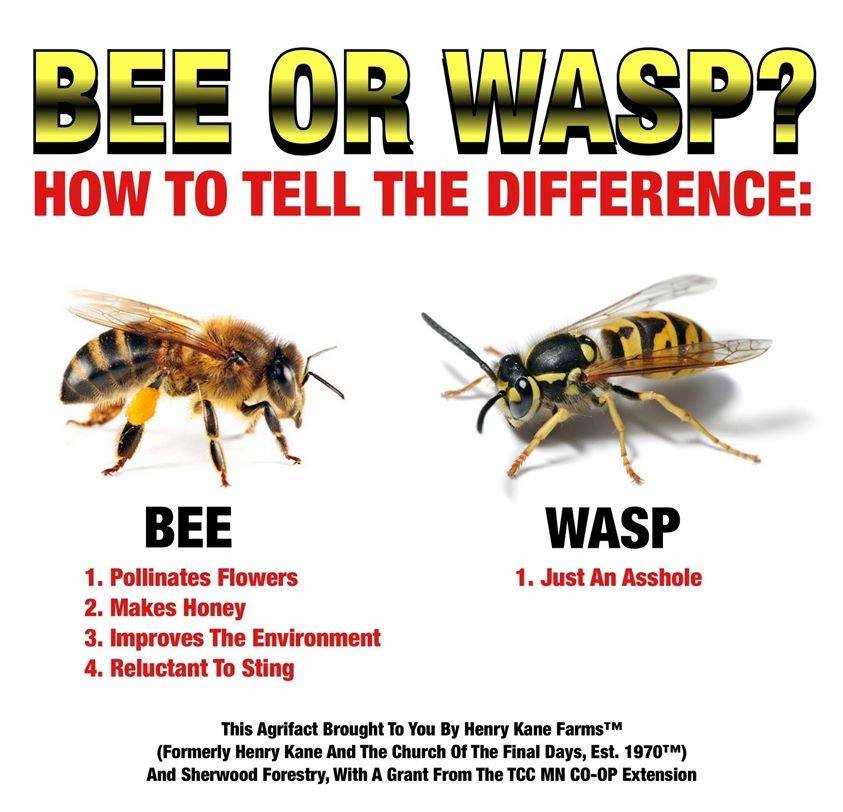 ---

monster Saturday Aug 30 10:06 AM



@ UT

---

Sundae Saturday Aug 30 10:26 AM

I may be the only person in the whole who doesn't mind wasps.
Okay, exaggeration (please please let me be special and unique! please)

But the first time I was stung I was in bed and didn't know about it until the morning when the big fat wasp fell out of my bed. It was nowhere near as bad as an ant bite. I've never worried about being stung since.

I'm not saying I'd sleep in that bed though. I'm crazy, not stupid.

---

infinite monkey Saturday Aug 30 10:28 PM

I think of wasps as those longer things with hangy-downy legs, when they fly. They can sting over and over. A bee stings you, it be dead. I've been stung by many a bee but I've never been stung by a wasp. And they build nests around here. Knock on wood.

I looked up wasp images in google images, and I had to go to 'mud dauber' to find the pic of what I'm talking about. I guess what I think of as wasps are those. They build those flute-like nests. Or some woodwind instrument. That creeps me out the most, and there are tons of them around here. Things with holes creep me out. I found out from an article in Scientific American Mind (the only magazine I buy off rack) that's actually a 'thing'...like holey ceiling tiles and stuff...can't stand that. http://www.scientificamerican.com/ar...raid-of-holes/

---

monster Saturday Aug 30 10:52 PM

That thing looks ready to run in the Special Olympics.

(am I going to hell now?)

---

infinite monkey Saturday Aug 30 10:57 PM

If 'special' means 'making me laugh' then yes, yes you are going to hell.

---

Pamela Sunday Aug 31 02:50 AM

I hate those mud daubers. I had one bild a nest right on the shaft of the heater blower in my camper and I didn't know it until the winter got cold enough to freeze the water pipes and drop the power lines, thus rendering my house unliveable. I retreated to my camper, flipped on the heat and zap, fuse blown. I replaced the fuse and promptly blew it again. Several hours of exploration and some salty language later, I got the heater unit out and disassembled enough to find said mud nest jamming the motor. I was not happy, but did get the unit going again once I reassembled it and got it back into it's home. Little bastards!

---
Your reply here?

The Cellar Image of the Day is just a section of a larger web community: a bunch of interesting folks talking about everything. Add your two cents to IotD by joining the Cellar.