Undertoad Friday Feb 3 11:47 AM

2/3/2006: Uncooperative hen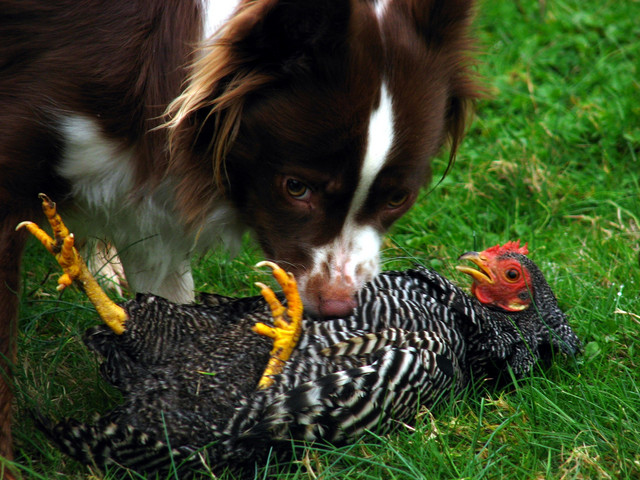 xoB finds this very appealing item at weather underground.

You know if you've had or seen a herding dog, that they will herd just about anything. Sounds like one owner has put this to use, herding free-range hens into their coop at night. But there's a problem with one particular bird. The caption explains:

She just rolls over and plays dead. Ruby tries to nudge her to move but she won't budge. I usually have to go pick up the hen now and put her away.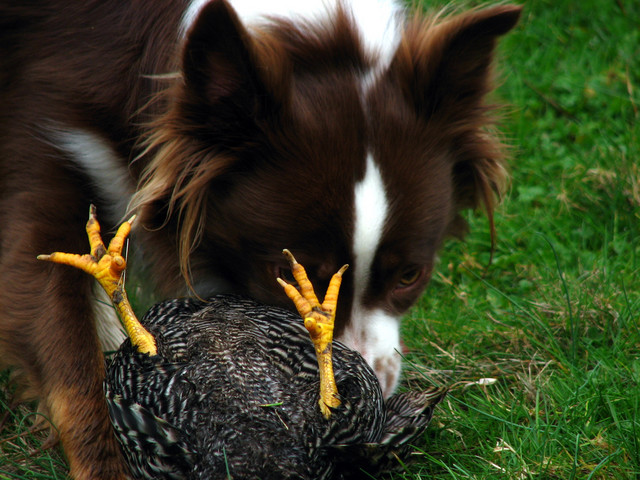 The hen is not hurt in any way Phew!

---

seakdivers Friday Feb 3 12:07 PM

Cute!

My sister had a bunch of those little barred rock banties. There were three roosters - I hated those little bastards! They were mean, but being banties they were tiny so they were easy to kick.

Bring it on PETA....

---

BigV Friday Feb 3 12:21 PM

First opossums, then goats, and now fainting chickens!! Where will it all stop?

---

xoxoxoBruce Friday Feb 3 04:22 PM

Ever wonder how a hen lays an egg?

---

dar512 Friday Feb 3 05:49 PM

Personally, I think the hen wants to be part of the dog's pack and is showing subservience.

---

gerstle Friday Feb 3 06:04 PM

why did i click on the laying of an egg link?

---

FloridaDragon Friday Feb 3 06:36 PM

Quote:

Originally Posted by gerstle

why did i click on the laying of an egg link?

I agree ... .thanks a lot Bruce!

---

AureliusVin Friday Feb 3 08:38 PM

Well I found the link to be quite interesting. Thanks Bruce.

---

moonspider666 Friday Feb 3 10:08 PM

living on a farm;all i can say is i hate those stinking chickens(but u cant beat a fresh egg)

---

srom Saturday Feb 4 04:39 PM

actually, you *can* beat an egg, whether fresh or not. (*wah wah waaaah*)

sorry.

i find that second picture hilarious. hen bum! look at its legs!

---

xoxoxoBruce Saturday Feb 4 07:13 PM

[quote=gerstle]why did i click on the laying of an egg link?/QUOTE]



Quote:

Originally Posted by FloridaDragon

I agree ... .thanks a lot Bruce!

What? You knew it came out of the chicken, right? You act like it was a child birth or something. No blood, no crap, Kinda amazing really.

---

capnhowdy Wednesday Feb 8 05:55 PM

I've heard of homosapiens having sex with hens.

Brubbitt.

---

Sun_Sparkz Wednesday Feb 8 06:39 PM

I thought it was very interesting. the horozontal slit made me a little queezy but i read it all and thought "wow, glad i read that".
Amazing that the wild poultry would be extinct without us, or so they said. and i feel a lot better knowing that the egg never touches the poo poo! Yay for the cloaca!!!

---

richlevy Wednesday Feb 8 08:40 PM

Wow. Imagine giving birth every day. No wonder hens always seem pissed.

---
Your reply here?

The Cellar Image of the Day is just a section of a larger web community: a bunch of interesting folks talking about everything. Add your two cents to IotD by joining the Cellar.