Undertoad Tuesday Jan 29 02:39 PM

1/29: Beached whales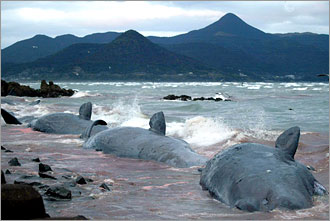 Fourteen whales, confused by choppy seas, washed ashore near the town of Oura, southwestern Japan. Officials guided two of the whales back to deeper waters, but the other mammals suffered fatal wounds on their abdomens.

---

Undertoad Tuesday Jan 29 02:42 PM

Followup: http://home.kyodo.co.jp/all/display.jsp?an=20020128190

KAGOSHIMA, Jan. 28, Kyodo - The town hall in Oura, Kagoshima Prefecture formally decided Monday to dispose at sea the carcasses of 12 sperm whales that beached there last Tuesday and later died, town officials said.

The move comes after the municipality only managed to haul one whale to a burial site of 13 whales that beached and later died.

Oura will wait for strong winds to calm before dumping the carcasses in the East China Sea about 13 kilometers off the cape of Noma in the town of Kasasa, Kagoshima Prefecture, they said.

Town officials earlier said they wanted to transfer the skeletons of the whales to aquariums two to three years after their burial at a beach in the neighboring city of Kaseda. Oura received requests from aquariums and research institutions across Japan asking for the bones.

But strong winds and decomposition of the carcasses prevented workers from lifting the roughly 15-ton whales by crane onto dump trucks for transportation to the burial site in Kaseda.

To prevent the whale remains from drifting after they are dumped, the town is considering attaching weights to them, they added.

Fourteen sperm whales beached at Oura last Tuesday, but rescuers managed to return only one to the open sea the following day.

---

dave Tuesday Jan 29 03:41 PM

I am reminded of one thing:

"The blast blasted blubber beyond all believeable bounds." :whofarted

---

ndetroit Tuesday Jan 29 03:51 PM

A stupid point, but.... they do not look like sperm whales to me. They look like pilot whales, which I believe are a lot more common in that area of the world.

Any marine biologists out there that can beat my line of reasoning to a pulp?

---

Nic Name Tuesday Jan 29 03:56 PM

Quote:

Originally posted by blowmeetheclown

The Marine Biologist

George: The sea was angry that day my friends, like an old man trying to return soap at a deli! I got about fifty-feet out and then suddenly the great beast appeared before me. I tell ya he was ten stories high if he was a foot. As if sensing my presence he gave out a big bellow. I said, "Easy big fella!" And then as I watched him struggling I realized something was obstructing his breathing. From where I was standing I could see directly into the eye of the great fish!

Jerry: Mammal.

George: Whatever.



---

Joe Tuesday Jan 29 04:54 PM

yeah

I thought sperm whales were those great big suckers with teeth that in the old days would eat whalers and smash their boats.

The whalers of course had it coming. As the great beasts would slam their massive flukes down on the helpless men in their longboats, some were said to have actually heard the whale's voice.

If they listened carefully they'd even hear words.

The words I believe were something to the effect of "Bitch, you brought that on yourself!",and "Oh, you want some of this?" and "it's ON!".


Sperm whale link

---

dave Tuesday Jan 29 05:00 PM

I do believe another favorite phrase from the whales was "I'll sneak up and hitcha like a fuckin' tornado!"

---

Nic Name Tuesday Jan 29 06:49 PM

Quote:

Originally posted by dhamsaic
I am reminded of one thing: "The blast blasted blubber beyond all believeable bounds."

But for those who haven't seen the exploding whale.

---

dave Tuesday Jan 29 07:02 PM

In high school, I had to do a video representing a decade for my Advanced American History class. My group chose the 70's, and we managed to work the exploding whale into our video, just as I had in every other project I did in that class (including a PowerPoint presentation on slavery where I actually put the entire video in the middle of the presentation). Although we didn't use actual footage, we did get a potato, dress it up like a whale and detonate an M-80 we had planted inside it. Good fun was had by all. Man, that video is funny

I'll digitize it some time... it cracks me up still, 3 years later.

---

jeni Tuesday Jan 29 07:07 PM

yeah, i recall telling people about that video. like paul. he's probably the only one. but you ought to make it so he can see it.

this smiley reminds me of you for some reason, dave :p

---

dave Tuesday Jan 29 07:47 PM

This smiley reminds me of you, for obvious reasons. :whofarted

---

Torrere Wednesday Jan 30 01:09 AM

I'm curious, how did you connect the exploding whale with slavery?

---

dave Wednesday Jan 30 08:59 AM

No real connection. It was like "Here's my PowerPoint, blah blah blah, slavery, OOH, here's a fun video kids!" and we watched it. And Mr. Elsen laughed. So I got an A for my presentation, even though it had a 3 or 4 or 5 minute video of totally unrelated exploding whale in the middle

:whofarted

---

snagglefish Friday Feb 1 03:13 AM

must put marine bio degree to work.....

*sigh*

a degree in marine bio and i am reduced to google. and even more sadly, reduced to agreeing with ndetroit.

*sigh*

indeed those do not look like sperm whales to my well trained eyes

, but more like, *ahem*, pilot whales.

possibly.

i'd need a graduate degree to be able to definitively say...

---

ndetroit Friday Feb 1 05:29 PM

Hooray! I win!

---
Your reply here?

The Cellar Image of the Day is just a section of a larger web community: a bunch of interesting folks talking about everything. Add your two cents to IotD by joining the Cellar.