Undertoad Wednesday Feb 6 03:42 PM

2/6: Jesus tree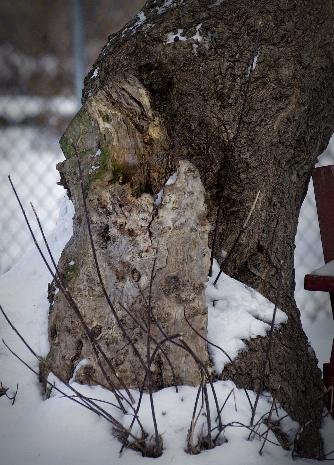 The woman who owns this tree says that she can see the fact of Jesus in it, and that has led to the usual mess of speculation that it is a sign from above, mixed with speculation that it could not possibly be anything of the sort.

---

Nic Name Wednesday Feb 6 04:01 PM

I see Osama bin Laden in it.

---

blase Wednesday Feb 6 06:01 PM

Damn, I had a quesadilla for lunch yesterday that had a most striking image of Jesus on the top tortilla. What was I thinking to have just eaten it?!?! I could have been famous...drat!

---

Torrere Wednesday Feb 6 07:54 PM

Been staring at this picture *WAY* too long.

I see two people lying down looking at each other (a very old man with a white beard talking to a young boy in a blue shirt). I see a woman playing with her hair. I see a black person sitting (writing?) at a desk wearing a faded and bulky almost-white sweater. I see an operating surgeon. I see a woman with white wings, a golden shirt and a black flowing dress flying. I see a very dramatic (maybe martial arts fighter?) person wearing a blue robe and a pointed hat gesturing. I see a riverboat man pushing into the water with a long pole. I see somebody making "owl eyes".

I can kind of see a dog's face... but still no Jesus yet



[Edit: Now I can also see a cowled woman holding a baby and a person with their face painted half white and half black.]

---

tw Wednesday Feb 6 11:57 PM

Jesus told me that it was his face......

It doesn't get more convincing than that...

---

dave Thursday Feb 7 12:05 AM

I see Jesus on the tree.

I see Jesus all the time.

On the face of every child.

In the water on the top of my separated sour cream.

---

Nic Name Thursday Feb 7 12:08 AM


I see a boy and a bear and a wolf and an eagle and ...

Hey, if you like this sort of game, check out the art of Johannus Boots
in a nice flash website.

---

jeni Thursday Feb 7 12:53 AM

i don't think paul saw that right away either, but i looked over at his monitor and saw it right away. pretty simple, i guess, if you don't KNOW what you're looking for. it does look to me like someone carved jesus into the tree. hm. hehe.

---

dave Thursday Feb 7 09:05 AM

Okay, I still don't see any fucking messiahs in that tree. Someone photoshop it and highlight His Christliness.

---

kbarger Thursday Feb 7 11:30 AM

Hey, this is so cool, I want to meet this woman. Because, you know, nobody REALLY knows what Jesus looked like. I mean, we all know that this fair-skinned, long-haired, bearded look probably comes down to us mostly from the european Renaissance painters such as Leonardo da Vinci. And if she knew when she saw this tree that it had Jesus' face in it, then that means she knows what Jesus really looked like!! Wow!! Get her on Letterman!

---

dave Thursday Feb 7 11:41 AM

Ha! Now I see it! Looking over to the left, right?

---

Undertoad Thursday Feb 7 01:33 PM

Yes indeedy. The funny thing is, most of the shape is created by decay and destruction.

In the end it's like that "face on Mars" thing a few years back. It turns out that humans are built to look for patterns in things; it's one of the things that we do really well, so much that we don't even think about it. So our brains are built to find faces and shapes and images in random patterns. The same thing that makes us believe that this





is a smiley face, makes us think that Jesus is in that tree.

---

Griff Thursday Feb 7 02:14 PM

Um, like no. Thats Merlyn talking to Wart. I swear you people are "****ing" blind.

---

blowmeetheclown Thursday Feb 7 03:53 PM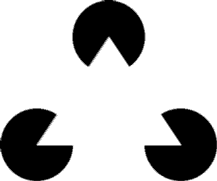 Kinda like our eyes see the triangle, though it's obviously not there.

---

jeni Thursday Feb 7 10:06 PM

huh? i just see three pac mans

---

Nic Name Friday Feb 8 12:12 AM

byte me
---

tw Friday Feb 8 12:18 AM

I know it must be Jesus. It looks just like the Polaroid I have of him just before he was crusified. ...

They told me that was Jesus. Hmmm... Maybe the Polaroid is an imposter. Maybe the Jesus tree is an imposter....

How do we know what Jesus looked like? Maybe those who see Jesus make decisions based upon personal feelings rather than fact? It's called racism. Wow. We now have a psychological test to identify racists! They are the ones who see Jesus.

---

jeni Friday Feb 8 02:27 AM

we think of how jesus looks based upon the paintings and drawings we have been shown throughout our lives.

i wouldn't exactly call myself a racist because i've been shown certain paintings in art classes and in bibles.

---

Torrere Friday Feb 8 10:42 AM

Jesus did live in the Middle-East, and so he probably looked (at least skin-color wise) a lot like the Middle Easterners of today.

---

Nic Name Friday Feb 8 11:25 AM

I have a mental image of Jesus tattooed on my retinas. Now I see Jesus in everything. Thanks, UT.

---
Your reply here?

The Cellar Image of the Day is just a section of a larger web community: a bunch of interesting folks talking about everything. Add your two cents to IotD by joining the Cellar.