Undertoad Monday Feb 11 11:08 AM

2/12: Life magazine, 62 years ago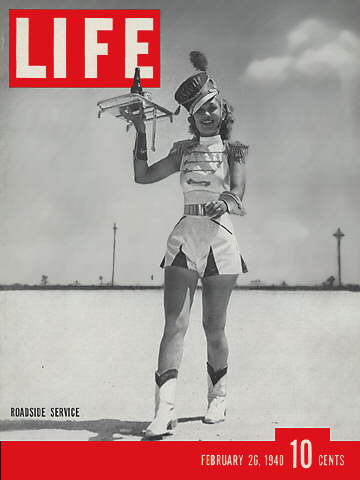 A world pre-TV, pre-war, found that somehow it was a good idea to have women dress up in majorette costumes to serve refreshments to cars in drive-in movie lots.

This turned up in a collection of odd Life covers and it made me think a little. Things change, is what it tells us, and what we consider bizarre and unusual in history are just missing context.

Pat Buchanan is going around hawking a book forecasting that in a rather short period of time the white european-born culture will be at a severe minority, and much of it will be lost when that happens. He is, of course, insane. Culture changes; values are replaced; societies move on. It's a constant process, probably accelerated by our newly-found ability to communicate. Lamenting its loss is time wasted. Sure, there are valuable ideas that may be lost too, but I can see nothing worth *preserving* in the above photograph other than the idea that it DID happen and is now permanently a part of history.

And, at the time, surely there were scores of people who were mad that *their* culture of books, radio, and piety was being "replaced" by drive-in movies with waitresses in scandalously short skirts.

---

dave Monday Feb 11 12:14 PM

Hmmm. That, my friend, is certainly not a bad thing. The world would be a much nicer place if all females walked around in scandalously short skirts.

Ah, the 40's...

---

kbarger Monday Feb 11 03:24 PM

Re: 2/12: Life magazine, 62 years ago

Quote:

Originally posted by Undertoad
A world pre-TV, pre-war, found that somehow it was a good idea to have women dress up in majorette costumes to serve refreshments to cars in drive-in movie lots.


Oh yes, I find that repugnant. I prefer my waitresses in cheerleader outfits. (Wait, I didn't mean to type that.. is there a way to edit on this thing??? I tried my joe editors commands but they don't work.) That reminds me, better go make my Valentines Day reservations at Hooters!



Well, seriously, if you take a complete laissez-faire approach, then the Marketplace and the Invisible Hand will reward, or punish, people for doing stuff like this as appropriate. Can a free-market conservative rant about keeping government's hands off of business, and then turn around and say that some products that make money for businesses (say, Hustler magazine) should be taken off the market? Doesn't this mean that the difference betwee "liberals" and "conservatives" is not how much government they want, but which arenas they what government to be active in?

There was a somewhat interesting piece about the US pornography industry on Frontline last week. What I found fascinating about it was that it entirely addresses the supply side of the issue, without talking a bit about demand. Not once was it suggested that the reason people were making all that money was because people WANT to watch this stuff. Ditto with our 1940 waitress.... somebody thought the customers would like it, or they woudn't have done it.

(BTW, I got confused about which forum this was in... at first I thought were were sposed to photoshop it!

---

alphageek31337 Monday Feb 11 03:25 PM

I want you to consider the following women in scandalously short skirts:

rosanne
rosie
kathy bates
oprah
mimi from drew carey
bea arthur
janet 'the wookie' reno

the list goes on and on

story of the moral, be careful what you wish for

---

dave Monday Feb 11 04:03 PM

Long long time since you've posted Steve. Was wondering what happened to you. Glad to have you back.

Anyway. Roseanne actually isn't too bad. I could dig that. As for Rosie, hopefully she'll choke before the day ever comes. The others I'm not real concerned about - if you don't want to see, don't look.

---

jeni Monday Feb 11 04:35 PM

it's 2/11! not 12. :p

anyway, i have a life magazine from 1949. there is a woman on the front wearing a bathing suit, if i recall properly. this has absolutely nothing to do with the thread, save the fact that it's a life magazine with a woman on the cover. yeah. that's all.

---

Undertoad Monday Feb 11 05:30 PM

So it is, I'll edit the title.

---

warch Monday Feb 11 06:17 PM

What's odd about the picture is that the service seems to be taking place on the salt flats or something. That's a huge parking lot, quite a trip for our young paramilitary waitronmajorette.

See, she's multitasking. I bet there is a baton (in flames) flipping 20 feet above her head that she'll just casually catch (behind her back) before locking that tray onto the window and making change.

I'm diggin' the epaulette- nude arm- cuff thing. Just enough flair...fringe, braid and brass buttons. Uniform wearing workers unite...

OH and the jaunty, cocked cap sez...fun!

---

Torrere Tuesday Feb 12 01:35 AM

Paramilitary, ha! Hadn't noticed the fringes on her shoulders.

(Been playing Deus Ex, paramilitary has a huge meaning to me right now =])

---
Your reply here?

The Cellar Image of the Day is just a section of a larger web community: a bunch of interesting folks talking about everything. Add your two cents to IotD by joining the Cellar.