Undertoad Monday Feb 18 02:17 PM

2/18: Tokyo protest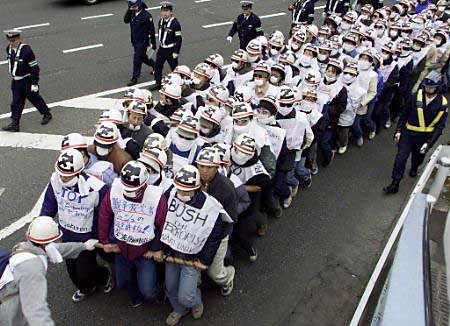 Shot of Tokyo protesters, preceding Bush's arrival.

Amazing: the highly conformist Japanese society produces protesters who find it most convenient to gather together, walk in a line, and be completely directed by police, even though they are wearing helmets and what looks like some sort of mask.


---

CyclopONE Monday Feb 18 05:12 PM

I don't want to be mean, but to me it looks like the police are leading the protestors to an off-ramp from a main road somewhere. As if to lead the protest away from the big show.

Anyway, riding the conformist view, I wonder if the protestors had to file a form that allowed them to protest? Maybe they could if they were able to sign up a certain number of people.

In any case, it reminds me of the Roman Legions turtle technique that I saw in the <i>Asterix</i> comics.

-Cyc

---

dave Monday Feb 18 06:04 PM

As long as they blur their pubic hair it's okay.

---

fourseven Tuesday Feb 19 02:25 AM

troops

impressive picture.. the protesters look like an unarmed army.. tight and organized, probably as much in spirit. not your everyday crowd, huh?

---

verbatim Tuesday Feb 19 03:28 PM

*cough*losers*cough*

Seems to me that if you wanna get your message across, do it loud and rowdy. That looks almost pointless. But that is just my style.

Someone remind me never to move there.

---

dave Tuesday Feb 19 03:37 PM

Why? So you don't get killed in a fucking riot?

---

verbatim Tuesday Feb 19 04:03 PM

Well riots are bad. But when i think of the word 'protest', i think of a bunch of hippies sitting around, smoking, and singing songs on their target's front lawn. Not a bunch of people dressed in the same uniform marching in almost perfect columns and not really doing anything other than getting directed by the police. Its almost funny how different Japan and America are, although people keep making the point that we are the same since we made them our bitch after WWII.

---

dave Tuesday Feb 19 05:42 PM

Very much alike but very different.

What they're doing, if you think about it, is really basically a physical petition. They are coming out and showing support, in numbers, of their cause (or showing disapproval, in this case, of the protest<b>ed</b>'s policy). I personally would argue that this is more effective because their behavior cannot be used against them, whereas those that are breaking or spraypainting or even obstructing are generally looked down upon and their voices are not heard in a positive light.

---

mitheral Wednesday Feb 20 11:36 AM

Fairly Effective

Besides which, if the only objective was to draw attention to themselves and their cause the protest has been fairly effective. We are, after all, taking about it here.

---

CyclopONE Wednesday Feb 20 11:48 AM

Re: Fairly Effective

Quote:

Originally posted by mitheral
We are, after all, taking about it here.

Sure, we are talking about here. But *are* they talking about it there, in Japan?

-Cyc

---
Your reply here?

The Cellar Image of the Day is just a section of a larger web community: a bunch of interesting folks talking about everything. Add your two cents to IotD by joining the Cellar.