Undertoad Thursday Feb 28 11:34 AM

2/28: Buck semen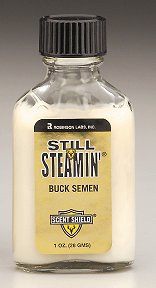 From http://www.scentshield.com/stillsteamin.html

Via Everlasting Blort, and the only thing I can say is... sometimes hunters are insane. I realize that stalking the wily prey answers instincts deep in the soul, but if you insist on spreading deer semen in order to do it, I think there must be other instincts going on.

---

Chewbaccus Thursday Feb 28 11:47 AM

Welcome to West Virginia, where the men are men and the deer are scared.

~mike

---

blase Thursday Feb 28 01:25 PM

The site says the stuff is synthetic, but my disgust is genuine.

---

Griff Thursday Feb 28 01:41 PM

Its the floor polish that...

---

Nic Name Thursday Feb 28 01:43 PM

Note the instructions on the website.

Quote:

Note: Easy to use, just use one drop of Still Steamin every few yards to create a potent scent trail or create a 'follow me' scent line by dragging a Scent Wick saturated with Still Steamin. At your hunting site, place a Dip Wick soaked in Still Steamin strategically to bring deer in for the best shot.

This reminds me of the video clip, shown on America's Funniest Home Videos, where the dip wick hunter put the scent on himself as a lure. He must have used the rutting buck urine scent, because he attracted a buck which attacked him. I suppose it could have been worse ... if he had used the doe estrus urine scent, and the buck had attempted to give him some genuine buck semen.

---

warch Thursday Feb 28 08:52 PMIsn't that some kind of lower ranking member of the coast guard?

---

elSicomoro Thursday Feb 28 09:34 PM

"Buck is a scary motherfucker. Buck...don't fuck with Buck 'cause Buck will fuck you up. Fuck Buck though."--RevCo

Sorry...when I first saw this, I thought it said "Buck Satan," and so my mind immediately went to Al Jourgensen and the Revolting Cocks.



Disgusting, but on topic: Although we know that it is synthetic (from the site), I would think that it would have to be even without them saying so. I would figure that if it were real semen, it would dry up at room temperature.

But it DOES come with a dip wick. *breaks into uncontrolable laughter*

"Why use 'old' dark, contaminated urine when you can use fresh, yellow, 'like it was just sprayed' urine?" Pffft...

---
Your reply here?

The Cellar Image of the Day is just a section of a larger web community: a bunch of interesting folks talking about everything. Add your two cents to IotD by joining the Cellar.