Undertoad Wednesday Aug 9 03:58 PM

8/9/2006: House made of Big Dig project pieces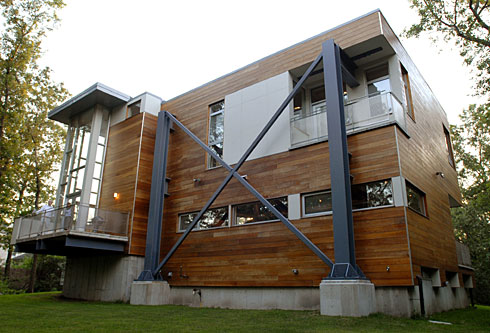 Another axlrosen find.

The "Big Dig", for you non-USians, is a public tunnel project that basically put the main road through Boston, under Boston. It went way over cost, leaked, and recently killed a woman when it kinda sorta collapsed a little. So when something good comes out of it...

Not all recycling comes from separating your trash. Another method is to reuse the items that are going to be discarded anyway. And that's the vision of Paul Pedini, who used highway materials that were headed for scrap to build his house.

The full story explains:


Quote:

Pedini wants the home — built using steel and concrete salvaged from Boston's $14.6 billion highway construction project — to be a prototype for recycling.

"These materials are as good as you can get," said Pedini, a 51-year-old civil engineer who spent a decade working on the Big Dig. "We were being paid money to junk this stuff. There's something inherently illogical about it."

So instead of dumping top-shelf materials, recycle them into a public housing project, municipal parking garage, prison, even as a replacement bridge.

It's a fine idea. The only downside is that your public buildings will look like off-ramps, but that's a small price to pay.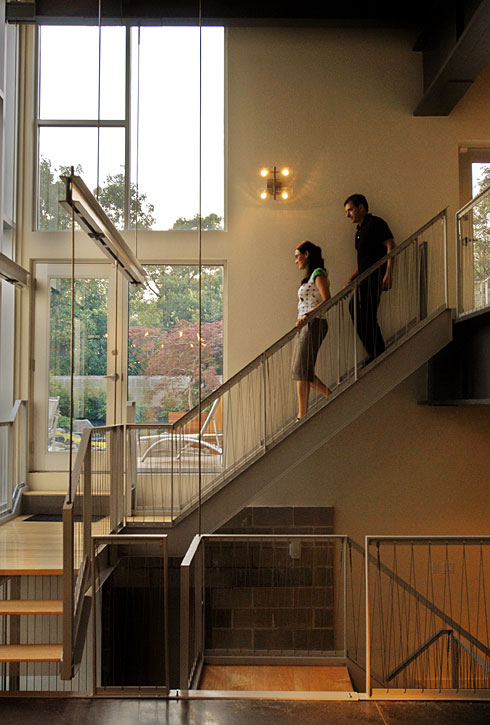 Quote:

Concrete slabs, each about 40 feet long and weighing up to 25 tons, comprise the floors and roof.

The roof! Hope it's not pancakes for breakfast.

---

Flint Wednesday Aug 9 04:07 PM

You think those roof slabs are hung on bolts that are glued in?

---

barefoot serpent Wednesday Aug 9 04:11 PM

Those I-beams make the ones in my house look like an Erector Set.

---

glatt Wednesday Aug 9 04:34 PM

Awesome. I like this alot. The guy saved his company some money and he saved himself some money too, got superb materials to use, and a cool house too.

The look of it reminds me a lot of houses built out of shipping containers. Like the ones found at this site. Especially the 12 container house in Maine below.

---

Flint Wednesday Aug 9 04:38 PM

I gotta show those container houses to my dad, he uses shipping containers and retired boxcars as massive storage sheds. Of course, that doesn't involve any modification. Maybe he'll get a few ideas...

---

Elspode Wednesday Aug 9 04:46 PM

Hmm...the guy's suspended stairs and such remind me more than a little of the Hyatt walkways that collapsed here in KC 20 years ago.



Here's hoping that the house doesn't replicate some of the other things about the Big Dig...like falling concrete.

---

tw Thursday Aug 10 07:21 PM

So that's what happened to concrete missing (poured too thin) in the tunnel's liner. It's now a foundation.

---

xoxoxoBruce Thursday Aug 10 11:17 PM

I wonder what it cost him to build that house. The "salvaged" materials aren't what construction crews building homes are used to working with.

---
Your reply here?

The Cellar Image of the Day is just a section of a larger web community: a bunch of interesting folks talking about everything. Add your two cents to IotD by joining the Cellar.