Undertoad Sunday Sep 17 11:50 AM

September 17, 2006: Fallen woman is hurt! No she isn't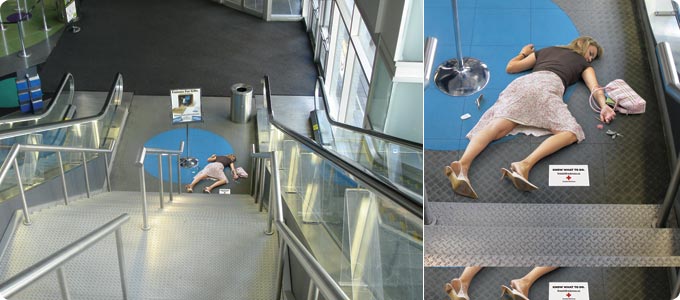 OMG a woman has fallen down the stairs and is seriously hurt!

That's what you're supposed to think anyway, but it's really a life-size DECAL of a person who's fallen. If you come at the decal from above, via the stairs, it looks real; if you come at it from ground level it won't make any sense.

It's really an ad. It's to raise awareness of World First Aid Day. This is in Toronto; the placard there sends you to www.redcross.ca for First Aid training courses.

I like the detail of the keys and cell phone.

via The Cool Hunter.

---

ajaccio Sunday Sep 17 11:53 AM

I would be worried about the effect this might have on some viewers. Panic or some other extreme response might cause someone else to really fall down the stairs...

---

xoxoxoBruce Sunday Sep 17 12:09 PM

Agreed, or be calling 911(Canadian equivalent) from the top of the stairs.
Personally I'd be disappointed to rush down the stairs and find the unconscious blond with her skirt up around her.......ah, nevermind.

---

The 42 Sunday Sep 17 12:56 PM

That is cruel...

---

9th Engineer Sunday Sep 17 01:07 PM

I wonder if they make decals like these with other images...

---

Tomtheman5 Sunday Sep 17 02:08 PM

Are we sure she's life-sized? She looks pretty dwarvish compared to the size of the escalators... She looks like she could almost lay sideways on the escalator steps. Don't know too many full-sized people who can do that

---

SeanAhern Sunday Sep 17 08:52 PM

So where's the picture of the decal from ground level? I can't seem to find one.

---

Ubergeek Sunday Sep 17 10:12 PM

Quote:

Originally Posted by xoxoxoBruce

Agreed, or be calling 911(Canadian equivalent) from the top of the stairs.

Actually it is still 911 up these parts Bruce



However it was good to know I wasn't the only one thinking those thoughts about being a bit disapointed...



Acroyear

---

Crimson Ghost Wednesday Sep 20 05:34 AM

Why didn't the makers of this decal add a "Life Alert" pendant?
Then the decal EMS could help her...

---

TropicFever Wednesday Sep 20 07:55 AM

My thought would be that she's just laying there taking a nap. So my first instinct would not be to call 911 but to cover her with a blanket in case she's chilly.

---

rkzenrage Wednesday Sep 20 11:18 AM

In the US this would spark a lawsuit.

I think this is dangerous and thoughtless. I could think of a dozen more productive and effective methods of raising awareness that would not be possibly dangerous &/or traumatic to someone.

---

lumberjim Wednesday Sep 20 12:34 PM

really? name one. reminds me of this:


---

Shawnee123 Wednesday Sep 20 12:41 PM

Whoa. Is that real?

---
Your reply here?

The Cellar Image of the Day is just a section of a larger web community: a bunch of interesting folks talking about everything. Add your two cents to IotD by joining the Cellar.