Undertoad Wednesday Oct 18 11:42 AM

October 18, 2006: Cool experimental boat sighting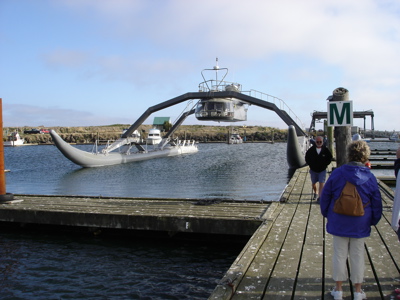 YellowBolt gets this email forwarded from a professor. Notes the prof,

Quote:
These pictures were taken in the Port of Ilwaco off the Washington State coast. The crew wore civilian clothes but guarded the boat closely and would not answer any questions.

It was suggested it may be something Boeing is working on. The pontoons appear to be made of very thick rubber and may be fuel cells. Note that each of the steel spider-like legs are jointed in three places. Perhaps the boat can be lowered in calm seas and raised when it is rough.

The boat had no name or number...

A friend who lives there said it arrived out of the fog the nite before. The crew would not say who they were or where they were from, and were not allowed to discuss the craft.

Notice how the rear of the cabin can be lowered into the water but has a very small prop.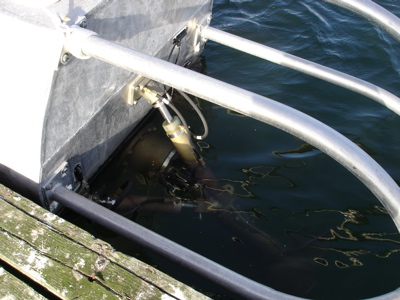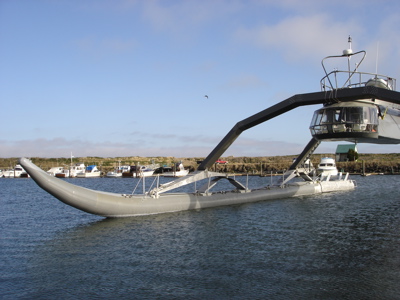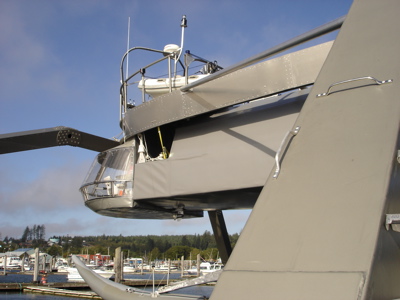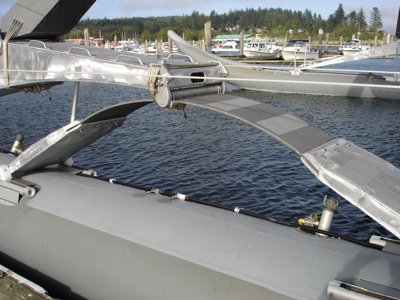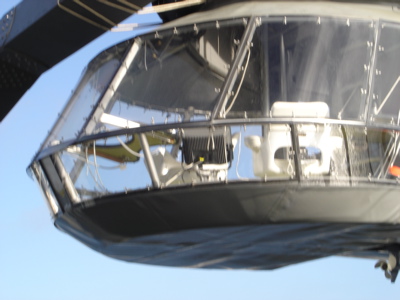 Sez YellowBolt, "It reminds me of those spy boats from James Bond movies. Really does." Me too. Thanks for forwarding.

---

barefoot serpent Wednesday Oct 18 12:03 PM

Spidermaran?

---

busterb Wednesday Oct 18 12:24 PM

Isn't Howard Hughes dead?

---

Pancake Man Wednesday Oct 18 01:00 PM

You didn't see it....

---

Shawnee123 Wednesday Oct 18 01:04 PM

Preparations for Waterworld. It's gonna happen, ya know.

---

Spexxvet Wednesday Oct 18 01:20 PM

That's cool! It must be very stable, considering its length and width, not to mention the shock absorbers. It's the daddy longlegs of boats!

---

neatorama Wednesday Oct 18 01:36 PM

It's a Jim Antrim design, built in Anacortes, WA.

---

Elspode Wednesday Oct 18 01:54 PM

Damn. We hadn't even gotten to the alien invasion speculations yet, and already someone puts out the conspiracy theory fire.

---

xoxoxoBruce Wednesday Oct 18 10:26 PM

It's Dr. Arliss Loveless trying the water this time.

---

footfootfoot Wednesday Oct 18 11:21 PM

OK, I'm speed posting because I heard I may get lucky tonight so I didn';t read any of your other possts. I just wanna know what was so experimental about that boat sighting. It looked like a pretty run of the mill sighting to me. Stand on a dock, look at boat.

I'll check it out when I have more time.

---

YellowBolt Wednesday Oct 18 11:55 PM

Aww, fsaklfjgl. My computron ate up one different shot of the boat. (Might be why two of the images are exactly the same...

)

---

Griff Thursday Oct 19 06:57 AM

Johnny Quest had one of those yeeeeeeeeeeeears ago.

---

Elspode Thursday Oct 19 01:20 PM

You know, when I look at the last shot, here, it makes me think that someone looked at a canoe and said, "I can make that a lot faster. First, you suspend it from this big, flexible bridge thingie..."

---

TropicFever Friday Oct 20 08:01 AM

Is this perhaps piloted by the world's tiniest horsey?

---

mitheral Saturday Jan 20 01:53 AM

News on the spider boat.

"It is named the Proteus, after a Greek god of the sea, and is the first of what might be a long line of wave adaptive modular vessels -- WAM-V for short -- developed by Ugo Conti, an engineer and inventor."

---

SPUCK Saturday Jan 20 05:03 AM

Also:
http://www.wam-v.com/

---

bargalunan Sunday Jan 21 04:46 PM

Hello the Cellar, it has been a long time !

This photo reminds me of the last dream of Eric tabarly (our former national sailor), his "flying boat" : l'Hydroptère :

You can have a look at the header and the pictures:
http://www.hydroptere.com/accueil/im...FR/rub/61.html

The faster he goes, the more he rises from the water on his two foils. Then he's nearly flying over the sea.

He's already done better than Louis Blériot's plane when crossing the Channel !!

When engineering meets poetry...

---

bargalunan Sunday Jan 21 04:47 PM

and ...

---

SPUCK Monday Jan 22 04:25 AM

Sign me up! Looks like a blast!

---
Your reply here?

The Cellar Image of the Day is just a section of a larger web community: a bunch of interesting folks talking about everything. Add your two cents to IotD by joining the Cellar.