Undertoad Monday Mar 25 05:24 PM

3/25: Kid cut in religious ceremony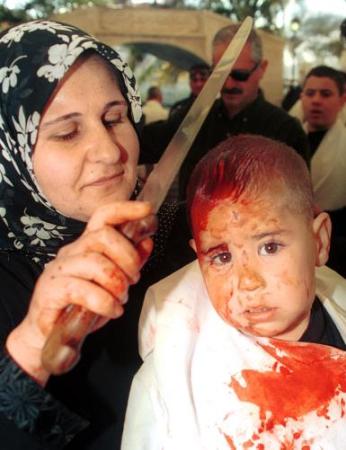 From the thumbnail I thought this was going to be another kid killed in mideast violence. Then I thought it was a mother consoling a kid hurt in mideast violence.

Turns out the kid's forehead was cut during a ceremony: part of Ashoura, the Shiite Muslim religious festival which marks the AD 680 battle in which Imam Hussein, the grandson of Islam's Prophet Mohammed, was killed.

---

verbatim Monday Mar 25 05:27 PM

Thats just cruel. No two ways about it.


Well, on second thought its not so bad compared to circumcision.

---

jaguar Monday Mar 25 10:08 PM

WhatDaFuck?!

---

Slight Tuesday Mar 26 04:54 PM

Proving once again that religion, faith, and cults can get you do to anything and you'll enjoy doing it too. I mean look at her, she is smiling happily while bloodletting her own child.

---

blowmeetheclown Wednesday Mar 27 09:20 AM

Anyone have more details on the tradition? Why he's cut, what the cut symbolizes, and why the hell his mother is smiling because her child is bleed profusely from the skull?

---

bartman Wednesday Mar 27 09:30 AM

Damn. I split my head open a few times while I was a kid, but my parents never cut me open on purpose.

Think about how you would turn out if you were the kid. Wouldn't you have some hate bottled up?

---

perth Wednesday Mar 27 05:40 PM

so i heard about this on npr early this week. the announcer discussed the meaning of the tradition, etc. and described the flails they use. he said it was like "whipping yourself with razor wire". ow. here is a link where you can hear the segment.npr.org
it was really quite creepy. i cringed at least once listening to it. they have audio of the chant leading up to the act, and the description of the flails they use is... i dunno, not pleasant.

~james

---

BrianR Friday Mar 29 04:14 PM

I dunno about that. I've been whipped by experts until blood flowed
had needles stuck into places I'd rather not mention in polite company and blood came then, too.

It mostly depends on your state of mind and body prior to the bloodletting. I have a friend who is going to crucify someone in NYC at Hellfire soon. Details if you're strong enough.



Brian the Sick and Twisted

---

Slight Saturday Mar 30 10:07 AM

And how old are you BrianR? I bet you weren't born yesterday. This kid looks like he was.

---

BrianR Saturday Mar 30 05:35 PM

Sorry, that's classified.

I could tell you but then I'd have to torture you to death.

Then again...

Brian

---
Your reply here?

The Cellar Image of the Day is just a section of a larger web community: a bunch of interesting folks talking about everything. Add your two cents to IotD by joining the Cellar.