Undertoad Tuesday Dec 5 06:54 AM

December 5, 2006: Krampus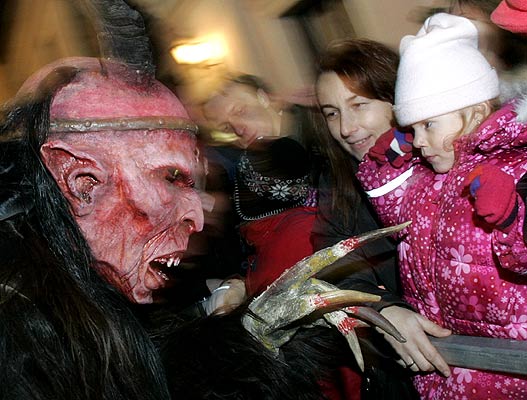 St. Nicholas, also known as Santa Claus, has companions in some cultures, and often these companions are as evil as Claus is depicted as good. This shot from the 20minutos.es daily gallery is taken in Austria, where on December 6 the Krampus appear in parades, with the goal of punishing children who behave badly.

I had never heard of this before, the Companions of St. Nick, but Wikipedia solves it:


Quote:

Often the subject of winter poems and tales, the Companions travel with St. Nicholas or his various equivalents (Father Christmas, Santa Claus), carrying with them a rod (sometimes a stick, bundle of switches or a whip, and in modern times often a broom) and a sack. They are sometimes dressed in black rags, bearing a black face and unruly black hair. In many contemporary portrayals the companions look like dark, sinister, or rustic versions of Nicholas himself, with a similar costume but with a darker color scheme.

Some of the companions take on more monstrous forms. Krampus and Klaubauf are variously depicted as horned, shaggy, bestial, or demonic. In many depictions the Krampus looks like popular images of the Devil, complete with red skin, cloven hooves, and short horns.

It is unclear whether the various companions of St. Nicholas are all expressions of a single tradition (likely Knecht Ruprecht), or a conflation of multiple traditions. Various texts, especially those outside the tradition, often treat the companions as variations on a single Knecht Ruprecht tradition.

And referring to Krampus itself:


Quote:

In parts of Austria, Krampusse, who local tradition says are (typically children of poor families), roamed the streets and sledding hills during the festival. They wore black rags and masks, dragging chains behind them, and occasionally hurling them towards children in their way. These Krampusumzuge (Krampus runs) still exist, although perhaps less violent than in the past.

Today, Schladming, a town in Styria, over 1200 "Krampus" gather from all over Austria wearing goat-hair costumes and carved masks, carrying bundles of sticks used as switches, and swinging cowbells to warn of their approach. They are typically young men in their teens and early twenties and are generally intoxicated. They roam the streets of this typically quiet town and hit people with their switches.

I'm in favor. If there are Santas in every mall, there should be roaming Krampusses as well, hitting passers-by at random and scaring the children into being good.

In other news, I did not realize before this morning that almost certainly Santa Claus is a re-pronunciation of Saint Nicholas, particularly if you drop the long O and pronounce it "ethnically". Sant-Nick-Loss. Sant-Ti-Closs. I get it now. Took me 43 years to figure that out.

---

Undertoad Tuesday Dec 5 06:59 AM

Quote:

(Santa Claus) originated from Dutch settlers' stories about Sinter Klass, the Dutch name for St Nicholas,



---

Elspode Tuesday Dec 5 08:09 AM

That's a pretty detailed getup the dude's got. Looks like he even has demonic earwax.

---

Spexxvet Tuesday Dec 5 08:49 AM

Aren't Santa's elves soooo cute!

Maybe the thinking is that if the kids get the hell beat out of them in early December, they'll be grateful for the socks and underwear they get for Christmas.

---

Emrikol Tuesday Dec 5 09:02 AM

Didn't I see him in Lord of the Rings?

---

Trilby Tuesday Dec 5 09:09 AM

I like it. It let's children know what is in for them when they enter the corporate world.

---

milkfish Tuesday Dec 5 09:10 AM

Don't tell me: in the end, they throw him down the well, right?

---

orthodoc Tuesday Dec 5 09:44 AM

Don't think this guy would 'fly' here, do you?

I wonder when the scary 'companions' got added to the St. Nicholas story. There weren't any in the original!

---

Flint Tuesday Dec 5 09:50 AM

What about Saint Dickless, and Saint Tickles? Can't forget them.

---

Shawnee123 Tuesday Dec 5 11:57 AM

They must raise tough kids in Austria, she's not scared at all. In contrast, check out these "kids scared of Santa" pics:

http://www.southflorida.com/events/s...allery?index=1

Some of them are worthy of being scared of! Some of them are drunk! Bad Santa!

---

rkzenrage Tuesday Dec 5 01:08 PM

I LOVE IT! Man we missed out.
I always said that Santa was a vampire, only out at night, you have to be asleep (he'll drain your blood otherwise) and lives where they have looooong nights, all the red.... vampire.

---

Sundae Tuesday Dec 5 01:40 PM

Quote:

Originally Posted by Undertoad

I'm in favor. If there are Santas in every mall, there should be roaming Krampusses as well, hitting passers-by at random and scaring the children into being good.

I'm with you there.

I'd like an alter ego to any saccharine sweet myth.

You go out Easter morning and instead of finding the eggs the Easter Bunny has left behind you are ambushed by the Hounds of Hell who have been waiting patiently in the orchard.....

Sometimes the Knuckle Collector turns up instead of the Tooth Fairy - and no, your parents can't open the door when they hear you scream.....

And that cute teddy you've been pretending was alive and talking to you during the day? Oh it's alive all right. But you never expected it to whisper things quite. like. that....

---

ferret88 Tuesday Dec 5 03:06 PM

Quote:

Originally Posted by Emrikol

Didn't I see him in Lord of the Rings?

that's EXACTLY what i was thinking

---

Clodfobble Tuesday Dec 5 04:15 PM

Quote:

Originally Posted by Sundae Girl

Sometimes the Knuckle Collector turns up instead of the Tooth Fairy - and no, your parents can't open the door when they hear you scream.....


Comedy-fucking-gold, right there. Nice.

---

nil_orally Tuesday Dec 5 06:09 PM

Ah HA! I just knew my ex-wife had a job she wasn't declaring to the Child Support Agency!

---

xoxoxoBruce Tuesday Dec 5 07:13 PM

So that's what Jason does in the winter.

---

rupip Wednesday Dec 6 04:49 AM

well my friends let me tell you a bit about that crazy, kid-frightning tradition, as I happen to live right in the epicenter of the Krampus world.
the mask shown is actually not a traditional one, but was heavily inspired by hollywood (LOTR,...). I put some pics on to show you how it mostly and traditionally looks like.

there are two kinds of krampus happenings:
the one where single or small groups of krampusses run around the neighbourhood at night and horrify kids. Not only do they look wild, they also have big bells (cow bells - donīt know if you have them where you live) and they also have cows-tails or birches from willow sticks and try to hit people coming in their way.
Small kids donīt leave the house, but look out of the windows to watch them walk by and make noise. Bigger kids (mostly boys from 15 yrs. onwards) go out to provoke them and then run away. This mostly works fine, as a crampus with his fur and wooden mask carries around 20 to 30 kilogram of weith, and the kids do not. Sometime you get beat up.

the other tradition are parades of large groups or clubs, they are normally organiszed in (like biker clubs). Last Saturday 30 clubs with in total 500 krampusses held a parade just 2 blocks from my home. With thousands of spectators.

the whole Krampus-horror is over when St. Nikolaus comes.

the original sense behind that is to drive away evil an prepare nature (natures ghosts) for a not too hard winter. It is certainly an ancient custom - I donīt exactly get the logic behind that but that is the way it works.

anyway - it is an interesting and spectacular remain of an alpine tradition...

---

SPUCK Wednesday Dec 6 04:59 AM

Guy's got antler fingers...

---

Sundae Wednesday Dec 6 06:20 AM

Thanks Rupip!

There are lots of coach trips organised here to go to various Christmas markets on the continent - I'd rather go to a Krumpusfest

---

milkfish Wednesday Dec 6 07:20 AM

Sure thing rupip, you can never get enough cowbell around here. Maybe the Krampus is just a frustrated musician.

---

limey Wednesday Dec 13 06:10 PM

Not to mention the sanity clause ...

---

dar512 Wednesday Dec 13 06:42 PM

Quote:

Originally Posted by limey

Not to mention the sanity clause ...

You can't fool me. There ain't no sanity clause.
-- A Night at the Opera

---
Your reply here?

The Cellar Image of the Day is just a section of a larger web community: a bunch of interesting folks talking about everything. Add your two cents to IotD by joining the Cellar.