Undertoad Thursday Feb 1 11:05 AM

February 1, 2007: Woman births massive baby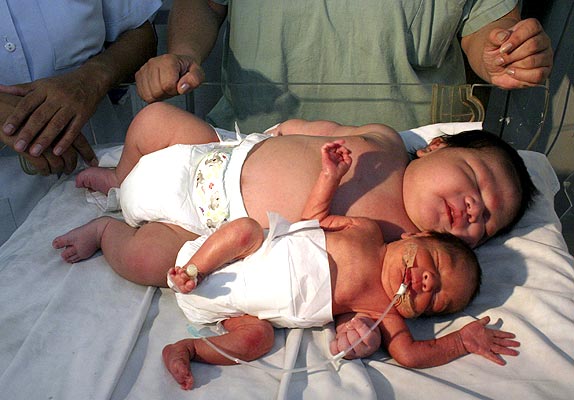 The nightmare of every pregnant woman? Say hello to "Super Tonio" - shown here in a 20minutos.es photo, next to a "normal" sized newborn.

Tonio was born in Cancun Mexico, weighing in at 14.5 pounds (6.6 kg), and sized at 22 inches (55 cm). Part of the official AP caption:




So she was 16 when she had the 11 1/2 pounder. Good gawd.

---

BigV Thursday Feb 1 11:16 AM

I wonder if she has a tattoo like this.

---

zippyt Thursday Feb 1 11:24 AM

Great Googly moogly !!!!
I wounder if she wistles when the wind blows !!!

---

Dypok Thursday Feb 1 11:32 AM

That makes MY pelvis hurt.

23 and 38...was the first child from the same father? 16 and 31, what is the cultural feeling on that in Mexico?

---

Sheldonrs Thursday Feb 1 11:59 AM

I've always wondered how some women say sex hurts when this is what comes OUT of them.

---

Elspode Thursday Feb 1 12:24 PM

I'm speechless. All I can really think of is my favorite old joke, with the punchline, "Hell, if I could find my car keys, we could *drive* out!"

---

Perry Winkle Thursday Feb 1 01:02 PM

Now I know where Jabba the Hutt came from.

My cousin just had a 10 lb baby a few weeks ago and I thought that was large.

---

Kitsune Thursday Feb 1 01:52 PM

My god. Look at the pudge, the neck crease! Right out of the shoot, this kid is going to need a CPAP machine to sleep at night.

---

monster Thursday Feb 1 02:28 PM

Remind me again, which day is recipe day? Lotsa meat on that. Tender.

---

Trilby Thursday Feb 1 03:21 PM

funny!

---

Jaydaan Thursday Feb 1 03:29 PM

No mention if the lady was diabetic..... Even gestational diabetes can account for larger babies. It also does not say of she has this baby (or the other one naturally or C-section)

Also the "normal" weight baby looks quite tiny, most likely a 4.5 - 6 pounder. Might even be premie because of the feeding tube, and the oxygen saturation monitor on his/her ankle. I think this was on purpose to show how large the other one is. You know more shock value



Either way, he is a big baby, here is hoping he is healthy and does not end up being obese as a child or adult.

---

danman_d Thursday Feb 1 03:36 PM

normal-sized baby

I LOVE the fact they've included a normal-sized baby for comparison. Whose baby is it?

"Hey man, take a picture of this HUGE F*@!ING BABY!"
"Yeah, but in a photo, you won't be able to tell how big it is."
"Hmm. You're right." *Grabs random newborn* "Here, now we have a proper sense of scale!"

---

Spexxvet Thursday Feb 1 03:47 PM

I wonder how a 3 month-old crawled back in there.

---

charmzny Thursday Feb 1 04:20 PM


---

Kitsune Thursday Feb 1 04:21 PM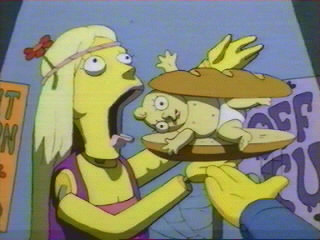 ---

Aliantha Friday Feb 2 02:25 AM

My ex's sister gave birth to an almost 14 pound baby. He was huge. She had a natural birth with him although I don't know what the midwife was thinking because she tried to pull him out by the hand causing permanent damage to the child.

I don't know if they sued the hospital or not, but they should have.

---

rkzenrage Friday Feb 2 02:26 AM

I hate you.

---

funkykule Friday Feb 2 10:16 AM

Am I missing something?!?

---

Shawnee123 Friday Feb 2 11:16 AM

hmmm, dunno?

---

monster Friday Feb 2 01:22 PM

?? I sure am.

---

lumberjim Sunday Mar 4 09:39 PM

from predator

reminds me of a different joke, spode.

so, after the big baby is delivered, the doctor says, "man, that's a big pussy.....man, that's a big pussy."

and the mother says, "why did you say it twice?"

and the doc says, "I didn't"
:rimshot:

---

Kagen4o4 Sunday Mar 4 09:40 PM

i was a 11lb baby

---

Aliantha Sunday Mar 4 09:42 PM

---

rkzenrage Tuesday Mar 6 02:56 PM

Empathy made me hurt (keep in mind I have osteoporosis in my hips) and did the whole reading and helping my wife give birth not too long ago. I may not "know", but I have a pretty damn good idea, especially since during my last surgery the nurses told me the sensation was a lot like child-birth. I be hatin'. That is one big damn baby.

---

Kitsune Tuesday Mar 6 03:06 PM

Mueck had a massive baby, too. (scroll down)

---

xoxoxoBruce Tuesday Mar 6 09:37 PM

Mueck's baby still has a section of umbilical cord attached and lot's of bloody gunk. I'd rather have a big burger.

---

Aliantha Wednesday Mar 7 01:26 AM

rkz...no worries. I was just wondering. He was a big baby that's for sure. He's an equally big kid now too. Actually he's only 12 but looks like your average 15 or 16yr old. I think it's cause he's Samoan.

---
Your reply here?

The Cellar Image of the Day is just a section of a larger web community: a bunch of interesting folks talking about everything. Add your two cents to IotD by joining the Cellar.