Undertoad Saturday Mar 3 10:07 AM

March 3, 2007: Animal escape practice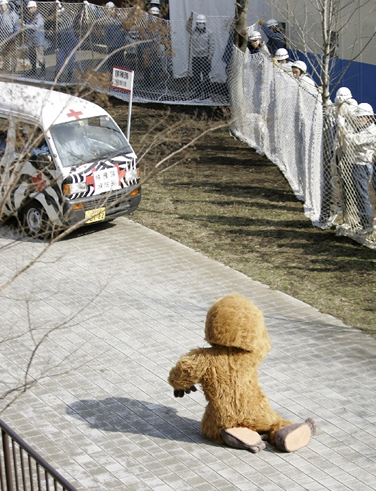 This is not a Friday image. The official cap:



Quote:

A zoo worker dressed as an orangutan falls after being 'shot' by another zoo worker with a simulated tranquiliser dart as part of an animal escape drill at a zoo in western Tokyo February 27, 2007. Zoo workers practiced surrounding the escapee with nets before pretending to shoot it with a tranquilising dart and returning it to its enclosure.

Mainichi Daily News via axlrosen.

The cosplay culture strikes again: once you agree on who's gonna play the part of the orangutan, does he really need to be dressed up as one? And what's with the big cartoonish head and feet?

---

Spexxvet Saturday Mar 3 10:27 AM
---

officer_purple Saturday Mar 3 10:40 AM

I think the zoo over here needs to start something like this. In the past four or so years multiple animals have made bids for freedom - including a red panda and a monkey of some sort.

(And is it just me, or does the man in Spexxvet's pic have a weird resemblance to that strange bulldog suit?)

---

zippyt Saturday Mar 3 10:43 AM

[WAAAAA] THEY SOT GROVER !!!!!!! [/WAAAAA]

---

xoxoxoBruce Saturday Mar 3 10:46 AM

This what the shooter saw.



If you look at the first picture, and count how many people are holding just that short section of net. Now figure the net is probably at least half way around the area, and I can see the need to focus all these people with a costume of some sort. Of course the Japs are detail oriented(no pun), so it's a little over the top from our perspective. A simple Sailor Moon or Hello Kitty would have done it.

---

milkfish Saturday Mar 3 11:09 AM

It is good practice for the zoo workers not to fall over laughing when things like this happen in the future.

Dr. Zaius, are you okay?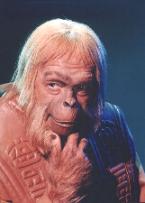 ---

Elspode Saturday Mar 3 11:45 AM

Man, that's the late Ed Bradley in that pic with the costumed critters.

---

maximum Saturday Mar 3 12:49 PM

reminds me of the man in the bear suit and the man in the dog suit in "The Shining." what a bizarre, strange scene.

---

Shawnee123 Saturday Mar 3 01:56 PM

Spexx! I LOVED Trigger Happy TV.

Great pics.

---

Shawnee123 Saturday Mar 3 01:57 PM

wacky asian pics

---

Sheldonrs Saturday Mar 3 02:59 PM

Why don't they just call MacGruff the Crime dog?

---

rkzenrage Saturday Mar 3 06:58 PM

Could they not have just worn an orange T or something? Someone's a furry.

---

fargon Saturday Mar 3 08:26 PM

"Fur and loathing in Las Vegas" Gil Grissom CSI
this is what I thought when I saw these pic's

---

capnhowdy Sunday Mar 4 12:37 PM

I trust they were careful to make sure no kids were watching. Talk about a mental scar.

---

Sundae Monday Mar 5 06:19 AM

Looks like a scene from It's a Knockout - that is definitely a comedy ape suit.

---

xoxoxoBruce Monday Mar 5 07:06 AM

I wonder if Japan has a large selection of off the shelf monkey suits?

---

capnhowdy Monday Mar 5 09:06 PM

...googles.....

---

BrianR Friday Mar 9 03:45 PM

*I* wonder if they took into account the tremendous strength of an orangutan vs a man. And the way they can climb!

Methinks this was more fun than real exercise. Either that or that is one guy who won't be late for work again!

---
Your reply here?

The Cellar Image of the Day is just a section of a larger web community: a bunch of interesting folks talking about everything. Add your two cents to IotD by joining the Cellar.