Undertoad Friday May 31 11:03 AM

5/31/2002: Colorful storm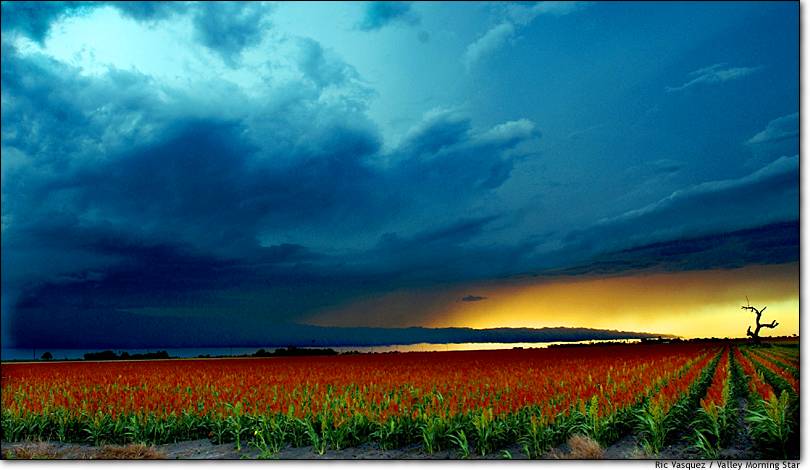 From MSNBC Week in pics, pointed out by dhamsaic, comes this absolute beaut<br>of a storm approaching in Texas.

All one can say is Wow.


---

dave Friday May 31 11:12 AM

It looks absolutely surreal. Like a dream. Or a scene from a movie. The colors of the crops, the gold in the background... the tree sitting off to the right to lend an object to the picture. Just a great shot.

Amazing.

---

wah Friday May 31 12:26 PM

Texas Sunsets

Texas has some great sunsets. Red Ones. Blue Ones and Green Ones. The big storms coming down the great plains make for some awesome thunder and lightning shows. And that's enough playing with the editor for now.

---

warch Friday May 31 03:20 PM

Beauty.

---

Joe Friday May 31 04:07 PM

ahh, a beautiful day

Hey ma! Looks like I don't have to wash our mobile home, the rain will do it! Dang, kinda windy all of a sudden...

---

blowmeetheclown Friday May 31 04:07 PM

Any details of where the pic was taken? We had some doozies this week.

/edit - didn't notice the "Valley Morning Star" mark on the bottom corner. I'm assuming somewhere around the valley, possibly Robstown/McAllen?

---

Griff Friday May 31 04:39 PM

T storm coming, must be quick. Um... thats not a cute widow aminal... Don't screw up friday pal

---

elSicomoro Friday May 31 04:59 PM

You know, I really don't appreciate photographers stealing from painters.



It's so awesome that it almost looks like a painting to me.

Griff, didn't you guys get some fierce rain this past week up there?

---

blase Friday May 31 09:46 PM

I'm really curious as to what sort of photo gear the photographer used. Especially whether or not he used any filters to get this amazing shot.

---

Griff Saturday Jun 1 07:44 AM

We've been very lucky. The fiercest storms tracked South of us and there was a tornado reported just North and West of us yesterday. Bear Creek got something like three inches of rain in an hour a few days ago. But you know the deal (insert Patton line here).

---

node Saturday Jun 1 07:43 PM

I know I'm only echoing the comments made by others already here, but that's simply amazing. Surreal and intruigingly beautiful.

Pete

---

Nothing But Net Saturday Jun 1 08:20 PM

I've lived in Texas most of my pitiful life, and I've seen a lot of thunderstorms quite similar to this. I can drive about 30 miles out of Houston and see a landscape like this.

Before you start creaming your jeans over this, let me tell you it has color alterations (probably a gradual blue filter, slightly tilted counterclockwise). While the bottom right quadrant may be true, those thunderheads are greyscale. And scary, get back in the car!

Still an awesome image, tho'

---

tandr Tuesday Jun 4 01:43 AM

Hi-res anyone?

Hi,

Is it possible to get 1280x1024 somewhere ? Or even better to print it out ?

tandr

---

juju2112 Tuesday Jun 4 02:13 AM

Bah, looks photoshopped to me.

---

jaguar Tuesday Jun 4 02:17 AM

Was on the back page of one of my newspapers yesterday.

---

dave Tuesday Jun 4 03:10 AM

Quote:

Originally posted by jaguar
Was on the back page of one of my newspapers yesterday.

I guess IotD <b>is</b> well read down in Austrailia.

---

Nic Name Tuesday Jun 4 07:56 AM

Quote:

Originally posted by juju2112

Bah, looks photoshopped to me.

While it sure does have that surreal look about it, the folks down in TX might have a better idea whether the weather really looks like this at times.

The photographer has a couple of audio tracks with the photo on MSNBC, in which he explains how the color of the storm caught his eye, on his way to photograph a little league baseball game. He doesn't seem to admit to any colorization of the image by filtering, much less photoshop.

---

chrisinhouston Tuesday Jun 4 02:02 PM

storm cam

Found this series of shots of a storm passing through in Sydney Australia. Not extremely dramatic but nice to watch.

http://www.smh.com.au/media/2002/06/...982696241.html

---
Your reply here?

The Cellar Image of the Day is just a section of a larger web community: a bunch of interesting folks talking about everything. Add your two cents to IotD by joining the Cellar.