Undertoad Monday Jun 3 10:43 AM

6/3/2002: Suicide bomber shrapnel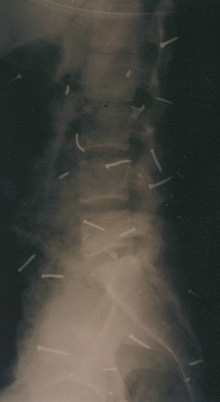 If you're a suicide bomber, you want to get the most out of your detonation. So part of your method is to pack your bombing belt with all kinds of nails and scrap metal so as to do the maximum human damage. That way, when you blow up, scattering with your body parts will be thousands of little pieces of metal.

This is why stories often report something like "3 dead, 20 injured" as opposed to, say, "2 dead, 2 injured"; the blast radius doesn't just include flying pieces of bomber, it also includes flying metal which causes most of the "injury" number.

And in some cases, as in the one shown here (showing the lower back and abdomen), the "injured" means injured very severely indeed. Not only do the nails fly, they often enter bystanders' bodies head-first. And red-hot.

Ow.

This is from the right-wing conspiro-rag World Net Daily, which I don't generally like much, but x-rays don't lie. The story here is excerpted:
--
Messing said one of the victims he saw while in Jerusalem had around 300 individual metallic fragments within his body. The metal fragments, measuring from millimeters to centimeters, were imbedded in the young man literally from head to toe, he said.

"Several of the fragments penetrated into his vital organs. He sustained a punctured colon, a collapsed lung, and a lacerated liver and kidney. I could actually feel the nails under his skin where they had burrowed and lodged," Messing recalls.
--

---

dave Monday Jun 3 10:59 AM

But hey, it's justified, 'cause they're building a new settlement in East Jerusalem.

---

goethean Monday Jun 3 01:12 PM

previous is sarcastic, I hope.

---

jeni Monday Jun 3 03:20 PM

oh my god. that poor man. wow. ouch.

---

Nic Name Monday Jun 3 04:40 PM

Factoid

In 1804, shrapnel, named after the British soldier Henry Shrapnel, was used for the first time in warfare by the British against the Dutch in Suriname.



Quote:

Although true shrapnel projectiles have been obsolete since 1935, the term 'shrapnel' is still used in a sense not technically correct to describe what should properly be defined as 'splinters' or 'fragments'.

There are still a lot of Shrapnels around. I wonder what it's like to have a surname with such a nasty association. It seems that the inventor and his family took great pride in this most devastating killing device.

---

TheDollyLlama Thursday Jun 6 10:03 PM

This is not at first obvious, but telling. Most of our experience with explosions came from too many episodes of the A-Team. Here's a little primer.

Explosions are just fast acting chemical reactions that create large amounts of heat and vast quantities of gas. The pressure of the newly created gas expands (well...explodes, duh) outwards.

Explosive weapons then, harness the energy of the expanding gas to propel bits of metal in all directions. The overpressure from the gas itself is only harmful relatively close up. Anti-personnel artillery is loaded up with lots of nasty bits called fleshettes. Suicide bombers packing nails is just the Anarchist Cookbook extension of this.

Your trivia of the day is that Artillery and therefore shrapnel is responsible for more wartime casualties than any other weapon.

Fire for effect indeed...

---

Scred Thursday Jun 6 10:39 PM

flechettes really come out of the same bomber's cookbook as nails. they're just nails with fins so they fly and cut better.


the israelis apparently were using them on palestinians earlier in this engagement. the reality is that both sides of that battle are using "flechettes" - some literal, some from the hardware store.

i suspect the WordNetDaily didn't both to mention the Isrealis using the same damn thing only fancier.

an example of this from a year ago, from the Jerusalem Post:



Quote:

TEL AVIV (June 13) - The IDF admitted yesterday that in fighting the Palestinians its tanks have used flechette shells, which are implicitly banned by international conventions. This came as B'tselem, the human-rights group, said it had evidence the three Beduin women killed by tank fire on Sunday were hit by flechettes.

http://www.google.com/search?q=cache...68.html+&hl=en



---

jaguar Thursday Jun 6 11:07 PM

TheDollyLlama
You're refering to low grade explosives, don't forget high grade ones they are very, very different.

As for dham's sideswipes - did you notice the last bomber specifically targeted soldiers not civvies?


---

TheDollyLlama Friday Jun 7 12:22 AM

the difference between high explosives and low explosives is significant, but generally when we talk about suicide bombs, grenades, artillery, we're talking about high explosives. In general the killing potential from high explosive weapons does not come from the shockwave or the heat energy of the explosive, but rather from the shrapnel which is expelled.

Low explosives are only useful when you can contain the explosion to let it do work for you. Gunpowder is a good example of low explosive.

Only when you get into Nuclear Weapons do the shockwave and heat become significant. Ok, maybe a little exaggeration, daisy cutters could probably kill you with shock at a greater range than the shrapnel, but you get the idea. It has to be BIG.

A non lethal, but tactially useful product of the shockwave is to concuss or deafen. A deaf soldier, or one with a concussion is a much less effective fighter.

---

jaguar Friday Jun 7 12:28 AM

Ya, things like stun grenades or flashbangs.
I"m not sure waht tehy use for suicide bombs, i assumed pipebombs or somethign similar, its far easier to make low grade stuff and pack it in a tube than get your hands on serious quantities of high-grade explosives, and packed in a steel sube and covered in ball bearings/nails i'd assume both would be equally deadly. I though arty shells used gunpowder?!

---
Your reply here?

The Cellar Image of the Day is just a section of a larger web community: a bunch of interesting folks talking about everything. Add your two cents to IotD by joining the Cellar.