Undertoad Wednesday Jun 5 12:27 PM

6/5/2002: Oldest known images of faces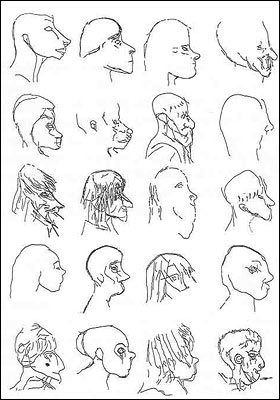 As reported by the BBC, these may be the oldest drawings of people's faces in existence. They were found in a cave at La Marche in France, and it's thought they date back 15,000 years.

The cave drawings were etched into slabs that sat on the floor. They were first found 50 years ago, but at the time, they were dismissed as fakes.

The Lascaux cave drawings were of animals... didn't include human faces. But now they think the faces might have been on the floor of that cave too, which makes some archaeologists wonder whether they overlooked cave floors all along... basically destroying them so they could walk around while looking at the walls.

When you think about it, as we become more and more sophisticated, archaeology changes too -- and it becomes more and more likely that past archaeologists inadvertently corrupted or destroyed evidence that could be useful. But who knows today what tomorrows archaeologiss would find valuable? Who would have known, two decades ago, that DNA would be so important to forensics today?

---

hairdog Wednesday Jun 5 01:49 PM

I'm sorry. I swear I thought your subject line was oldest known images of FECES.

---

Tobiasly Wednesday Jun 5 02:17 PM

I'd think they were fake too. Were there really people who looked that different from each other alive at the same time?

The guy in the bottom-right looks almost modern, but the guy in the top-left looks like a dog, and the guy below him looks like Beavis.

---

juju2112 Wednesday Jun 5 02:21 PM

I figured the guy was just a bad artist.

---

jeni Wednesday Jun 5 03:03 PM

the fourth down on the right looks like an alien to me.

---

Angelus Wednesday Jun 5 08:12 PM

Heck, most of them look like aliens to me!

---

Slithy_Tove Thursday Jun 6 04:46 AM

Hey, I used to work for that guy!

---

sypher Monday Jun 10 09:51 AM

Orcish

Some of those sketches look like the common representations of ghouls and orcs, long snouts and set back eyes.

Or they kinda look simian too.

---

russotto Monday Jun 10 10:36 AM

Who says the guy was a realist?

Hey, maybe he was a caricature artist. (in which case you'll likely find his skull nearby, bashed in with a stone tool)

---

Torrere Monday Jun 10 02:26 PM

Maybe these were all drawn by different artists, of varying skills, styles, and attention to detail (ahem column 4, row 2).

One thing I found interesting about the article was where the Rappengluek started talking about the Pleiades, and speculating that they might have lit small fires to mimic the stars in the sky. "Perhaps this is the origin of modern-day candlelit festivals in the Far East where the candles are held in the shape of the Pleiades."

---
Your reply here?

The Cellar Image of the Day is just a section of a larger web community: a bunch of interesting folks talking about everything. Add your two cents to IotD by joining the Cellar.