Undertoad Friday Jun 7 01:49 PM

6/7/2002: Duck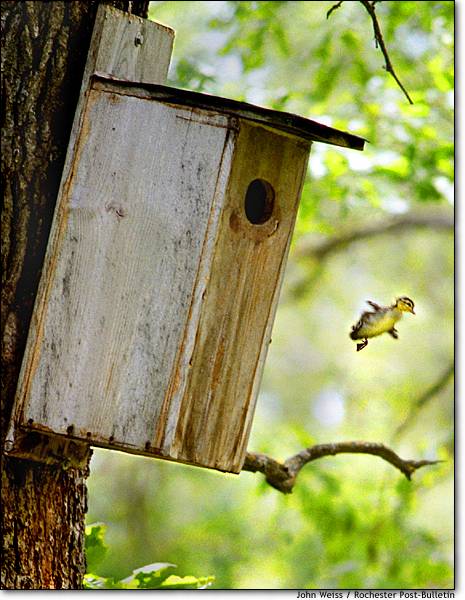 MSNBC finds us a fine Friday image (suggested by dham):

Responding to a mother's quacking pleas, a tiny wood duck leaps out of its house in a white oak tree along a branch of the Zumbro River near Dodge Center, Minn., on June 1. The duck's stubby wings were not enough to slow its 15-foot free fall to its mother. But it survived the jump nevertheless, just as its 19 siblings did. Photographer John Weiss waited over four hours to capture this frame.

---

froody Friday Jun 7 02:38 PM

Fly?

So how did the duck get up there in the first place? Did the photographer carry them up so he could take this shot? (What, me, cynical?)

---

lawman Friday Jun 7 03:12 PM

bah... it looks like a bad fark photoshop image..... I can't wait to see the kitty or little brown jaggy teeth monster leaping out next...

---

warch Friday Jun 7 03:24 PM

Aww.
The Northern Prairie Wildlife research stations sez:



Quote:

Wood ducks are highly secretive in selecting nest sites to minimize impacts of nest predators and competition from other wood ducks. Therefore, it is important to locate individual nest boxes in relatively secluded areas within timber stands where natural cavities would occur naturally. Nest boxes can be placed either on land or over the water. If located over the water, they should be placed at least 4 feet above the high water level and the entrance hole should face the open water
rather than the shoreline. Because of ease of access by predators, installation of nest boxes directly on trees should be avoided. Nest boxes placed on land should be located from 30 to 150 feet away from the shoreline. . .
Since the hen must lead her ducklings to water soon after they hatch, the area between the nest box and the water's edge should be free of any major obstacles such as roads or fencing. Nest boxes placed on poles over water are generally more easy to monitor than those placed in trees. Regardless of whether the box is placed over the water or land, the entrance should be clear of obstructions to provide easy access for the ducks.

One box design encourages the builder to make a little ladder inside of hardware cloth to help the little guys climb out. Nice Friday pic.

Go little fella go!

---

LordSludge Friday Jun 7 04:24 PM

lawman: Yeah, pretty much:

---

Griff Friday Jun 7 08:33 PM

Ahhh. got my friday animal image all is right with the world.

---

Nic Name Sunday Jun 9 02:21 AM

Quote:

Originally posted by lawman

bah... it looks like a bad fark photoshop image.....

Although the event is authentic according to the story, it looks like the image was "shopped" by smudging the focus of the foliage to make the duck more distinquishable from the background.

---

snagglefish Sunday Jun 9 03:26 AM

shopped...? doubt it.

i doubt that the image was photoshopped in the way you are suggesting. the photographer was probably using a long lens (at least 300mm, probably a 400 or 600) to avoid disturbing whatever was going on in the nest. as a result you have a compression effect and the background will be blurred if a large (say f2.8 or f4) aperature is used - which i am guessing it was in order to keep shutter speed high and freeze the action.

---

MaggieL Sunday Jun 9 07:26 AM

This is what dham and jag have to look forward to, y'know.

---

dave Sunday Jun 9 10:10 AM

Huh?

---

juju Sunday Jun 9 10:16 AM

I don't get it, either.

---

russotto Sunday Jun 9 08:37 PM

Quote:

Originally posted by juju
I don't get it, either.

"Leaving the nest"

---

jeni Monday Jun 10 02:03 AM

that duck reminds me of the baby bird rabies killed the other day. poor bird. it was chirping all loudly and flapping its wings.

and to make a longish-story short...after she killed it and tossed it around a bit, she so graciously brought it to the concrete stoop out back.

---

dave Monday Jun 10 02:25 AM

Er. I left the nest. And then I came back. 'Cause the location was great, and I don't get bugged too much, and my landlord is really lenient.

---
Your reply here?

The Cellar Image of the Day is just a section of a larger web community: a bunch of interesting folks talking about everything. Add your two cents to IotD by joining the Cellar.