Undertoad Monday Jun 17 01:43 PM

6/17/2002: Young lady gifts a guard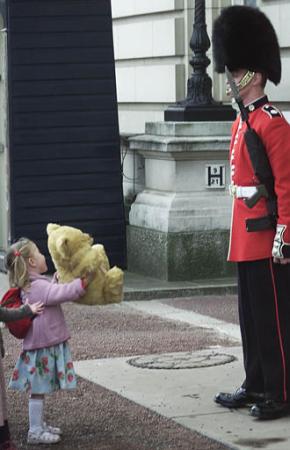 Thanks to Zeolite for sending along this ultra-cute one of a young lady trying very hard to give a gift to a palace guard. Unfortunately she won't get very far, since the guy's whole schtick is to remain entirely motionless no matter what. But did y'all see the Golden Jubilee celebrations? I'm sure there's a ton of renewed good will towards the good Queen, and why the hell not, she a fine old bird.

---

warch Monday Jun 17 03:23 PM

Once in Edinburgh I was being touristy at the castle and there was a guard doing his best to keep it together. The antics of some of camera toting tourists had tickled him and he was starting to crack up. His commanding officer methodically walked over, stood face to face about 8 inches away, said a few inaudible words and then popped what looked to be a lemon drop into the giggling guard's mouth. Decorum was preserved.

---

Joe Monday Jun 17 04:06 PM

what the commanding officer said

Next time private, it'll be two.

---

Hubris Boy Monday Jun 17 09:31 PM

Awwww. Cute picture.



Is it just me, or does it seem strange to see a guard in an old-fashioned uniform and bearskin shako carrying a modern rifle?

I've always thought the SA-80 is a very odd-looking weapon, with the magazine behind the handle and the trigger. Has anybody ever had a chance to play with one?

---

jaguar Tuesday Jun 18 12:53 AM

Played with a Styer AUG, havne't fired just held, its a similar structure. Personally i liked the side, it was easy to hold, very light and gave you greater control, but that has a forward handle, the SAR-80 doesn't. Wasen't the idea somethign like to incorperate a longer barrel length with making the body much larger?

---

Joe Tuesday Jun 18 01:25 AM

gun

Don't forget the frog sticker at the end of that thing, for "close in" work.

---

Nic Name Tuesday Jun 18 01:31 AM

"Bugger off, little girl, or I'll make your bear into a hat."

By the way, this bearskin hat is not a shako, but a Busby, made from Canadian bears.

---

CharlieG Thursday Jun 20 07:38 AM

Quote:

Originally posted by Hubris Boy
Awwww. Cute picture.



...snip..., with the magazine behind the handle and the trigger. Has anybody ever had a chance to play with one?

That kind of design is called a "Bullpup" - they have some advantages (shorter weapon) but one HUGE disadvantage - you can NOT fire them lefty! This actually caused some problems in Northen Ireland - Because you can NOT fire them left (the shell casing hits you in the ear when you fire), you will tend to walk down the left hand side of the street, so that if someone takes a potshot at you, you can duck into a doorway, and still be able to shoot back - the bad thing is this has just made your patrol routine that much more predictable, and therefore your that much more likely to be ambushed

---

Urbane Guerrilla Monday Jul 8 10:15 PM

Shooting a bullpup-type rifle

I've shot the Steyr -- very easy to handle, very ergonomic, very easy to shoot straight. It's designed to be an efficient adaptor between the human frame and the business of putting metal on target.

As a means of getting a bayonet into somebody, I can hardly imagine a worse way to do it short of putting the handle up your patoot and jumping on top of the guy butt-first. Ergonomically arranged rifles with handles, big box magazines, and protruding sights tend not to be optimum as bayonet reach-out-&-touchers, as you really want a long skinny rifle for that work. The bullpup layout exacerbates that situation by being short as well.

I imagine the next generation of bullpup rifles will be adjustable to eject either right or left, until that Heckler & Koch caseless cartridge technology matures enough for it to work in as many adverse environments as brass-cased cartridges do.

---
Your reply here?

The Cellar Image of the Day is just a section of a larger web community: a bunch of interesting folks talking about everything. Add your two cents to IotD by joining the Cellar.