Undertoad Tuesday Jun 25 01:42 PM

6/25/2002: Walking tractor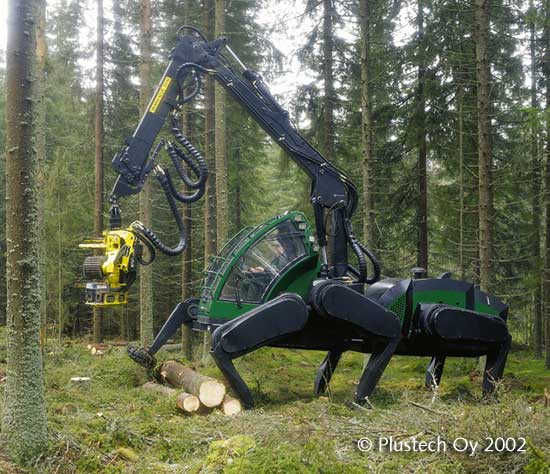 I had not seen this before. Deforestation opponents aren't going to be happy.

Here is a tractor that doesn't have wheels -- a logging tractor, built to WALK over the forest floor, to collect logs. Apparently it can go in any direction, turn in place, manage graded terrain.

More info, more pics, and two videos

Actually maybe the deforestation people are happy after all. A device like this would make it economically viable to only cut selected trees in a forest, rather than just clear-cutting. Also, maybe it allows them to selectively forest without having to cut down wide paths of trees for logging roads.

---

Griff Tuesday Jun 25 03:41 PM

It looks like a huge improvement to me. The log skidders in use now can leave deep ruts, when off the actual logging roads, which cause erosion on rugged terrain. More importantly, it looks like a giant beetle, gotta have one.

---

Joe Tuesday Jun 25 04:21 PM

I agree- this is a good thing

A way that you could walk a machine into a forest, pick out only a few trees and walk back out is WAY more forest-friendly than your standard clearcutting with tractors and trucks.

I've seen other variations on this theme, it seems the time is right for such machines.

The western US has forests that are dangerously loaded with fuel, both from now-obvious poor fire management in the past and also because logging has a bad name because of the damage it has historically done.

If I were an environmentalist, I'd be very happy to see these things. "Take only what you will use" fits very well with nature's plan, and in a big enough forest is probably sustainable for both the forest and the management industry.

---

hairdog Tuesday Jun 25 04:54 PM

If you look to the left behind the third large tree, there are three Ewoks planning an ambush on this monstrosity in their forest.

---

Joe Tuesday Jun 25 05:11 PM

many uses

You know, they could keep these things on the International Space Station for use in moving heavy items around in the ship docking bay...

---

LordSludge Tuesday Jun 25 05:16 PM

...or for fighting alien queens...

---

Griff Tuesday Jun 25 05:47 PM

Sludge, why must you judge by sexual preference?



There is a growing amount of work around here for horse logging. Folks have small high value woodlots that they don't want torn up. Its an interesting opportunity.

---

Angelus Tuesday Jun 25 10:30 PM

Makes me wonder how much pressure each of those legs is placing on the ground. If regular tractors leave such deep ruts, what kind of mark are those feet going to leave?

---

Katkeeper Wednesday Jun 26 06:47 AM

As the owner of woodland, I like it. The loggers usually leave a big mess.

---

CharlieG Wednesday Jun 26 07:47 AM

Quote:

Originally posted by Angelus
Makes me wonder how much pressure each of those legs is placing on the ground. If regular tractors leave such deep ruts, what kind of mark are those feet going to leave?

The reason the tractors leave deep marks is things like skid stearing (think about how a bulldozer turns), and the fact they DRAG the trees out, plus if there is something in the way, the bulldoze it down. With this, they can step over things

---

jaguar Wednesday Jun 26 08:05 AM

I wonder how hard it is to control?

---

Griff Wednesday Jun 26 09:01 AM

The machine's nerve center is an intelligent computer system
that controls all walking functions - including the direction of
movement, the travelling speed, the step height and gait, and the
ground clearance.

I'm betting its pretty easy. If you can carry logs out it really is an improvement.

---

warch Wednesday Jun 26 11:27 AM

Seems like I've heard of these critters working to thin out woods that were replanted too densely, and to lessen the cycle of massive wildfire.

---

Joe Wednesday Jun 26 11:43 AM

hmmm

You know, one of these things without the logging crane wouldn't make a bad off-road recreational vehicle.

---

Bitman Wednesday Jun 26 03:57 PM

Judging from the video, they move very slowly. Dunno what the top speed, but I'm sure 'gallop' is out of the question.

My question: How does that thing on the arm cut a tree? I can't see a blade anywhere.

---

hairdog Wednesday Jun 26 04:31 PM

The website notes that this thing is going to be manufactured by John Deere. Well, "nothing walks like a Deere."

---

Joe Wednesday Jun 26 04:42 PM

this is an early model

Someday it's going to be

"Nothing hits 80mph faster than the new Lexus FireAnt 400 lx"

Gives a whole new meaning to get up and go.

---

And Wednesday Jun 26 06:09 PM

Yeah, you laugh now. Just you wait until you see swarms of these things climbing all over skycrapers, chewing holes in the walls and pooping on the sidewalks. Mark my words, we need a visit from that Orkin Man in the Robosuit soon, or we're all metal-ant food... AIYYEEEEEE!!!

(Actually, that is kinda cool... but I want one that can jump...)

---
Your reply here?

The Cellar Image of the Day is just a section of a larger web community: a bunch of interesting folks talking about everything. Add your two cents to IotD by joining the Cellar.