xoxoxoBruce Tuesday Jun 10 01:19 AM

June 10, 2008: Landship

World War I was someone else's business to the majority of Americans. Europe was far, far away, before TV and global communications. In order to win support, for the US getting involved, the government had to do some public relations work... here's one example.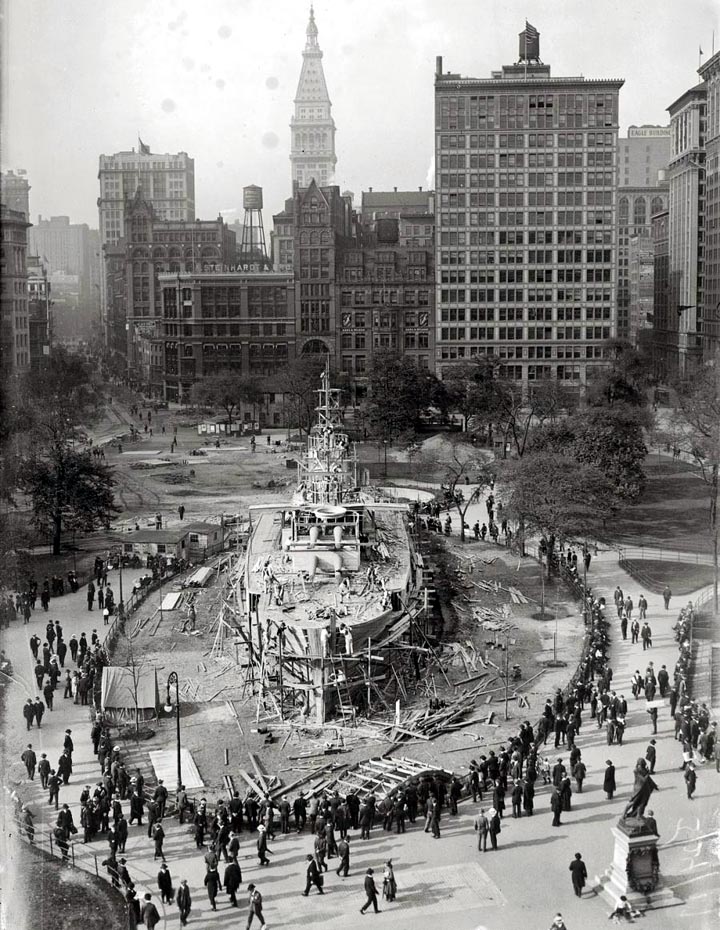 ---

Flint Tuesday Jun 10 01:20 AM

Did they recruit two of each kind of God's creatures?

---

Pearcie (AUS) Tuesday Jun 10 04:26 AM

War without TV

It's hard to imagine what it would be like to know there was a major war going on and not have constant news stories, interviews, video footage and other technology related media shoving every detail down our throats.

Though it would probably have made it a whole lot easier to recruit.

---

Shawnee123 Tuesday Jun 10 08:39 AM

Landship. Candygram.

---

spudcon Tuesday Jun 10 09:11 AM

Life was simpler back then. Only 2 guys working, and the rest of the slackers just walking around in their derbys, watching the peasants work. GET A JOB!

---

Imigo Jones Tuesday Jun 10 11:26 AM

. . .

"Oh, okay, then. . . ."



___

This pic is along the lines of how I always imagined the Austrian fleet of Capt. Von Trapp.


"Man overboard! Man overboard!"
"Nein vorry--Ich be back mit zum Edelweiss Strudel in ein Hour."
"Yah, Ensign, You do Dat--und vhile at Bakery, please to check how many Osterreichmarken vor ein Alpenbilly Vedding Cake."

---

xoxoxoBruce Tuesday Jun 10 11:37 AM

---

Diaphone Jim Tuesday Jun 10 11:54 AM

A hundred years later, the US's wars in Iraq and Afghanistan are still "somebody else's business to the majority of Amercans," the burden being borne directly by only a few.
And if you think "TV and global communications" help in some way, then you must get different channels than I do.

---

Shawnee123 Tuesday Jun 10 12:41 PM

---

newtimer Tuesday Jun 10 02:34 PM

Looks like black was in fashion that year.

---

Flint Tuesday Jun 10 02:39 PM

---

Griff Tuesday Jun 10 04:44 PM

---

hulk Tuesday Jun 10 04:54 PM

Holy ship!! That's all fine and dandy, but what do they do when they're done building it? Hire more recruits to tear it apart?

---

Big Sarge Tuesday Jun 10 05:22 PM

Gee Griff, it sounds like you don't support the current military deployments. LOL.

---

tw Tuesday Jun 10 05:41 PM

A population that learned from history would - well, how few were noting these realities in 2002? How many, instead, blindly believed a president who (according to the mental midget) only talked to god and Cheney? Where is this intelligence that justifies "Mission Accomplished"?

---

Diaphone Jim Tuesday Jun 10 06:19 PM

xoB always has food for thought.
Besides the Union Square "office" ship, seen finished and colorized here:
http://www.brown.edu/Facilities/Univ...ion_square.GIF

There was another wooden USS Recruit, a large scale mock-up at the San Diego Naval Training Station built after WWII and referred to as the USS Neversail.
http://en.wikipedia.org/wiki/USS_Recruit

And a real USS Recruit, a Admirable-Class Minesweeper built in 1943 with a short, sort of strange service in the Pacific:
http://en.wikipedia.org/wiki/USS_Recruit_(AM-285)

---

TheMercenary Tuesday Jun 10 07:26 PM

---

Big Sarge Wednesday Jun 11 02:52 AM

As for me, I joined in 1979, but I have a break in service. I am currently deployed & yes this isn't my first time to "see the elephant". LOL. How many of you are old enough to remember that phrase?

I didn't mean to stir the pot. Everybody has their own opinion. I personally believe we are doing the right thing in Iraq. No matter what the media portrays, I know the majority of Iraqis are quite grateful.

It isn't any skin off my teeth if you don't agree. Lord, that's why my troops & I serve - to give you the freedom of choice.

Sorry folks

---

xoxoxoBruce Wednesday Jun 11 02:58 AM

Don't be sorry Sarge, you done good.
Personally, I don't think you should have been sent there at all, but that doesn't detract from the difficult, thankless, job you've done.

---

Griff Wednesday Jun 11 06:26 AM

---

spudcon Thursday Jun 12 11:04 AM

Yeah! Football sucks!:p

---

Big Sarge Thursday Jun 12 02:24 PM

WTF!!! You say Football sucks? What type of sick person are you????

spudcon - Just kiddin' you

---

Sundae Thursday Jun 12 03:49 PM

Anerican football does indeed suck like a starving whore :p
The real football however... it sucketh not.

---

Shawnee123 Thursday Jun 12 06:23 PM

Them's fightin' woids, gurl!

---

spudcon Friday Jun 13 12:33 AM

Got 'em all stirred up, didn't I?

---
Your reply here?

The Cellar Image of the Day is just a section of a larger web community: a bunch of interesting folks talking about everything. Add your two cents to IotD by joining the Cellar.