Undertoad Saturday Jun 29 03:01 PM

6/29/2002: Molten Saturn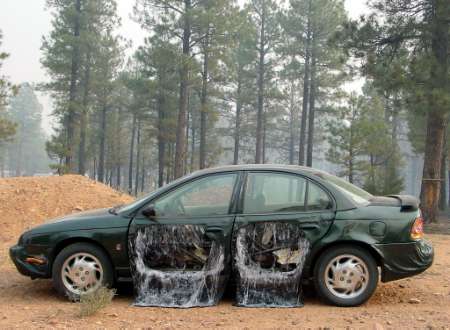 Another one stolen by Fark before I could post it! Well at least here you get the official caption:

A melted car in the community of Overgaard, Arizona sits abandoned on June 24, 2002, after the Rodeo-Chediski wildfire swept through the town. Firefighters said weather was the wild card on as they struggled to corral a massive blaze that has scorched hundreds of thousands of acres (hectares) of land and threatens this small mountain community.

OK, plastic body panels WERE a good idea...

---

Slight Saturday Jun 29 04:19 PM

Can anyone guess why the door panels melted straight thru but not the fenders? I find it strange that there is not much metal/protection inside the doors. Cool pic UT, reminds me of that picture of the Van.

---

Torrere Saturday Jun 29 07:19 PM

"This ought to be good", I said to myself as I clicked the 'Molten Saturn' link. I wondered how they could have a picture of Saturn's molten core, then decided that, oh, it must be a rendering. If Undertoad is posting a rendering, it's probably awe-inspiring.

My anticipation was immense as I waited for my measly 56k modem to download the picture. Hm, stolen by Fark? That comment confused me a little, but since I don't visit Fark very often, I dismissed it as my ignorance.

Trees?? WTF!?

---

xant Saturday Jun 29 10:39 PM

Where's the fire, sir?

Darn, can't think of a good punchline to go with that. invent your own.

But seriously, where WAS the fire? Was the car moved to the location where the photo was taken? Because the ground and the trees look to have been totally unscorched. I mean, granted plastic doors probably have a relatively low burning/melting point, but it must be higher than pine needles!

---

Undertoad Sunday Jun 30 11:16 AM

They couldn't have moved it though, because the plastic is melted to the ground.

---

GlassJaw Sunday Jun 30 02:38 PM

"HOT! HOT! HOT!" - Buster Poindexter

Since the "Where's the fire?" Question has already been asked, and we presume that it would have been behind the camera-person. (Note: the hood, top, trunk, and spoiler, aren't Dali-esque)

My curiosity wonders, how FAR away was the fire?


(and I also was anticipating the Cool Link From NASA after perusing the title.)

---

Kahlua Monday Jul 1 03:09 PM

Melting?

The doors, quarter panels, and bumpers are plastic. The roof, trunk and hood are all metal, which accounts for the lack of melting there. The bumpers are different plastic than the side panels, too.

And as for the lack of metal inside the doors, aside from the intrusion beams and X shaped metal beams across, there's nothing else in there. You can see the X of the metal bars in the picture if you look closely.

---

Joe Monday Jul 1 03:48 PM

yeah, but it's a dry four hundred degrees.

I wonder what would have happened had you flicked a match at that car right when it was a temperature.

---

russotto Tuesday Jul 2 11:27 AM

I'm not buying it. The area doesn't look burned (there's even a small unburned plant in front of the car). And there's no sign of soot or smoke on the car.

---

mitheral Tuesday Jul 2 04:26 PM

Quote:

Originally posted by russotto
I'm not buying it. The area doesn't look burned (there's even a small unburned plant in front of the car). And there's no sign of soot or smoke on the car.

Well I'll chime in and say it's possible. Intense heat rather than an actual flame will cause some of the plastic to melt on a Fiero. I'm extraploting here because all my Endroflex knowledge is from Fieros.

The 84 Fiero was a metal space frame completely encased in plastic with the execption of about half a square metre of magnesium. You can't stick a magnet to one anywhere much to my amusement at towtruck driver's expense when I've had to have one of my projects towed (I'm restoring an '84 Indy 4 spd)

Enduroflex is a Pontiac advertising term for several non metallic body panels. Everything from a flexable thermoplastic used on bumpers to a metal impregnated pressure set fiberglass material used for rear trunk lids. Some of these plastics will flow like wax when exposed to high heat and only char when exposed to flame.

The fire was probably about where the photographer was standing and a little to the rear of the the car.

---
Your reply here?

The Cellar Image of the Day is just a section of a larger web community: a bunch of interesting folks talking about everything. Add your two cents to IotD by joining the Cellar.