Thursday Apr 12 02:50 AM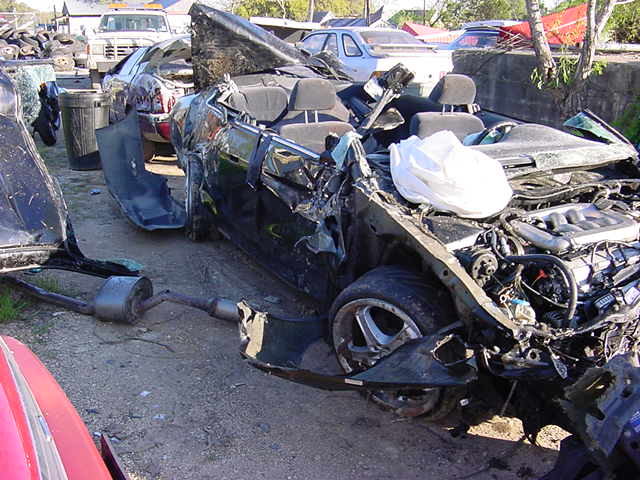 What you have there is a 2000 Accord V6, flipped off the end of a highway exit ramp at 110 MPH, and into a Camaro dealership. Directly from the words of a witness, posting to a web forum:

"The dealership Capitol Cheverolet is adjacent with the exit right off the access road. He trys to correct the oversteer and loses control sliding into the ditch which curves upward(grass not concrete) and lauches the accord high enough to take out the power cables and land in the car lot. This was some $hit you see in the movies. My roommate and I could see the whole bottom of the car while in the air and as it clips the power cable sparks fly everywhere. Whe pull over to the side and run to their aid, I was calling 911 and when we get to the car 2 of the 3 passengers are out of the car in shock. We couldn't get the driver out who was unconcious at the time and when EMS arrived with the Fire Dprt. they aided the driver with the jaws of life and the two guys who made it out on their own.

"They were all released this morning w/minor bumps and bruises(some lacerations & abrassives). These individuals are very fortunate and blessed. I won't tell you don't drive fast anywhere just be ready to take on full responsibility for whatever the consequence."

<a href="http://216.149.197.219/dscr/ubb/Forum1/HTML/002111.html">Here's the whole thread where this text and image first appeared.</a> (Bandwidth warning, if you go, there are 8 pictures this size.)

But the condition of the passenger area is what you would hope: airbags gone off, otherwise almost entirely intact. 13 Camaros were damaged in the incident.


---

Thursday Apr 12 09:52 AM

That's a heck of a crash, but 110mph? I doubt it.

---

Thursday Apr 12 11:51 PM

Wow.

I am surprised at one thing (after seeing the other thread from the other board!).

These people actually lived. Hitting an exit and going airborne at 110 is a BAD thing. It usually means you're dead.

I would hate to be that guy however. He will not be able to get auto insurance for a long time because of that one, and I don't know if Canada has high-risk pools.

Does this count as a near-miss for the Darwin awards?


---

Friday Apr 13 12:58 AM

I don't know, but anything that damages 13 Camaros... waiting to be driven by Texans... can't be all bad.

I mean, ironically this guy ought to be in for a safety award. You *know* those 13 Camaros were gonna be in wrecks *eventually*!

The thing that really jazzed me about posting this image: it was an interesting example of going around the major media to report on news. The story came directly from an eye-witness. The images came directly from his digital camera - in fact, they were raw images, with the digicam filing system filenames. The link was highlighted on a link-collecting-n-sharing site that I go to every once in a while.

Now, that brings up a huge set of questions. The eyewitness report was short on detail. 'sotto points that out. Was it 100, 110...? The link collecting website thought it was 110. Was it 13 Camaros? Somebody thought so.

No journalist interpreted the story, but no journalist was there to capture the exact facts either. We don't want our world to come to us through a sharp filter, but we need some leg work to track this stuff down.


---

Friday Apr 13 09:04 AM

ouch!
if u look at thewreck the engine is danaged nad hte hood gone, thins thing must've slin on its bonnet for a while, grinding off the roof, and incrediby, not those ppls heads, must've slid a fair distance too, to do that much danage, the road would have a htink layer of metla on it

---

Friday Apr 13 12:05 PM

If you look closely, you can see blood on the seats.


---

Friday Apr 13 01:11 PM

I'm guessing the hood was removed by rescuers because it was in the way. That this thing was survivable was incredible, that it would have been survivable if the car had flipped would be unbelievable.


---

Sunday Apr 15 12:53 PM

Either these guys had blind luck or Honda has the best safety engineers in the industry.

---
Your reply here?

The Cellar Image of the Day is just a section of a larger web community: a bunch of interesting folks talking about everything. Add your two cents to IotD by joining the Cellar.