Undertoad Friday Jul 5 11:52 AM

7/5/2002: Coin rubbing illness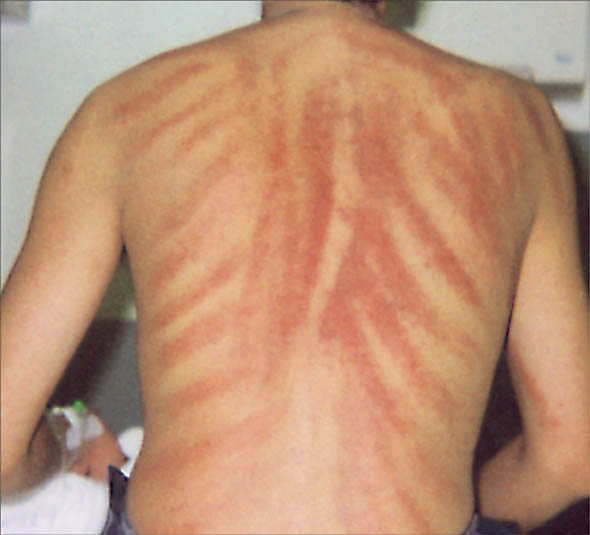 Here's one for the X-Files.

In Cambodia some of the doctors have an odd quack therapy called cao gio, or coin rubbing. They rub heated oils on the back, and then firmly run the edge of a coin over the skin, causing marks like the above. It's supposed to release the "wind", or "energies" that are causing a person's illness.

In this case, though, the patient became ill. At first he just had vomiting and diarrhea, which he apparently put up with for a week. Then he started to become confused, at which point he wound up in a real hospital. For a few days he was confused and "treated with supportive therapy" -- I suppose they had a nurse hold his hand and say pleasant things since they didn't know what else to do with him. On the third day he came out of it, his skin healing.

It turns out he had camphor intoxication. The camphor in the oil on his back was slowly absorbed into his body, with the aid of the open wounds. Slowly he became sicker and sicker.

And this, friends, is why truth must be the only bias in science.

(From JAMA via Medpundit.)

---

verbatim Friday Jul 5 03:36 PM

Chalk up another reason why I believe the only "natural" style of heeling is a few ibuprofens and a nap. Of course, ibuprofen isnt natural, but what the hell?

---

Slithy_Tove Friday Jul 5 11:43 PM

'Coining', usually used as a folk remedy for fever, isn't just practiced in Cambodia, but all around the world, wherever there are SE Asian people. It may be most prevalent among the Vietnamese. It's very common. I work in an emergency room, and I see an example of this every few weeks. It looks dramatic, but is generally harmless. The business with the camphor is unusual; I don't think that oils of any kind are generally used.

There are all sorts of folk remedies out there. I lived in the South for a while, North Carolina specifically, and there they sometimes put onions around a person with fever, so as you undress a person brought to the ER, cut onions may tumble out of his clothes.

---

Torrere Sunday Jul 7 11:10 PM

influenza

Ugh, I had the fever last April. Many of the memories are still all too vivid.

Oscillococcinum was what I took for a while during that. It has some amusing origins (it's made from the heart and liver of the Barbary Duck), though I think it might work well. I wonder how well the various folk remedies work. Most of them probably do help.

(In the end though, I just took some medication to sweat it out).

---
Your reply here?

The Cellar Image of the Day is just a section of a larger web community: a bunch of interesting folks talking about everything. Add your two cents to IotD by joining the Cellar.