Undertoad Wednesday Sep 17 12:21 PM

September 17, 2008: Bullfrog vs Sparrow

Either the sparrow doesn't know the frog is there, or doesn't know the danger.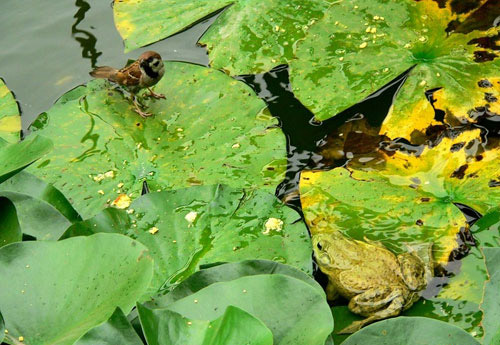 The bird seems very much unconcerned. Or maybe it figures things out at the last moment...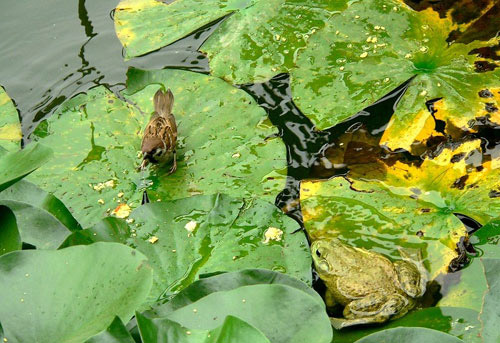 ...and moves to a higher perch, but it's not far enough away. The frog leaps,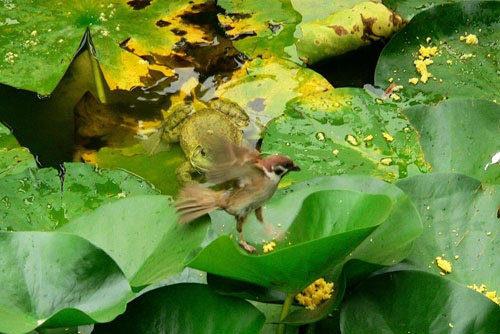 And faster than a photographer, he has the bird and drags it to its death.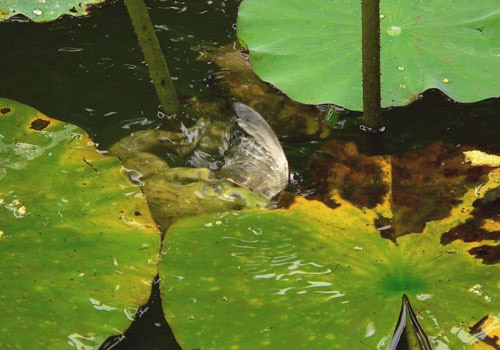 Don't chew with your mouth open! It's rude.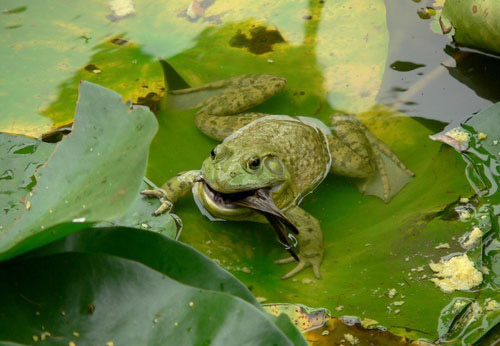 Burrrp oh pardon me.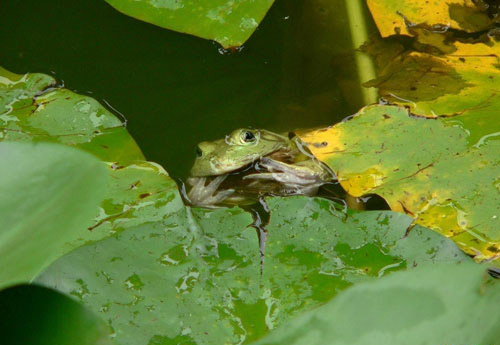 ---

Slothboy Wednesday Sep 17 12:32 PM

What? Am I the only one that had no idea things like this EVER happened?

That is crazy and scary.

---

LabRat Wednesday Sep 17 12:35 PM

I wonder if sparrow feathers do to frogs what corn does to me?


Amazing sequence.

---

Sundae Wednesday Sep 17 12:47 PM

Nom nom nom...

---

HungLikeJesus Wednesday Sep 17 12:54 PM

Was the photographer anticipating this, or did he just get lucky?

---

dar512 Wednesday Sep 17 01:05 PM

Must have been tasty. He's licking his fingers afterward.

---

frankchicarelli Wednesday Sep 17 01:35 PM

seen similar

I haven't seen that happen, but I did see a snapping turtle grab a pretty large duck and pull it under the water once. That was cool.

---

limey Wednesday Sep 17 05:42 PM

Is it only me that finds it a leetle scary that 'Toad posted this series of pics?

---

Aliantha Wednesday Sep 17 06:56 PM

fish will eat bugs that sit on the surface of the water. Sharks eat birds that are floating around in the water.

That frog was hungry!

---

Elspode Wednesday Sep 17 07:17 PM

Its things like this that make me glad humans have opposable thumbs and can use tools. Like BBQ grilles.

---

dar512 Wednesday Sep 17 09:00 PM

---

SPUCK Thursday Sep 18 05:52 AM

Eeeeeuw That's like a pelican eating pigeons.

I heard somewhere that if frogs were the size if cows humans would've never walked the earth.

---

Aliantha Thursday Sep 18 06:17 AM

Yeah...they would have been running.

---

DucksNuts Thursday Sep 18 07:32 AM

Err, ok, I may be weird, but its soooooo cute how he is using his little hands to stuff the birdie in his mouth

---

ferret88 Thursday Sep 18 08:41 AM

---

FStop Thursday Sep 18 02:24 PM

I never thought about stuff like this happening. Who would figure, right?

However, I'm not surprised. Almost in the same vein as a snake eating an egg. Looks a bit like that.

---

Sheldonrs Thursday Sep 18 02:30 PM

"Pirates of the Amphibian - The End of Jack Sparrow"

---

Trilby Friday Sep 19 04:51 PM

Um, hello? Gross? I HATE these creepy-crawly, slimey, jumping things! (no offense, O Great 'Toad) It distresses me to see a cute, fluffy animal get eaten by a horrid, slimey, reptilian one. It doesn't seem fair, somehow. In an evolutionary sort of way, the cute should survive and the yucky be damned.

Also---if you do eat frogs' legs, aren't you obliged to fit said frog up with a mini wheelchair? Seems like a lot to go thru just to eat some gross shite.

---

BigV Friday Sep 19 04:55 PM

amphibian

[/pedant]

---

Trilby Friday Sep 19 05:09 PM

---

BigV Friday Sep 19 06:45 PM

Yo! SD, how ya been, brah?

---

narcuul Saturday Sep 20 10:01 PM

Must be a minion of Burglefloogah.




---

onetrack Sunday Sep 21 11:03 AM

That ain't no sparrow, to the Frog .... that's just the BEST, finger-licking, Southern fried chicken ... as evidenced by the last frame ......

---

ZenGum Monday Sep 22 01:04 AM

...and that completes stage four of our special dinner tonight, Doberman stuffed with Duck stuffed with Bullfrog stuffed with Sparrow stuffed with Dragonfly stuffed with Mosquito. All stuffings as nature intended.

---

SPUCK Tuesday Sep 23 06:28 AM

Hey! Anyone else see the bait scattered around on those leaves to sucker that poor bird in?

---

BigV Tuesday Sep 23 11:14 AM

Good observation! Looks like cornbread.

---

HungLikeJesus Tuesday Sep 23 11:16 AM

Where does a toad get cornbread?

---

Treasenuak Tuesday Sep 23 02:58 PM

He pulled it off the table when he took his damn legs back... GO FROG!!!

---

biorogue Tuesday Sep 23 03:49 PM

wow, I had no idea frogs ate birds. cool

---

boli Tuesday Sep 23 05:35 PM

hi all,

im sure the only person who knows 100% for sure how this photo series came about is the photographer, but i have noticed this:

1. i agree that there seems to be bird-bait of some kind present in the first image.
2. the (unposted, but still present on the server) image frogsparrow3.jpg (http://cellar.org/2008/frogsparrow3.jpg) seems to show a sparrow in flight away from the toad (or frog, im not sure).

draw your own conclusions, but it seems odd to me.

---

BigV Tuesday Sep 23 05:41 PM

misfire, different bird, happened before "lunch", bird enroute to landing....

good catch boli, welcome to the cellar.

---

dar512 Tuesday Sep 23 05:49 PM

---

xoxoxoBruce Friday Sep 26 07:22 PM

And then....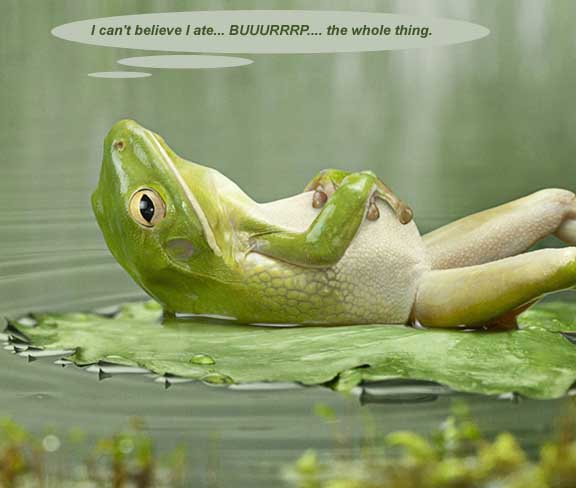 ---

ZenGum Friday Sep 26 09:59 PM


---

xoxoxoBruce Monday Sep 29 10:54 AM

Killer Kermit



---
Your reply here?

The Cellar Image of the Day is just a section of a larger web community: a bunch of interesting folks talking about everything. Add your two cents to IotD by joining the Cellar.