Undertoad Tuesday Jul 9 02:11 PM

7/9/2002: Quebec fire smokes Northeast US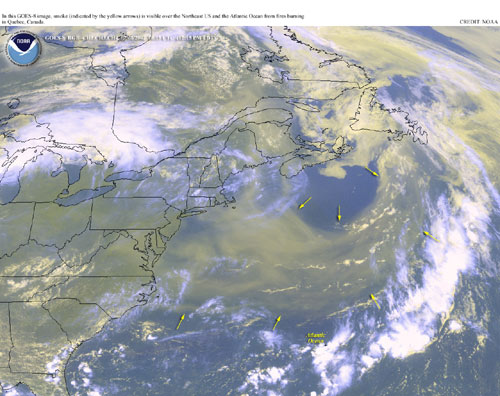 Sycamore sends this along, which shows exactly how much gunk and smoke was shipped, free of tariffs, down from the Quebecois fires. (See the yellow bits?)

This drastic form of air pollution included a ton of particulate, way more than is permitted by the EPA, and damn if it didn't make life miserable for a lot of people: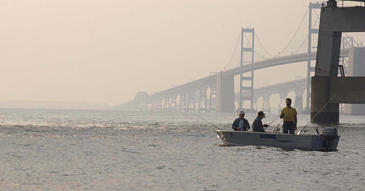 In response, we in the NE USA are planning to fire up more coal-fired power plants along the border. We'll just create more acid rain for those Quebecois. Even if they manage to break off politically from the rest of the country, they'll still get its air!

---

verbatim Tuesday Jul 9 02:48 PM

Ugh. Some of us have asthma, and it doesnt help that we were dust-blasting computers here at work since Monday. I was wearing a dustmask all day. Fun fun.

And why is this the first time that I have heard about these fires, even though they are bigger than the ones out in Colorado? Hm? Those fires arent even kicking up as much shit as these Canuck ones.

---

Torrere Tuesday Jul 9 03:53 PM

Obviously these foriegn fires pose a significant threat to American safety. We citizens of the United States do not intend to let this biological warfare go by without response. We intend to obtain the extradition of the Canadian terrorist who set these fires, and possibly we will send in an elite team of loggers to ensure that this type of threat will not return in the future.

If you believe you have been a victim of the "Canuck smoke", check yourself for the following symptoms: shortness of breath, nauseau, burning eyes, and fatigue.

----

What are the yellow arrows, and the yellow text? Does it signify the boundaries of the olive-tinted stuff in the atmosphere?


(NEEEEEED to get outside!! Stop raining!)

---

elSicomoro Wednesday Jul 10 12:24 PM

Quote:

Originally posted by Torrere
What are the yellow arrows, and the yellow text? Does it signify the boundaries of the olive-tinted stuff in the atmosphere?

The yellow text says "Atlantic Ocean." The yellow arrows are pointing out the smoke from the fires.

When Rho and I were driving along Leif Ericson Dr. in Brooklyn Saturday, you could see this thick haze along the beach and out at sea...we weren't sure what it was until we watched the news Saturday night...you could see it hanging on the bridges too.

They said we would get one more round of it Monday night, and they weren't kidding. From where I was (NE Philadelphia), it was blocking out some of the sunlight...the sky had that deep blue look to it, as if it was about to rain. What a mess.

Incidentally, the second photo is from the Chesapeake Bay Bridge, near Annapolis, MD...about 850 miles south of the fires.

---

russotto Wednesday Jul 10 04:03 PM

I skated 24 miles on West River Drive Sunday morning. This was a bad move: My lungs STILL hurt yesterday. @(*&@( Canadiens.

---
Your reply here?

The Cellar Image of the Day is just a section of a larger web community: a bunch of interesting folks talking about everything. Add your two cents to IotD by joining the Cellar.