Undertoad Friday Jul 12 10:26 AM

7/12/2002: Dog with porcupine quills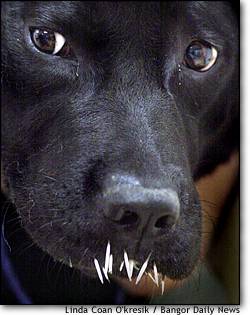 Nic "stole" my two-day-old Rhino picture for a Friday image (good going man, you win this round). (Nic's find is over in Quality Images, do check it out.) So I went off to MSNBC Week in Pics and located this other cute animal image. Awwwwwwwww.

His name is "Sailor", he's 4 years old, and he's at a vet clinic near his home in Brewer, Maine, after losing a scuffle with a porcupine.

Sadly for Sailor, there aren't just the quills you see; there are also many more inside the dog's mouth. He'll have to be sedated to stay calm while they're pulled out. And porky quills are particularly nasty because they're barbed, right?

No, it turns out that's a misconception. I went to this page written by a vet who explains quill removal from dogs. He also includes this very alarming shot of what the dog's mouth might look like: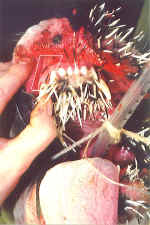 And this closeup of a quill. See, no barbs, but VERY pointy: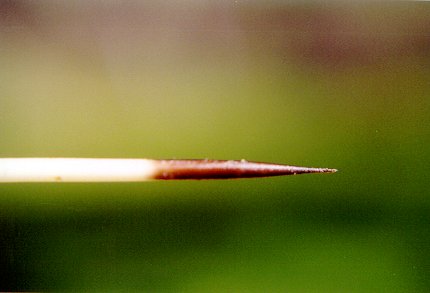 The interesting thing about the quills is that they are hollow.

---

And Friday Jul 12 01:38 PM

Da quills

Aren't they modified hairs? Or do their origins come from some prehistoric throw-back in the form of scales (like bird feathers).

---

Tobiasly Friday Jul 12 01:58 PM

OK, a question from a (relative) newbie.. what's the significance of Friday images? Are they always animals?

---

Undertoad Friday Jul 12 02:22 PM

The concept was started when dham said he enjoyed this one particular diving pig photo, because it was a Friday. I try to pick something Friday-esque on Fridays, if I can remember, and usually it is an animal of some sort, if I can find one. There's no fast rule about it though.

---

Torrere Friday Jul 12 03:40 PM

It's supposed to be a cute-looking animal.

---

dave Friday Jul 12 04:49 PM

I think it was a Friday in August of last year. There was this picture of a diving pig. And he seemed to be <b>smiling</b>. Like he was just having this great old time.

Well, it just kinda inspired me. I was like "man, that is what Friday is all about. What a great image to start the weekend."

It made me smile - I ended the week on an upnote. Tony seemed to agree that it was a good Friday image. And thus, the tradition was born.



http://www.cellar.org/showthread.php?threadid=431

---

Tobiasly Friday Jul 12 05:34 PM

You're right, that smiling pig is a good intro to the weekend. Thanks for the explanation.

And on that note, I think I'll go home from work now.

---

dave Friday Jul 12 06:28 PM

Heh. I didn't get much sleep last night at all

I'm in Jackson, Mississippi right now. And that last post was the first Cellar post written from <b>the new iMac</b>.

This one's being written from my iBook though. w00t!

Anyway, I'm glad you liked the image. My Friday began with a nice flight and then a long layover after the hydraulics in the plane failed. And then were fixed. And then failed again. Ended up waiting over four hours. :\

Anyway. Happy Friday to you all.

---

Vegeta Monday Jul 15 10:01 AM

Didn't that airborne pig help put out a big house fire or something? (I'll let someone else find the threadid.)

The diving pig was a good image though. And the baby hippo is awesome--thanks for that link. There is no cooler (or, from what I've heard, more deadly to humans) animal than the hippo.

---
Your reply here?

The Cellar Image of the Day is just a section of a larger web community: a bunch of interesting folks talking about everything. Add your two cents to IotD by joining the Cellar.